Stats, Quotes, & More for Ravens-Bengals
Print this article
As we've discussed around here most of the week, this game is unique in the career of Joe Flacco. It will be the first game he's played in in his entire NFL career that is "meaningless" – that is, where his team has no chance of going on to win the Super Bowl. From 2008-12, he made every start and the Ravens made the postseason each season. In 2013, they were alive for a Wild Card berth until Week 17's games concluded. In 2014, back to the playoffs it was. And in 2015, though the Ravens were eliminated early, it wasn't until after Flacco's knee injury. As such, this is the first game Flacco will play with nothing on the line as far as postseason aspirations go.
Remarkable, to be certain. Though that doesn't make it sting any less for fans.
Let's take a look at the stats, quotes, notes, and more in our weekly Crab Bag c/o Casa Mia's White Marsh.
KNOW THY ENEMY
SERIES HISTORY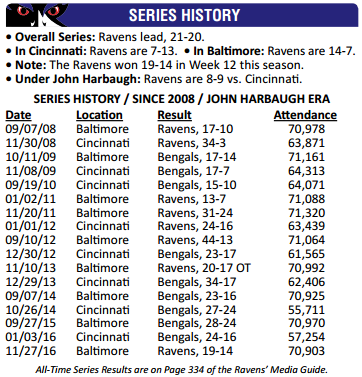 QUOTES OF THE WEEK
TE Dennis Pitta on the goal of finishing the season 9-7:
"We need to keep our heads up about the resiliency we showed [in Pittsburgh]. But our goal now is to get to 9-7. The Bengals will be our next test. We want to win that game, so that will be our focus."
QB Joe Flacco on what S Eric Weddle brings to the team and if he was snubbed by not making the Pro Bowl:
"There is no doubt [he got snubbed]. When it comes to the Pro Bowl, it is about stats, and it is really about the fans, which it should be. I think Eric's season speaks for itself, just what he has gone out there and done – tackles, interceptions and all of that stuff. Now, having said that, you do not get a chance to see the kind of leader he is, the type of person [he is]. It is not easy to come to a new team, come in here and try to prove to everybody, 'I belong here; I'm a good player.' And at the same time, be a leader right away. That is the thing you can feel from Eric. He has come in here, and he has not been bashful. He has made the right impact right away in leading this football team. How he plays on the field, that speaks for itself. Of course he should be there [in the Pro Bowl]."
S Eric Weddle on OLB Terrell Suggs:
"He brings the fire, passion and energy, but also a calming influence to the whole defense and to the team. We all look to him for these types of games, not only to be our leader – be our playmaker – but also to calm us when things aren't going so well, to calm our nerves and be like, 'Hey, let's stick together. Let's do what we're coached to do. We're a great defense, a great team. Let's go play like it.' He's an unbelievable player, person, and it's been an honor to be with him these last six months."
WR Mike Wallace on the impact of WR Steve Smith Sr.:
"Legendary player. I was just telling him, 'You can play a couple of more years if you want to. Let's just keep it going.' I think he's going to probably [retire] after this year because he's been playing 16 years. That's a long time. But if anybody can keep playing, it's him. It's just an honor to be on the team with him every day, to see the way he works, the way he carries himself. I just love it. I love that guy to death. I wish I had more time with him, but when you have greatness around you, you just absorb whatever you can get from him."
ProFootballTalk's Michael David Smith on K Justin Tucker:
"Tucker is a perfect 10-for-10 on field goals 50 yards or longer, and not only does he make those kicks, but he makes them look easy: I don't think I've seen a single Tucker kick this year that wouldn't have been good on the narrower goal posts they use in arena football. With 10 field goals beyond 50 yards this year, Tucker is tied for an NFL single-season record. What Tucker is doing is extraordinary."
NUMBERFIRE PREVIEW
Our friends at NumberFire give the Ravens just a 41.1% chance to win this week.
GETTING TO KNOW YOU ~ Q&A with Marshal Yanda
What is your approach to teaching young linemen?
"I've seen enough older guys do it when I was a young guy – [Jonathan] Ogden, [Mike] Flynn, [Matt] Birk, guys like that paved the way for me. You follow those guys, and naturally, you keep playing and understand that you will take on that role when you get older. You just want to be there to guide and help them in any way possible. You also want to be an example to show them how it's done day-in and day-out."
There was a stretch for the O-line with injuries and an uncertain rotation. How did you rally guys to keep confidence?
"Believe it or not, it really doesn't matter. Good or bad, up or down, it's about us getting the job done on Sunday. It doesn't matter the score. We have a job to do. We're supposed to do it, and we're paid a lot of money to do it at a high level. I try to tell the young guys, no matter what the situation is, when it's Sunday, we go out there and put our best foot forward to compete and win. That's the way we stick around, and that's the way you have success in the NFL."
Much was made about your switch from right guard to left in the middle of the season, but the transition has been seamless. Did you have any doubt you could make it work?
"I had my doubts. I was really nervous, and I still get really nervous about it just because I'm not as comfortable in my stance. I would say experience has definitely helped me. Just knowing that even if I feel a little awkward, as long as I stay in front of them and stay square in the passing game, it will give me a chance to win the block. It's definitely not been easy, and I don't have it all the way down yet. But I just take the same approach every day to work hard and get better."
What do you like about O-line coach Juan Castillo's coaching style?
"As a lineman, you have to be a grinder. I feel like we are grinders. Juan is a grinder, too. We're working hard and staying on top of our fundamentals. In our aspect of the game, it's all about doing things through repetition and honing fundamentals to make it easier on Sunday. We don't want to have to think about it. It's better to naturally be in the right position. Juan is on top of this. It's about grinding and Juan is a grinder."
You were just voted to your sixth Pro Bowl. What do you love about the experience?
"One of the best things about the NFL in general is you get to meet a lot of good people from all across the world. It's just awesome to see. No matter where they come from, good people are good people. It's nice meeting them and sharing experiences with other NFL players."
If you were to endorse a product, what product or business would it be?
"A fishing company – Rapala Fishing."
Dream retirement plan?
"I plan to be in some aspect of the fishing industry, maybe getting paid to fish and endorse or test out new products. If I could go fishing for leisure, not like tournament fishing, but leisure and spending time with my family, that would be great."
HEY, YOU LOOK FAMILIAR! ~ Key Connections
Bengals head coach Marvin Lewis served as Baltimore's defensive coordinator from 1996-2001. During the 2000 season, Lewis' defense set an NFL record for fewest points allowed in a season (165), en route to winning Super Bowl XXXV.
In 1998, Bengals ST coordinator Darrin Simmons was Baltimore's assistant ST & assistant strength and conditioning coach. … Bengals assistant strength & conditioning coach Jeff Friday was the Ravens' head strength & conditioning coach from 1999-2007. Also, Bengals strength and conditioning coach Chip Morton (1999-2001) served as the assistant strength coach for Baltimore. … Bengals D-line coach Jacob Burney served as the Ravens' D-line coach from 1996-98.
Bengals CB Chykie Brown (Injured Reserve) was selected by the Ravens in the fifth round of the 2011 NFL Draft and spent three seasons in Baltimore, including the 2012 Super Bowl XLVII campaign. … Bengals HB Cedric Peerman was taken by Baltimore in the sixth round of the 2009 NFL Draft.
Ravens CB Chris Lewis-Harris originally signed with Cincinnati as a rookie free agent in 2012, playing in 26 games over four-plus seasons before being claimed off waivers by Baltimore on Nov. 4 this year.
Several Ravens hail from Ohio: head coach John Harbaugh (Perrysburg), SVP of football admin. Pat Moriarty (Cleveland), "D" coordinator Dean Pees (Dunkirk), ILBs coach Don "Wink" Martindale (Dayton) and FB Kyle Juszczyk (Medina). Pees, who attended Hardin Northern (Dola, OH) HS and was inducted into the Hardin County Ohio Sports Hall of Fame in 2011, was honored with the second-annual "A Tribute to Ohio's Finest" award by Ohio State in 2015. Martindale was an All-State LB at Trotwood-Madison (Trotwood, OH) HS.
Ravens DT Brandon Williams attended Harmony Prep in Cincinnati.
LAUGH OF THE WEEK AT EXPENSE OF RAVENS' OPPONENT
We don't get to watch Cincy's annual playoff choke this year. Darn.