Ronnie Stanley Finishes Strong
Print this article
The Ravens offensive line problems are of the better sort…fixable.
The 2016 season was marred by serious injuries to Yanda, Stanley, and Wagner that caused shuffles during the 4-game losing streak which ultimately cost the team a playoff berth.
While it's difficult to have the depth to cover for such a spate of problems, the Ravens enter the 2016 offseason with modest depth, but as many as 4 of 5 starters in place if Wagner can be re-signed.
Let's briefly review the metrics from the atrocious Bengals game, then return to the 2017 offensive roster.
Ample Time and Space (ATS)
The offensive line produced ample time and space (ATS) on 24 of 52 drop backs (46%).
By ATS categorization:
Summarizing results relative to expectation:
Summarizing the Bengals pass rush by numbers and ATS: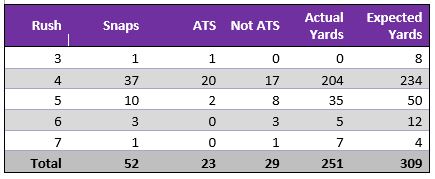 Notes:
–The Bengals used an effective mix by numbers which included more use of blitzers than in recent Ravens games.  Of divisional rivals, the Bengals rely much more on the 4-man rush than the Steelers or Browns.
–The 46% ATS matched Joe's season average for the category, which was short of the 6-year average of 51%.
–Joe and the skill position players recorded just 7.3 YPP for the season with ATS, the lowest I have recorded in 7 seasons. YPP was as high as 9.3 in 2010 and 9.2 in 2012 during the Matt Birk/Torrey Smith era. One problem I observe, but for which I can't provide a metric is the much lower number of 4-second pockets. ATS requires 3, but big opportunities downfield can develop in that additional second if receivers continue to hustle and Joe looks for a spot to throw.
–The notion that Flacco simply throws the long ball and hopes for pass interference was not true in 2016. He did not have time for as many such throws. Part of the narrative for Trestman's departure was a lack of willingness to throw deep. I think the problem is much more closely linked to the lack of play action, which generated significant time and space for Flacco earlier in his career.
–A good center, as Flacco had with Birk, will help revitalize the play action game both by providing a more credible run threat and minimizing pressure up the middle when Joe takes the snap under center.
Offensive Line Scoring
The Ravens ran 70 meaningful offensive plays (excludes penalties).
Stanley:  Ronnie is on a roll. I looked back over my scoring going back to the beginning of 2008 and no Ravens tackle turned in a performance this good in 4 consecutive games. So he's had the best 4-game stretch since at least Jon Ogden. That said, his game versus the Bengals was not without flaws. He allowed a full QH to Gilberry when he failed to pick up his stunt (Q2, 11:48). I also scored him with a pair of pressures. The first came when backed up while hand fighting with Clarke (Q3, 7:36). The other was a bull on a stunt by Hunt (Q4, 11:22) where he was driven into Flacco. He had 1 block in level 2, but did not register a pancake or highlight. When a tackle misses no blocks in a game, backside run-blocking effort is underscored, because tackles will lose (the appropriate verb is "McKinnie") such blocks if not quick and playing with high effort.
Scoring:  70 plays, 67 blocks, 0 missed, 2 pressures, 1 QH, 60 points (.86 per play). With adjustment, that's an A.  Since returning, his grades by game are F, C, C, C, B, A, A-, A, A. I read PFF has scored him as the NFL's highest rated LT over the last month and that jibes with what I'm seeing. He won't necessarily make the Pro Bowl, but he is a favorite to play at a Pro Bowl level in 2017.
Yanda:  Marshal finished off another All-Pro season. I charged him with just 1 shared pressure when he failed to pick up Vincent Rey and Dixon was steamrolled (Q2, 11:52). He had 3 highlights, including 2 on consecutive plays:
–(Q1, 6:59) Maintained L2 block on Vigil in the center of the field as Dixon RR12 converted 4th and 1.
–(Q1, 6:29) Combination on Peko then Maualuga in L2 to lead West RM11
He had 4 total blocks in level 2 and 2 pancakes. Because his primary opponents were Peko and Sims, he received a relatively small adjustment for a 3-highlight game.
Scoring:  70 plays, 66 blocks, 3 missed, 1/2 pressure, 65 points (.93 per play). A prior to adjustment. As the story goes, he had to ask to be moved to LG to keep from going on IR. But it shouldn't be a surprise he's now just "considering" surgery this week after playing so well with 1 healthy arm.
Zuttah:  I don't expect Jeremy to be back and center must be addressed in the offseason. With the size of the interior linemen in the league (and division in particular), Jeremy has not shown the ability to anchor. Hargrave, Shelton, and Atkins will play 6 games per year against the Ravens and they need a physical answer. Versus the Bengals, I charged him with 1.5 of the 3 sacks:
–(Q1, 8:06) Allowed initial flush to Sims on sack shared with Ducasse
–(Q3, 10:26) Failed to block either Gilberry or Rey as Flacco was flattened for a 12-yard sack
He had 3 blocks in level 2 and 2 highlights, which included a nice positional block on Peko to open the hole for West's 11-yard run (Q1, 6:29).
Scoring: 70 plays, 62 blocks, 4 missed, 1/2 penetration, 1/2 pressures, 1.5 sacks, 51 points (.73 per play). At center, that's a D after adjustment.
Ducasse:  After a fine game against the Steelers' depleted DL, Vlad did not score well versus Geno Atkins. He allowed parts of 9 pressure events, including 6 by Atkins. Another QH by Atkins was wiped out by Geno's roughing the passer offset by a thoroughly ineffective hold by Ducasse. He's a UFA, he'll be a backup at best in 2017, and I doubt anyone is interested in reviewing his play on Game Pass. However, here's a test…send me an email or Twitter message (@filmstudyravens, see what I did there) if you want the (Q, T) references for the 9 plays. Vlad had 3 highlights in this game, none of which included a man whose name rhymes with "Shmatkins".
Scoring: 70 plays, 58 blocks, 3 missed, 4 (2+ 4*1/2) pressures, 1 QH, 1.17 (2/3 + 1/2) sacks, 1 offensive holding, 34 points (.49 per play). F. If the WAR statistic existed for football, Ducasse would probably show as a small positive.  That's more an indictment of WAR's arbitrarily low .294 replacement-level winning percentage than an endorsement of Vlad. He will probably get another chance in the NFL in 2017, particularly as injuries pile up.
Hurst:  James had another tough game. He was charged with negative scores on 8 plays, including 5 different Bengals (Atkins, Hunt, Clarke, Dunlap, Johnson). I failed to credit him with a highlight on the Juszczyk TD block versus the Steelers, but after watching that play numerous times, he certainly deserved one. Versus the Bengals he had 2 more highlights, including a pancake of Dennard on a nice pull (Q1, 6:59) to lead Dixon's 12-yard conversion on 4th and 1.
Scoring:  70 plays, 59 blocks, 4 missed, 1 penetration, 4 (3 + 2 X 1/2) pressures, 1/3 sack, 1 offensive holding, 41 points (.59 per play). That's a D after adjustment. He played T, G, and some TE for the Ravens this season. His versatility could land him an NFL job somewhere in 2017, but as a 4th-year player, he no longer has option value should his level of play improve.
Lewis:  Alex made 4 of 5 blocks and also had a shared pressure when beaten inside by Johnson on a ball batted down by Clarke (Q2, 12:36). It was cool they used him as the intended receiver in the "New England" formation (Q3, 3:02), but with the game out of hand (20-3 at that point), a trick play that doesn't fool the defense is more annoying. In fairness, the official was fooled and threw the flag, but DE Michael Johnson was not. I hope the Ravens are able to resign Rick Wagner and return Lewis to guard in 2017. If not, he'll probably get the first chance at RT.
If you're interested in seeing scoring trends for the players this season, these charts will be updated weekly.
Should I Stay or Should I Go—The Ravens Offense Post 2016
A broad categorization of value relative to cap
I provided my end-of-season categorization of value relative to cap with the piece on the defense here.
So let's get right to it for the offense and try to slot every offensive player (plus the specialists) in a similar manner.
Key contributors on rookie deals:  Kenneth Dixon, Alex Lewis, Breshad Perriman, Ronnie Stanley, Terrance West
This is a much younger group of contributors with only West entering his free-agent year. Having 3 rookies on this list is testament to the 2016 draft. Breshad Perriman was the closest call, but projects to a much larger role in 2017.  If Lewis is forced outside to tackle by the departure of Wagner, he goes back to a developmental status in my mind.
The Ravens are likely to lose a significant chunk of talent to free agency on offense, particularly if Wagner can't be re-signed. Of the departures listed below, only Crockett Gillmore is under team control.
Additions: Dixon, Lewis, Perriman
Departures: Aiken, Gillmore, Juszczyk, Wagner
Developmental (all young players we hope will quickly emerge in the above category):  Buck Allen, Nick Boyle, Michael Campanaro, Crockett Gillmore, Ryan Jensen, Chris Moore, Keenan Reynolds, John Urschel, Darren Waller, Maxx Williams
There is more disappointment in this group than true development. Gillmore dropped out of the key contributor role due to injuries and is now entering his free agent season. Boyle and Waller played significant roles, but not until returning from suspensions. Reynolds spent the year on the practice squad. Urschel was bypassed by Vlad Ducasse.  Jensen does not appear in the team's plans despite playing decently as a backup. Williams lost his entire 2nd season to injury. Moore made big plays on special teams, but did not impress as a receiver.
Boyle, Moore, Waller, and Williams are the 4 players with the best chance to emerge from this group as key contributors.
Core veterans (all paid well, but contributing at a high level):  Morgan Cox, Joe Flacco, Sam Koch, Mike Wallace, Justin Tucker, Marshal Yanda
I included the Wolf Pack here. Otherwise there are no changes in this group.  Flacco would be a cap value concern if there was anything the Ravens could do about his contract. Wagner and Kyle Juszczyk are potential additions to this group if re-signed.
Veteran cap value concerns:  Dennis Pitta, Benjamin Watson, Jeremy Zuttah
I'm not sure how TE will shake out for the 2017 Ravens. Pitta beat the odds to play in 2016 and led the team in receptions. However, his ineffectiveness as a blocker was frustrating. He may play another year on a restructured contract, but I doubt Watson will do so. See above for concerns regarding Jeremy Zuttah at center.
Departed: Devin Hester, Steve Smith
Transitional (role players, whose spots will always be in jeopardy):  Kaelin Clay, Vlad Ducasse, James Hurst, Chris Matthews, Vince Mayle, Stephane Nembot, De'Ondre Wesley
UFA: Kamar Aiken, Kyle Juszczyk, Ryan Mallett, Steve Smith; Rick Wagner
Ducasse played some down the stretch, but he's a veteran stopgap. It's difficult to project a player who might be back from this group.