Ravens Draft Day Mistakes
Print this article
It's a Wonderful Life is one of my favorite Holiday movies.
If you've never seen it (really who hasn't?), the film is about a man named George Bailey played by Jimmy Stewart, who had a lifelong dream to travel the world, but due to business obligations at a family-operated building and loan, he puts aside his dreams to help his family and others.
The building and loan is on the verge of going under and it drives a desperate George to contemplate suicide. He is convinced that the world would have been better had he never been born.
To prevent the tragedy a guardian angel named Clarence is sent to save George and to do so, the angel shows George what life would be like in his town of Bedford Falls if he never existed. Removing one man from history has rippling effects on the lives of many.
George then begins to see the value he brought to his community and with the help of friends and family he realizes just how important he is to so many. He then understands that his, is a wonderful life.
While watching the playoffs over the past couple of weeks and lamenting the Ravens absence from such festivities, the plot of It's a Wonderful Life crept into the back of my mind. I couldn't help but to think of the moves the Ravens didn't make in the past that may have helped and the ones they did make that backfired. If only they could get a redo on a few things, this postseason could look a lot different in Baltimore.
Back during the 2000 NFL Draft the Ravens selected Jamal Lewis with the 5th overall pick, their first of two first-round picks that year. Wanting to put an additional spark in a pedestrian offense the Ravens moved up from No. 15 to No. 10 to select Travis Taylor, a physically gifted, but relatively unproductive receiver from Florida.
Had the Ravens simply stayed at No. 15 and stuck to their board, there's a good chance that the choice would have been linebacker Julian Peterson who was a 5-time Pro Bowler and a 3-time All Pro.
Later during that same draft, the Ravens considered a quarterback. With the 75th overall pick the Ravens selected Louisville QB Chris Redman, much to the chagrin of Offensive Coordinator Matt Cavanaugh who made a case for another quarterback from the University of Michigan, Tom Brady.
Fast forwarding to 2003, the Ravens picked Terrell Suggs with the 10th overall pick and then moved back into the first round to select Kyle Boller. If Cavanaugh had his way, the Ravens probably hold tight with that draft's 41st overall pick. Still on the board was a player that Ozzie Newsome said he had always coveted and should have drafted – Anquan Boldin.
The Ravens could have also kept their first round pick in 2004 which ended up being DT Vince Wilfork, a former college teammate of Ed Reed's and a 5-time Pro Bowler. Wilfork is exactly the kind of player the Ravens could pair up Kelly Gregg. Dwan Edwards, taken in the second round of 2004, would never have been selected. The Ravens could have used that pick on Michael Boulware, Peter's brother, to partner up with Ed Reed. Boulware may have flourished beside Reed while flanked by Chris McAlister and Gary Baxter.
Imagine a defense with Ray Lewis, Ed Reed, Vince Wilfork, Terrell Suggs, Julian Peterson, Peter Boulware and Chris McAlister and an offense with Tom Brady, Jamal Lewis, Anquan Boldin, Todd Heap and Jonathan Ogden.
With Brady as the Ravens quarterback there would have been no need to draft Joe Flacco in the first round in 2008. Instead the Ravens could've had RB Chris Johnson which would then have negated the pick of Ray Rice one round later, which instead could've been TE Martellus Bennett.
Then in 2010, instead of keeping the third round pick in 2011 that became Jah Reid, the Ravens could've traded it and their first pick in 2010 to move up one spot to select Dez Bryant. Later in that same draft, instead of taking a flyer on a raw player considered to be Barbados' answer to "The Blind Side", tackle Ramon Harewood (194th overall pick), the Ravens could've selected Antonio Brown who the Steelers grabbed with the 195th overall pick.
Think about an offense with Brady, Johnson, Bryant, Brown, Bennett and an aging but still productive Boldin. Talk about Killer B's!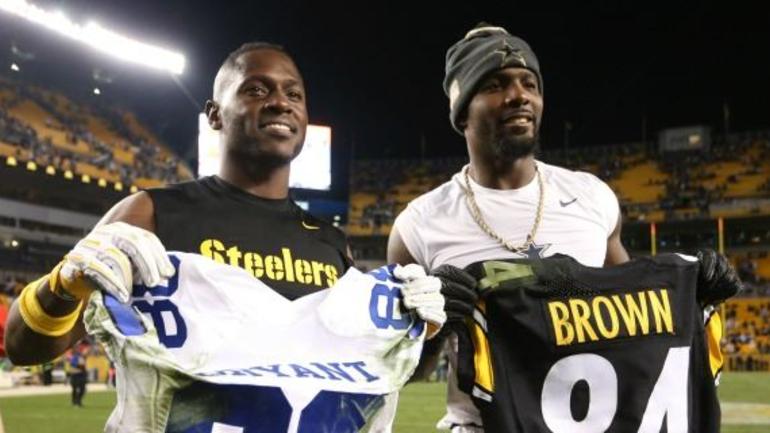 If only Clarence the guardian angel had appeared to Ozzie Newsome…
Of course there are many assumptions here, not the least of which is draft position. After all, if all of these moves had been made, the Ravens would likely have drafted at the bottom of each round, each year.
And that would've been a wonderful life for Ravens fans.
---
[Editor's Note: This piece is intended to be a whimsical journey and not really a knock on the Baltimore Ravens front office.]