Ravens 2017 Mock Draft Tracker 1.0
Print this article
What better way to kick off the NFL Draft season at Russell Street Report than with some mock draft projections?
Between now and the draft in late April, the projected selection for the Baltimore Ravens in the first round (16th overall) will change more times than any of us can count. Especially now, in such a preliminary stage of draft season, mock drafts are more initial baselines than legitimate projections.
With free agency still looming, the Ravens' needs will change, which will shake up the mocks. Particularly in the first round, the team's needs typically come into play, despite the mantra that the front office always takes the "best player available."
There is a fine line between picking one of the best players on the board and filling a need on the roster. For example, the past four Ravens first-round picks have been: Matt Elam, C.J. Mosley, Breshad Perriman and Ronnie Stanley. All four filled needs in the starting lineup, and only Perriman (injury) did not start as a rookie.
With that said, many mock drafts will project the Ravens to address one of their many needs, and there is nothing wrong with that logic, particularly given Baltimore's recent draft history.
On that note, let's take a look which prospects are being projected to end up in purple and black.
Kiper's analysis:
They've got to get a corner; they've got to get a safety. That might be the direction they go at 16.
RSR analysis: Peppers will arguably be the most highly-debated prospect leading up to the draft, and rightfully so. There is no doubting how gifted Peppers is as an athlete, and how successful he could be given his athleticism, but the problem is he has no clear-cut position, and quite frankly did not stand out as much in college as perceived. He will have to settle in at linebacker or safety and hone his craft, otherwise he will be another Dion Jordan – a talented athlete who can play multiple defensive positions, but is not elite at any one in particular. Peppers is a very solid prospect, but far from a can't-miss player.
Brugler's analysis:
The Ravens have a stable of average backs on the roster, which is one of the reasons they ranked near last in the NFL in rushing. Cook would help change that and open up the offense.
RSR analysis: This pick falls in the bucket of best player available over positional need, but given Baltimore's dire need for elite offensive players in general, Cook could make sense. Kenneth Dixon and Terrance West are both good players. Guys that "you love to have on your team. However, neither are going to take an offense to the next level. Cook has that ability. As a prospect who averaged 6.5 yards per carry on 687 career attempts, Cook is among the elite offensive prospects in this year's draft.
Rang's analysis:
The Ravens could be looking for a new right side of the offensive line in 2017 with guard Vladimir Ducasse and tackle Rick Wagner each pending free agents. A former five star recruit, Robinson has starred the past three years at left tackle for the Tide, earning the Outland Trophy this season as the best blocker in college football.
RSR analysis: This is a prime "free agency could completely change this" mock projection. If Wagner signs elsewhere in free agency, then Robinson would make a ton of sense. He has the ideal build, athleticism and experience to be a plug-and-play starter as a rookie. If the Ravens re-sign Wagner, that all but ends the chances of Ozzie Newsome opting for an offensive tackle in the first round. Make no mistake about it: Robinson is still a project as he underwhelmed at times in college relative to his natural ability, but he has a high of a ceiling as any offensive tackle in this draft.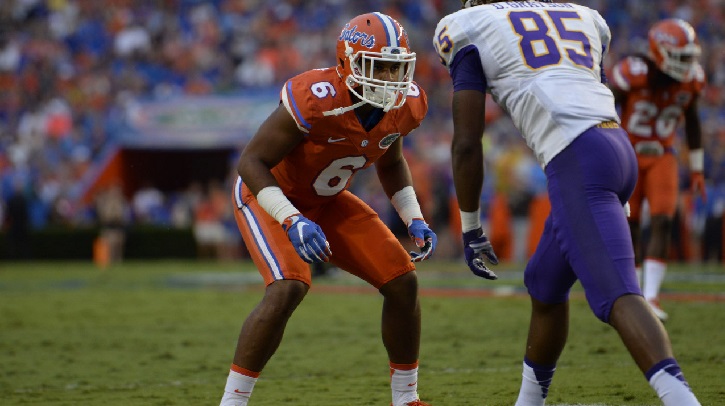 Jeremiah's analysis:
Wilson is a very talented press cornerback with excellent ball skills. He would upgrade the Ravens' secondary, teaming with Jimmy Smith to give Baltimore two of the biggest corners in the league.
RSR analysis: Shocker! Another year in which the Ravens need to draft a cornerback. With Jimmy Smith's injury history, and the fact that Tavon Young is the only other quality cornerback on the roster, there really is no limit to how early and often the Ravens should address the need during the draft. Wilson would be a good start, as he has the prototypical tall, physical build (listed at 6'1, 213) similar to Smith. He is not the elite athlete and game changer that fellow Gators cornerback and draft prospect Teez Tabor is, but Wilson is not far behind.

Palazzolo's analysis:
Baltimore is in a good position to add disruption off the edge and that's just what Williams brings. Mostly a pass-rush specialist at Alabama, Williams created pressure on 26.1 percent of his rushes (NCAA average is 10.0 percent) over a three-year period, and while he didn't play many snaps against the run, he showed the power and length to shed blocks and disrupt plays. Williams can ease into the NFL as a pass-rush specialist while continuing to develop those skills against the run, and he'll upgrade a Ravens pass rush that ranked 30th in PFF's cumulative grades.
RSR analysis: Elvis Dumervil may not be back next season and Terrell Suggs turns 35 in October. Translation: the Ravens need to get better, and more importantly, younger on the edge. Few players in this draft can fulfill that need better than Williams, who did not begin to develop until 2015, but is now a prized edge-rushing prospect. With nine sacks and 16 tackles for loss in 2016, Williams proved his worth as a force in passing situations, and would step in on day one as a pass-rushing specialist for Baltimore.