Print this article
The Geek Speaks
Last night, from 6:30pm until about 10:30pm, I'm pretty sure I hit every single emotion represented by every single smiley emoji in existence, culminating with the puke face.
Indeed, Super Bowl LI was an absolute whirlwind of events, all of which bear some chatter, and more importantly, my completely biased (and somewhat obnoxious) two cents!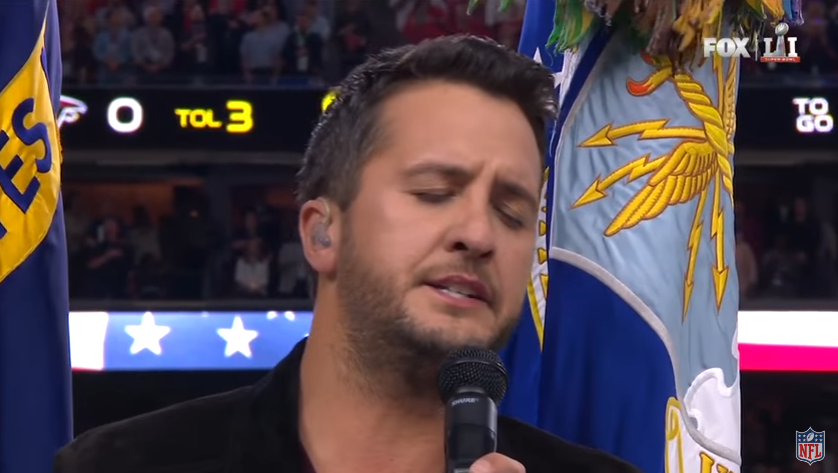 BREAKING NEWS: Luke Bryan just now finished his rendition of the anthem.
Maybe it's just me, but I can't get on board with the logic of "it's the Super Bowl, so let's draw that national anthem out as long as possible." I do grasp it for the sake of timing with the flyover (US Air Force Thunderbirds by the way, which was PHENOMENAL), but as Ravens fans, we see flyovers a few times a year at home and never has the anthem been drawn out THAT long.
Otherwise, Luke Bryan did a good job. Didn't do anything too crazy in the vocals, kept it straight forward, and what have you.
Bravo!
The Broadcast Team
What a year to be Joe Buck!!
Think about this– in the span of 4 months, Joe Buck has called the 1st Super Bowl Overtime game (and the biggest collapse in Super Bowl history) AND the Cubs Game 7 World Series victory (and a 3-1 collapse by the Indians).
That's essentially sports broadcast heaven.
Overall, I don't want to rail on the duo of Troy Aikman and Joe Buck too much, mostly because it would be unwarranted. The pair was tasked with taking a 28-3 blowout through the first 35 minutes of game play and keeping fans tuned in, attentive, and more or less making a drubbing exciting.
They were rewarded by the Patriots with an unbelievably exciting second half giving the tandem all of the fodder for a riveting broadcast that had fans on the edges of their collective seats all the way to the final James White TD that had 95% of America debating whether to throw the remote at their TV, or take the more adult route and simply avoid social media for the foreseeable future.
Also, and I apologize for this, but I cannot look at Troy Aikman the same way ever again after I saw this:
Twins. Separated at birth.
Seriously, I need to see the two of them in the same room together just to prove they're not one and the same.
The Fox Broadcast & Production Team
Standing. Freaking. Ovation.
For the guys behind the scenes who get so little credit and praise outside of the ending remarks after a game (typically, the broadcast team will thank their producers, camera folks, and the rest of the crew) I was beyond impressed with the production they put on for this Super Bowl.
The replay of crucial plays in the game- namely the Julian Edelman catch and the Julio Jones toe tap in the 4th quarter- were literally ready to pump out the second the play ended, leaving us at home no time to even question the result of the play without confirmation from Fox.
But it wasn't just that. They captured player reactions on and off the field (the good and the bad), never seemed to fall asleep at the camera and fall for a play action pass (where so many of the people behind the camera have failed), and overall provided a seamless broadcast for millions of viewers across the globe.
Okay so 1 MINOR gripe- and honestly, it didn't bother me, but I know 'people' complained about it.
During the presentation of the Lombardi trophy, former players carry the trophy through the winning team's players and to the head coach. En route (via the hands of Willie McGinnest and Michael Strahan) the mics picked up on a handful of players dropping a few… choice words… that I'd assume prompted a few FCC calls last night.
Again, nothing major in the grand scheme of things, but noteworthy nonetheless.
Halftime Show
Oy… so let's talk about this as Americans. Not as left wing vs right wing, liberal vs conservative, or anything else that could cause a spat.
Yes, there were underlying political tones for Lady Gaga and her song selection. I think that goes without saying. That being said, I can respect the fact that she did so in a non-confrontational way, didn't create a media s-storm, and was overall respectful.
Opening with "God Bless America" was a moment of pride for ALL AMERICANS, and being accompanied by a slew of drones lighting up the night sky in red, white and blue was nothing shy of spectacular.
There. I said nice things. Now let me be an ass.
IT WAS SO UNGODLY BORING.
Drones aside, and the 'jumping' from the top of NRG Stadium (news flash- SHE DIDN'T ACTUALLY JUMP, IT WAS A VIDEO), the remainder of her performance was literally just blah.
Laser show? It's been done.
A myriad of dancers? Yea. Every year.
Even the song selection was questionable for me. Sure, she took her biggest hits to the big stage, but all of those hits were from her 2009 and 2011 albums, so essentially nothing within the past 6 years other than "Million Reasons" which is a slow jam I suppose, and as I've said before, slow jams and Super Bowl halftime don't mix.
But what's more for me was the lack of 'WOW' factor.
Katy Perry had a giant friggin' metallic lion that probably came from the Power Rangers set. Madonna, as much as I didn't like her set, came out with an Egyptian theme and really wowed with the actual show. Most acts tend to have a 'wow' factor.
This did not. It was simply a half dozen songs stacked up, then this.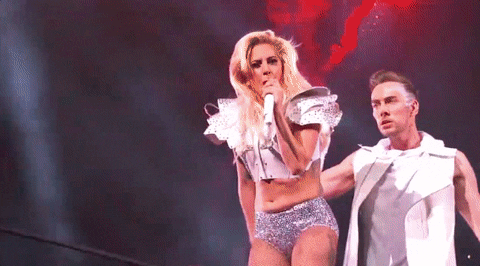 Ok….?
Presentation of the Lombardi
As previously discussed, the mics should've have been turned off as Willie McGinnest and Michael Strahan passed through the Patriots players, but I have a bigger issue to discuss here.
Kissing the Lombardi Trophy.
So humor me- here's a conga line of full grown men sweating profusely for the past 3+ hours. Some may have adjusted their pads, others adjusting jock straps, and some may simply reach into their mouth and rip out a spit-covered mouth guard. Now, all of these grown men-post pads and jock adjusting- are touching the Lombardi.
SO WHY IN GOD'S NAME WOULD YOU WANT TO KISS THAT TROPHY?
If that's me? I'll touch the Tiffany's & Co. made trophy (fun fact!), but I'll save that lip smack for after it's cleaned up and my turn for a day with the trophy.
Back to the presentation of the trophy and Robert Kraft taking a tiny little dig after Roger Goodell handed off the trophy to the Patriots owner.
"Two years ago we won our 4th Super Bowl in Arizona. And I told our fans that was the sweetest one of all. But a lot has transpired in the last two years. And I don't think that needs any explanation. But I wanna say to our fans. Our brilliant coaching staff. Our amazing players who are so spectacular. This is unequivocally the sweetest!"
Then Terry Bradshaw started brown nosing Kraft and Belichick and I tuned out. What a tool.
---
Overall (outcome aside) it was a pretty spectacular Super Bowl put on by Fox, and definitely a memorable one to say the least.
Now if only we can find a way to keep Brady from getting back there again…