Ravens 6-Round Mock Draft
Print this article
With draft day right around the corner, pundits are quickly putting the finishing touches on their final mock drafts. Posters on the Russell Street Report Fan Forum are no different. For some good in depth discussion, I'd highly recommend following this Draft Obsession Thread
I too like to tinker around with different draft day scenarios and I have come up with a full mock draft for the Baltimore Ravens that I think meets several needs, but also gives consideration to the best player available approach. I first started by comparing several different draft prospect repositories, watched as much tape as I could of several different players, and read as many analytical reports as I could get my hands on. I then began to stack my own board and the following picks for the Ravens are what I came up with. Please feel free to add comments below on whether you like or dislike this draft.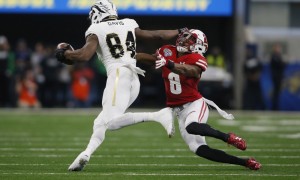 16. Corey Davis 6'3″ 209, WR, Western Michigan. The Ravens aren't afraid to take small school players and, in fact, they've been quite successful with developing small school players. I think Mike Williams and John Ross will be in play here, but when I watch tape, Davis just stands out. He's a smooth route runner over the middle, he makes tough catches in traffic, he high points passes well, he's a red zone threat, he works the sideline very well, and he makes a lot of contested receptions, which I value almost more than any other attribute for receivers. Mike Wallace and Breshad Perriman have speed for days, but Davis has legitimate #1 upside whereas Wallace is on the tail end of his career and Perriman can't seem to make the easy catches.
47. Tim Williams 6'3″ 244, LB, Alabama. While it may be shocking to some, I certainly could see the draft unfolding this way. Tim Williams is arguably a Top-3 pass-rusher in this draft class, but he hasn't made good choices off the field. Making it more complicated is that during his interviews, he allegedly struggled to showcase football knowledge and may need a lot of coaching to figure things out. In round-1, I don't think the Ravens would take him, but in round-2? Well, that could be a bit more appetizing. Williams is a quick-twitch athlete with elite "bend" as a pass-rusher. He had 28 tackles for loss and 19 sacks in the last two seasons.
74. Pat Elflein 6'3″ 303, C, Ohio State. John Harbaugh probably has a good idea of how good of a player Elflein is because of Jim Harbaugh coaching against the Buckeyes for multiple years now. Elflein is smart, strong, a leader in the locker room, and a hard worker – all of the traits that the Ravens typically look for in an offensive lineman. The Ravens traded Jeremy Zuttah and I can't imagine they have a tremendous amount of faith in John Urschel or Ryan Jensen at this point. Elflein is one of the top players available here and he fills a huge need at center.
78. Juju Smith-Schuster 6'1″ 215, WR, USC. Smith-Schuster is a tough receiver with strong hands, decent route ability, and is a post-catch threat with good YAC figures. He's got solid speed and is built like a super hero. Just because the Ravens drafted Corey Davis in round-1 shouldn't preclude them from double-dipping. The Ravens have Breshad Perriman, who is inconsistent, Mike Wallace, who disappears for stretches of games, and Mike Campanaro, who can't stay healthy. Chris Moore looks to be more of a ST's guy and Keenan Reynolds is the definition of a project. The point is, Smith-Schuster is a very different type of receiver than what the Ravens currently have – even if they draft Corey Davis. Davis, Perriman, and Smith-Schuster should be an excellent trio of youth, size, speed, and upside.
123. Julie'n Davenport 6'7″ 318, OT, Bucknell. Baltimore often targets small school prospects throughout the draft and I think there are a few small school gems in this draft class. Julie'n Davenport has the athleticism and ideal length to play OT. The Ravens lost Rick Wagner in free agency and while they may allow open competition at RT, I can't see Stephone Nembot or DeAndre Wesley being the answers there. Davenport has all of the hallmarks of a quality starting RT.
160. Nate Hairston 6′ 198, CB, Temple. The Ravens struck gold last year with Tavon Young. Why not go back to the Owls' well? Hairston is one of my favorite mid-to-late round prospects in this draft. He is a former receiver that switched to corner while at Temple. He only has about 2 years of experience at corner, but he filled in decently for Tavon Young last year. Hairston is physical, has decent speed, has good hands and he's a willing tackler. I could think of worse picks in round-5.
188. Xavier Woods 5'11" 197, FS, Louisiana Tech. Woods was a top performer for all safeties in the 3-cone drill, 20-yard, and 60-yard shuttle. These drills may not be as popular as the 40-yard dash, but what the cone drills and shuttles indicate are lateral quickness and change-of-direction ability. Woods certainly has upper echelon athleticism and I wouldn't be surprised to see him go higher in the draft. What I like about him is that he has excellent ball skills (8 interceptions in the past 2 seasons) and his tape shows a safety that tracks the ball very well in flight. The big area of concern is his size and whether or not he's going to be consistent as a tackler. One of the knocks on him is that he is more of a "hitter" and not so much of a "tackler".