Predicting (Not Mocking!) the 1st Round
Print this article
I'm going to level with you guys. I'm all mock drafted out. And let's be brutally honest here: the 'professionals' mocking up the NFL Draft on a yearly basis (monthly, weekly, some even daily) are about as accurate as Brick Tamlin calling the weather.
Even at this juncture- the day of the draft- we'll still see mocks coming down the pipelines, or the lazier narrative of 'here's who everybody else says our team will draft' by collecting all of the current mocks, finding the most drafted player by team, and slapping it into a clickbait-esque format.
Yawn. (Well, except of course this one, which you should TOTALLY read.)
So let's shake it up a bit, break free from the hypnotic droning of these sch-mocks, and take a look at a few bold predictions that will lead to the Ravens selection at 16.
Top 3 Running Backs will be gone by Pick 16
I like the 49ers to jump on Leonard Fournette at 2 and shock some folks around draft circles, while Christian McCaffery ends up with the Jets at 6, and Dalvin Cook to the Eagles at 14 (he'll get booed in Philly, but will be happy not to get the Santa Claus or battery welcome wagon). Clearly the Ravens wouldn't waste their time even mentioning the name of Joe Mixon after his well-documented domestic violence incident, and Alvin Kamara isn't at the same level as the aforementioned group of backs.
In essence, the Ravens won't have an option for a top-tier playmaking back in this draft at 16, thus the Ravens will not take a running back in the first round of the draft. 
It never gets old saying that…
HAPPY DRAFT DAY ALL! 1 LAST TIME…

The #Ravens will NOT be drafting a RB today! ???? #NFLDraft

— Adam Bonaccorsi (@AdamBMore) April 27, 2017
See?
Reuben Foster will fall… Barely.
It's one thing if we're talking about a mid-round talent player having a diluted sample, but this is not that.
This is a top-10 talent in the draft, who will still be drafted high despite two headline-worthy incidents stemming from the NFL combine: the first incident involving an altercation with medical staff, and the other a recently revealed failed drug test due to a diluted sample. In essence, teams still valued Foster high after the altercation at the combine, and they'll likely use Foster's admission of guilt prior to the NFL releasing that information as a means to justify still drafting him early in the first round.
By no means do I have any qualms with this, and assuming the Ravens did their due diligence, I truly believe Ozzie & Co. would draft Foster if he fell to 16.
But he wont.
Expect Foster to be gone by the Colts at 15, thus busting many a bubble of Ravens fans hoping to land yet another Bama linebacker alongside C.J. Mosley.
A 'Playmaker' will be available at 16.
I see Mike Williams being gone by the Bengals at 9 (which is terrifying imagining Williams paired up with A.J. Green, despite mediocre QB play from Andy Dalton), and O.J. Howard will surely be gone before the Ravens pick at 16 (I like the Jags as a fit, but believe they trade down into the early teens and still pick him up). I'm not a John Ross fan, simply due to injuries and think he falls into a Day 2 early pick, or possibly a late Day 1 pick by a team trading back up into the round.
So who is left on the offense as a 'playmaker?'
Corey Davis.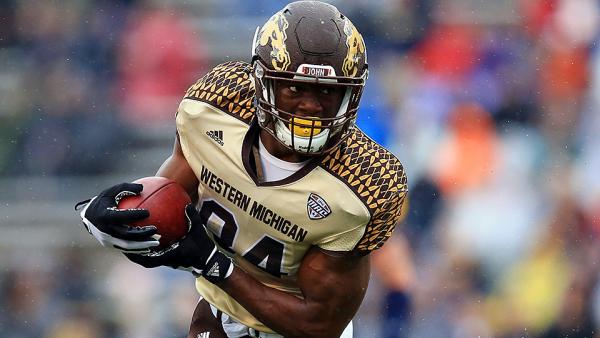 Davis will be there at 16, not because he isn't talented, simply due to circumstances and a mixed bag or perceived value by teams. In the top 15 picks, we'll see 1 QB (Trubisky), 5 offensive playmakers (Fournette, McCaffery, Cook, Williams, Howard) and the remainder defensive players worthy of their selections, (a slew of pass rushers and defensive backs), allowing Davis to be sitting on the table at 16.
Alas, the Ravens won't draft a Playmaker at 16
Corey Davis is there… but the Ravens won't be calling his name.
With the upcoming season essentially a hot seat haven for the entire Ravens front office and coaching staff, the last thing we should expect is a 'sexy' pick, especially when there's potential for it to backfire in their collective faces.
This isn't to say Corey Davis will not be good; personally, I believe he has the talent to be a very good wideout in the NFL- but with the 16th pick the Ravens won't take a risk drafting a guy who I've seen as far back as the 45th pick in some mocks.
FOR THE RECORD: If the Ravens were to take any Wide Receiver in the 1st round, it would be Williams, but I don't see him falling to 16.
Baltimore will not be trading down, either
The Ravens may not draft the playmaker the fans coveted at 16, but don't expect them to trade down either.
There will be two teams trading up into the top-15 ahead of Baltimore, making selections that allow a top-10 pick on the Ravens board to fall to them at 16. Unless a hefty package is thrown at Ozzie & Co. I don't expect they'll hesitate to run their card to the podium at 16 and land a DEFENSIVE playmaker.
Haason Reddick, welcome to Baltimore
There's the next big name for the Baltimore Ravens, folks.
Reddick went from walk-on at Temple, to a potential first-round pick, and is now a coveted player on the 1st day of the NFL draft. With offensive weapons flying off the shelf before Baltimore picks, as well as a run on defensive backs, several pass rushers will fall to Baltimore at 16.
I'll save you the measurables/analysis aspect of assessing a player, as I'm sure by now you've heard it all before. I'll leave it at this: I love Reddick's nose for the backfield and athleticism. He'll be learning a new position, but switching to outside linebacker and learning under the tutelage of future HoFer Terrell Suggs may be the ticket to help Reddick become the next big thing in Baltimore.
So there you have it folks. I saved you several hours of watching the draft, waiting for the Ravens pick. You can thank me around 10pm tonight while you start guessing what number Reddick will wear, and who the Ravens will take on Day 2.
---
But for the sake of throwing darts, here's a few more bold predictions for Thursday's first round of the NFL Draft. Let's see how accurate we are come Friday morning.
The Browns trade up from 12 into the top-5 to nab Trubisky, along with Myles Garrett at 1.
Philly could draft Jesus and their fans will still boo.
3 QBs are drafted tonight- Trubisky, Watson and Webb (in that order)
T.J. Watt gets overdrafted because of his name (should be Day 2 pick)
Adoree' Jackson sneaks into the top-15
Only 2 Offensive Lineman go in Round One
The Patriots somehow make their way back into Round One
If I land even 25% of my bold predictions I'm calling it a win.