Tony Jefferson Creates Bond via Twitter
Print this article
The 2nd best decision I've made on Twitter this year was to follow new(ish) Ravens safety, Tony Jefferson.
Initially, it was one of those "hey guys! Follow our newest Raven!" and I was totally on board. Typically, we follow blindly simply because these players have active accounts when the Ravens sign them; however, more often than not, every other tweet is an #ad, or their last tweet was in 2013 and it simply says "bruh" with like 4 or 5 laughing emojis, or something random like that.
Not Tony Jefferson, though.
The man has a fire gif game, he replies to fans and players alike, and he'll always leave you laughing.
When you wanna eat wings to watch the game tonight- then you remember what you gotta do at workouts tomorrow pic.twitter.com/SzAwV5yDg6

— Tony Jefferson (@_tonyjefferson) May 16, 2017
And what's more? He's using social media to plant his roots on this Ravens team, prior to even stepping foot on the field in purple and black.
The 25-year old Jefferson is entering a recently reshuffled Ravens secondary, where the former Cardinal will be paired up with safety Eric Weddle, joined by a wide cast of cornerbacks including rookie Marlon Humphrey, Jimmy Smith, Brandon Carr and Tavon Young, with a supporting cast including Lardarius Webb, Anthony Levine, and Maurice Canady.
Yet despite the drastic variances in age, experience, and tenure in Baltimore among the defensive backs, Jefferson jumps in head first on social media- namely the Twitterverse- starting conversations and creating bonds along the way.
Weddle & Jefferson already seem to have a killer rapport.
@weddlesbeard lol I'm a teenage mutant ninja turtle

— Tony Jefferson (@_tonyjefferson) May 25, 2017
While the others among the group (those on Twitter) are always grouped in as well. Whether it be clowning around…
@_tonyjefferson you cool huh man ? https://t.co/EBNJlreyII

— Tavon Young (@Tyoung_NL) May 22, 2017
…or trying to help a teammate grow…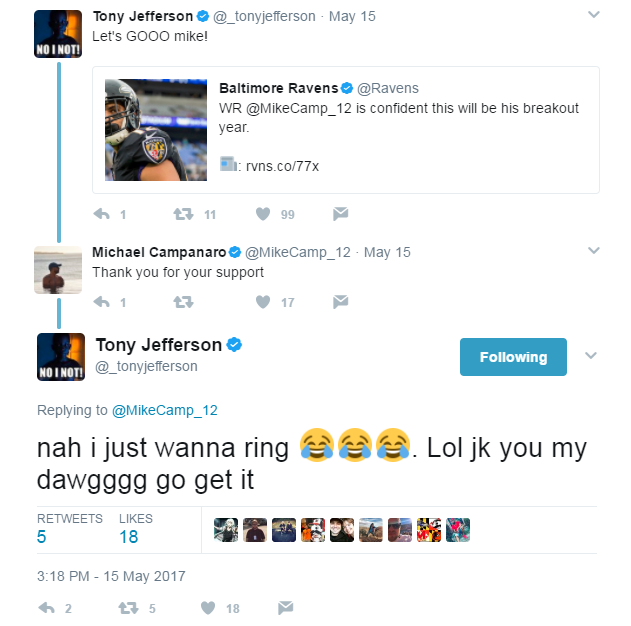 Although it seems ripping Michael Campanaro for his LeBron obsession seems to be front and center with the NBA playoffs in full swing (MJ is better, sorry Camp!)
He doesn't follow you or look at your tweets my G.. https://t.co/Rk85bbSrv4

— Tony Jefferson (@_tonyjefferson) May 22, 2017
"SO WHAT?" asks the cynical fan with their arms folded and a scowl plastered on their face as they start to comment the ever-so-unoriginal "Yea, but he doesn't play wide receiver!"
I'll tell you why this is crucial, Sour Sam: that cohesion is key to trust among the group, and that trust will lead to results.
Let me ask you this- how many offseasons do we (well not I, from my high  horse) gripe about Joe Flacco not working with his wideouts in the offseason? How much do we complain that he needs to get on the same page with them, much like he is with Dennis Pitta, or was in the past with [insert safety blanket, veteran receiver brought in late in his career]?
While the Flacco-synergy concern is legit, those same benefits can be gained for each positional group around the team, especially the secondary. The cornerbacks needs to trust their safeties, and vice versa. How many times in the past few seasons have we witnessed a Ravens corner release a receiver to the safety… who wasn't there? The play results in a big gain or a score, fingers start pointing, and the defense buries their collective heads (as do the fans).
With Jefferson chatting it up among his fellow DB's, they're effectively creating a bond. A family. Trust. Communication. They'll get matching tattoos and friendship bracelets, maybe name their future kids after one another.
Okay, maybe not all of that, but at least the points crucial to football, and less of the summer camp/kumbaya/sign my yearbook type bonding.
But TJ (can I call him that? I'm gonna call him that til he says otherwise) doesn't stop there.
Does that ensure that the secondary will be perfect? Absolutely not. Talent will always trump everything else. But given the talent this group has and the bond that they are creating, in large part thanks to Tony Jefferson? I think his quote from yesterday's OTA's looms large.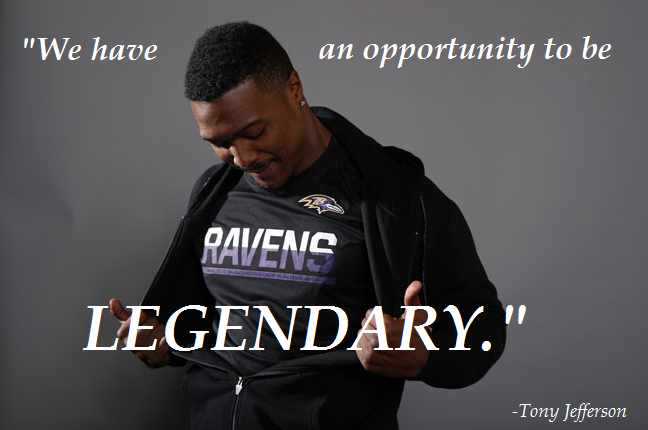 *For the record, my best decision on Twitter was to spend 2 straight months leading up to the NFL draft tweeting- every single day-  that the Ravens wouldn't draft a RB in Round 1, despite a slew of mocks insisting upon it.