Ravens Should Go All-in on Maclin
Print this article
After Jeremy Maclin's surprising release from the Chiefs this week, the Ravens have been widely viewed as the landing spot that makes the most sense for the 29-year-old wide receiver. He's also been linked to the Bills, Browns, Rams and 49ers, but most "experts" agree that Baltimore is the ideal fit.
There's also been another common sentiment.
If teams get in a bidding war for Maclin's services the Ravens will likely lose that battle. Ozzie Newsome has little flexibility when it comes to cap space and teams like the Browns and 49ers have ample room to negotiate. If Maclin is chasing a payday, landing in Buffalo or San Francisco is more likely than Charm City. But if the Ravens are serious about competing in 2017, which it appears they are, they need to find a way to get a deal done with Maclin one way or another.
John Harbaugh's squad has exuded vibes of confidence through the first few weeks of OTA's. Despite the chatter about the offense not having not weapons to compete with the firepower of Pittsburgh or New England, it's clear they feel otherwise. Mike Wallace has built a rapport with Joe Flacco over the past 11 months while Breshad Perriman has been the most impressive player in camp.
Is it a sign of things to come or false optimism?
Count me among the group that leans toward the latter.
That's not a knock on Perriman or Wallace, there's potential for both to have big seasons in 2017. But Joe Flacco has proven he needs to be surrounded by the right supporting cast to thrive. That cast is currently lacking pieces and signing Maclin would be a major step in the right direction. There's proven history that provides glimpses into both scenarios.
In 2012 Flacco was obviously at his best during his historical playoff run. Looking at his pass catchers at wide receiver that year, he had speedsters Torrey Smith and Jacoby Jones with Anquan Boldin serving as his possession receiver to move the chains and make contested catches. The offense ranked 10th overall averaging 24.9 points per game.
Now let's fast forward a year…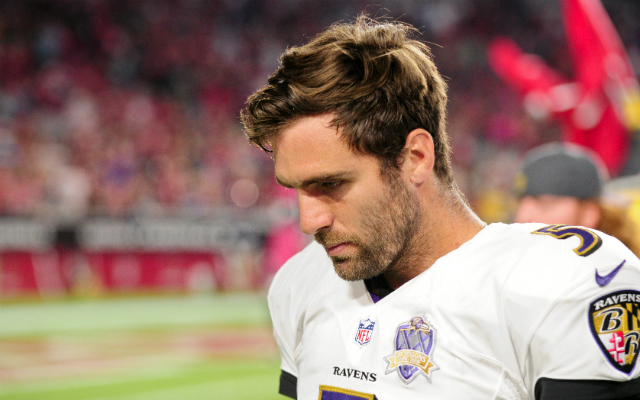 The Ravens traded Boldin and left Flacco with Smith and Jones as his primary receivers. The offense struggled and the team sputtered to an 8-8 finish. The offense fell to 25th overall averaging just 20.0 points per game. It's obvious that Flacco performs at a much higher level when he has a solid possession receiver with reliable hands. Whether it's been Derrick Mason, Boldin or Steve Smith Sr., it's a critical element that can't be overlooked.
The Ravens can't afford to make that mistake heading into 2017. Even if Wallace replicates his 2016 season and Perriman takes a step forward, the offense is still missing a critical element. In the event either goes down with an injury the situation gets even bleaker.
Ozzie Newsome has said that the Ravens would add a complementary pass catcher this offseason. A really good one just fell into his lap. The teams brass need to find a way to get it done one way or another. If they don't the outlook for the offense is weak even if the team preaches otherwise.