Ranking The Ravens Rivals
Print this article
On a recent day of the week (let's call it Friday) at a random time of day (let's call it noon-ish) I found myself in a sporting goods store (let's not call it Sports Authority because… yea, that's not a thing anymore). While navigating my way through the DC affiliated section and into the Baltimore team apparel, I came face to face with one of life's biggest nuisances.
A pompous Skins fan.
While I initially gave him the same non-attention of any other passerby, I received quite the parting gift: a valiant effort at what I can only refer to as a snarling Elvis-esque lip move (not much unlike an overprotective dog), with a head nod and a furrowed brow to boot.
What was that?!
As I slow-stepped away in confusion, I caught a glimpse of myself in one of the mirrored pillars, and it dawned on me: I was wearing my purple Russell Street Report polo. The Ravens affiliation clearly irked 'brosef' so much that he felt the need to mark his territory (note to self- Nat Geo needs a documentary on sports fans and their behavior when tribes clash).
For me, I had no qualms, as I am one who doesn't see the Skins as a major rival. AT ALL. More so that borderline, middling rival at best.
But the notion of rival rankings truly got my wheels spinning. We all know the Patriots and Steelers are the Ravens 1-2 punch in the world of rivalries (no particular order, as I'm not opening that can of worms). But where do the Ravens other rivals rank?
Lucky for you, I have the inside scoop!
Not really, but I have crushes and Coronas and that's just about the same thing.
10. The Skins
Ay yes, let's start with our beltway buddies! This is less about the team for me, and more about the local bond, and relationships.
Personally? I don't care about the Skins, nor do I care about Dan Snyder's stubbornness to keep the name, whether or not the team moves back into DC, or how well they do. What I DO care about are those family members who stumbled into the Skins fanbase, be it in a post-Colts, Natty Boh induced daze, or simply because they live south of the tunnels in Baltimore and 'claim' to be closer to the Skins (fallacy).
I love agitating them to no end, and I strongly encourage you to try it! Let them know the Skins are in Maryland, not Washington. Remind those Skins fans living in Baltimore that it would be like living in Pittsburgh and being an Eagles fan. Remind them of RG III. Or Albert Haynesworth. Or Vinny Cerrato. Or simply mention Bruce Allen's name and watch them rage.
All totally worth it…
9. The Fins
Before you jump my ass about this, hear me out.
They don't own us on the field by any means. But we surely own that stadium, and that must irritate all 5 of their fans.  In fact, I believe Fins owner Stephen Ross actually made all of those upgrades, including the giant shade, after several requests in their suggestion box via Ravens fans.
But don't think for a second the rivalry is one way, with Fish Fans loathing our Birds.
Remember 2007 when the Ravens faced the 0-13 Dolphins in Baltimore South Stadium? Remember when Matt Stover missed a 44 yard FG to win the game (Tucker would've made it, just saying…) and Cleo Lemon– CLEO FRIGGIN LEMON- connected with Greg Camarillo for a game winning TD for their ONLY win that season? Then remember when the Ravens hired then-Fins head coach Cam Cameron?
SALT.
8. The Bengals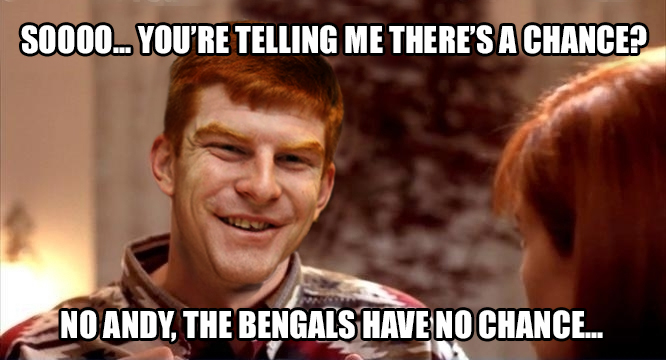 Yuuuuup. Below the Browns.
Fun fact: Only 1 game against the Bengals matters each season, as our annual Week 17 match-up typically doesn't decide anything. Also, I can't take Andy Dalton seriously, they're notoriously dirty, and yes, AJ Green has our number. But whose number doesn't he have?!
At the end of the day, it's hard to consider them a rival when they can't win playoff games, yet continue to extend their head coach's contract, while the owner lines his pockets by living well below the salary cap, thus screwing The Jungle out of a possible contending team on a yearly basis.
In essence, I feel bad for their fans. Hard to hate a team/fanbase when you pity them.
7. The Falcons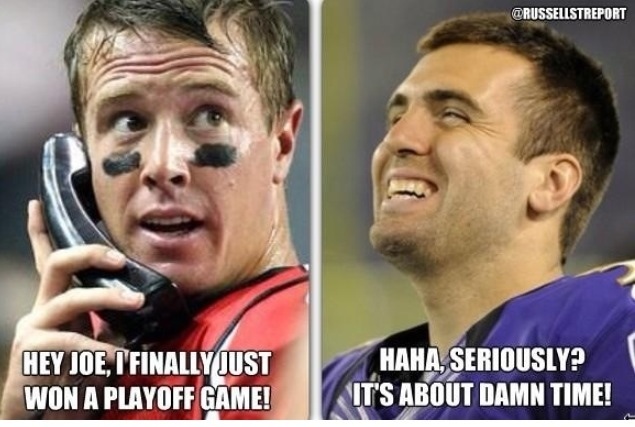 The Ravens have only played Atlanta 5 times, with a 3-2 record against the Dirty Birds, and a 29-7 trouncing of the Falcons in their last meeting (2014).
Despite the limited head-to-head exposure, the rivalry comes into play with the never-ending cycle of Flacco vs. Ryan comparisons. Personally? I hate the whole thing. One has Julio Jones, while the other hasn't had a cumulative group of receivers equal to Julio Jones' talent. One has (or had) a great supporting defense and run game, while the other didn't until recent years. One has great regular seasons, while the other has a Super Bowl ring and a Super Bowl MVP.
Just like the Skins, I couldn't care less about the Falcons.
That is, until the Flacco/Ryan comps start…
6. The Bolts
There's a 2-way animosity here that goes under the radar.
From the Ravens fanbase standpoint, the fact that eternal Charger, Philip Rivers, essentially owns the Ravens secondary is insanely infuriating. How infuriating? Try a 14:4 TD:INT ratio, averaging just under 290 yards per game. Or how about the Bolts-Ravens game in 2014 when the Ravens led from early Q1 all the way to the final 38 seconds when Rivers silenced M&T Bank Stadium with a TD pass to Eddie Royal?
DAGGER.
But fret not, Ravens fans. We will forever have our 4th & 29 conversion!
Sorry, Eric Weddle!
5- The Colts
I'm not including the Colts for all of you old fogies with your Mayflower stories. I understand that is part of Baltimore's past; however, the newest generation of Ravens fans were not privy to that, thus a whole lotta desensitization going on when it comes to the Colts.
Instead, I have the Colts in the 5 slot because of one man…ning.
For years with the Colts, Peyton Manning terrorized the Ravens, slicing them up like a Thanksgiving turkey. In fact, Manning sat Baltimore down for 8 straight losses from 2002-2010, including a 2007 playoff loss where the Air McNair led Ravens couldn't find paydirt in a 6-15 embarrassment.
4- The Browns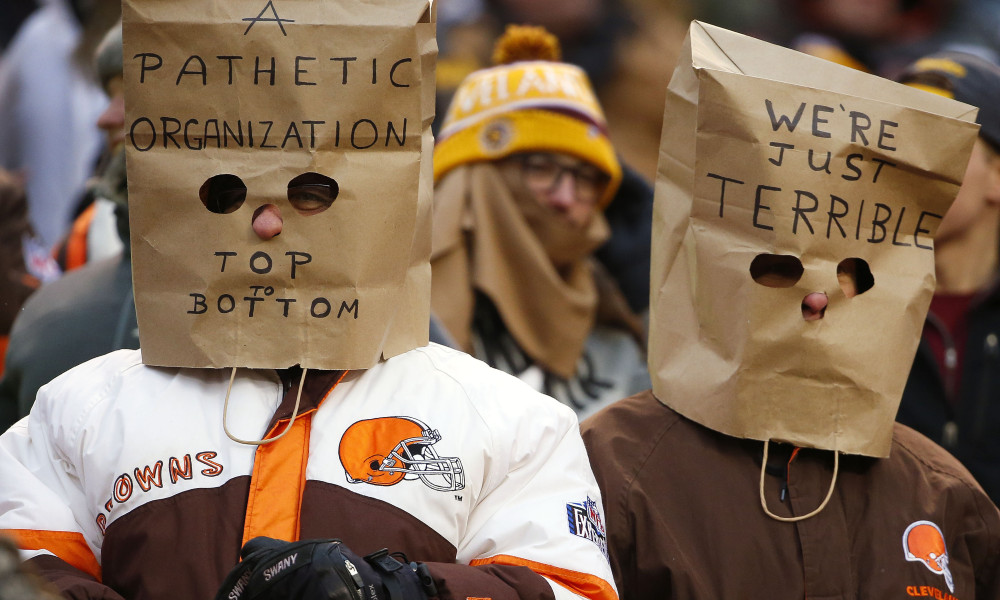 Yes. I know. The Browns are awful. Almost as bad as the 2017 edition of the Orioles.
BUT. Did you know the Ravens-Browns games have been 1-score games in 6 of their last 8 games? Or that the Ravens have given up 20+ points in 5 of the last 7 games to the anemic, ever-undefined and shape shifting Browns offense?
Not enough to convince you?
What about the 2007 'the field goal is no-good, sike it is good, oh and your fans left, oh and the Browns now won in OT' game?
Oh, and that whole 'the Browns hate the Ravens because Modell moved the team and Tony Grossi is a blackballing SOB blocking one of the greatest contributors to the game in Modell from making it into the Pro Football Hall of Fame.'
The animosity doesn't fade, folks. Regardless of how bad one of the two franchises may be.
3- The Jags
I'll start with Elvis Dumervil's game-ending penalty against the Jags from 2 years ago that allowed them to kick a game-winning field goal with 0:00 on the clock.
Still burns. 
But this rivalry comes down to one thing: tight games.
The Ravens and Jags have gone head-to-head in the past 3 seasons, with the Ravens holding a 2-1 advantage in the win column (should be 3-0, thanks Doom). That being said, all games have been 1-score games, with 12 of their last 14 skirmishes (I just wanted to use the word skirmishes) decided by 1-score as well.
With the Ravens improved D and the addition of Maclin, matched by the Jags addition of rookie Leonard Fournette, everything points to the Ravens and Jags hosting another close game come September when they visit Wembley.
2- The Officials
Who said we're sticking to other teams? Did you make the rules? No, I did.
Here's the Ravens total regular season penalty rankings in the past 5 years:
2016- 6th
2015- 7th
2014- 16th (hi, I'm an anomaly)
2013- 5th
2012- 2nd
And clearly those issues have nothing to do with the team's discipline overall, right? Right?
Obviously, this is the fault of the NFL officials. They look for the Ravens to hold on defense, or call false starts when Yanda twitches his nose, or miss penalties on purpose against the opponent to get the Ravens thinking they can get away with it too, then call it on them.
Clearly, the Ravens natural enemy is the Zebra.
1- The Ravens
Hooray for self inflicted wounds!
Yes my fellow Ravens fans. It's true. The Ravens are their own biggest rivals, and their own worst enemy. And you can take that from whatever angle you want.
The draft slip ups, a la Matt Elam, Terrence Cody, Arthur Brown, Sergio Kindle, so on and so forth.
The penalties on top of penalties on top of penalties.
The awful challenges, timeout misuse, 2-minute drill faux pas, inability to call a single running play even when it's effective, hanging on to coordinators too long, questionable contracts & extensions…
I mean, that screams Plaxico Burress treatment right there.
The only difference here? The Ravens can fix these issues! And in doing so, hopefully return to a place where teams like the Steelers and Patriots actually consider the Ravens their rivals.
Just missing the top rival list: Roger Goodell, Lavar Ball.