Print this article
Since 1998, I've been to the Florida Keys on average, about once per year. It's a place I connect with on multiple levels. I have roots in Fells Point and I've always loved the water. For me, Key West is what you get if you throw the foot of Broadway into the Caribbean.
If you too are a fan of both, you know what I mean.
No trip to the Florida Keys is complete without driving through them, particularly if it's your first visit. Flights into Fort Lauderdale or Miami are priced reasonably. Some prefer to hop on a puddle jumper into Key West but for me, the drive "down" is like a huge welcoming mat that gradually brings you into a Key West state of mind. Coming home is a different story. When the unfortunate hour arrives and your visit is officially over, the puddle jumper back to Lauderdale/Miami is recommended. But by all means, enjoy the drive on your way there and make a few strategic stops along the way.
Here are a few recommendations:
• Gilbert's in Key Largo (Mile Marker 108.5)
• Loralei's in Islamorada (Mile Marker 82)
• Morada Bay in Islamorada (Mile Marker 81.6)
• No Name Pub in Big Pine Key (Mile Marker 30.2)
• Mangrove Mama's (Mile Marker 20)

Here's a guide to some other places from Florida Road Trips…
Driving Directions to Key West
There are just 3 things you need to know when driving to the Florida Keys:
1. Get on the Florida Turnpike and follow the signs to Key West.
2. Rent a convertible
3. Turn the convertible in within 24 hours. You won't need it afterwards.
Did I say rent a convertible?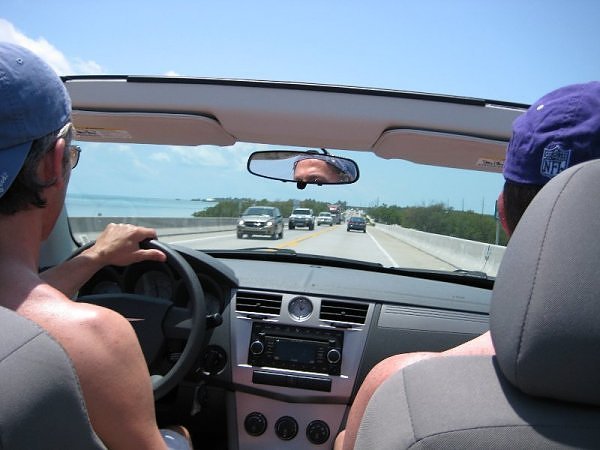 At first, the drive doesn't seem like any big deal (even less of a big deal if you head to the Keys straight from Lauderdale). Before long you are on the Florida Turnpike. About 45 minutes into your drive you will hit Florida City. That's where what I call "the tunnel" begins, just as you approach Key Largo.
Soon you'll notice water to both sides of your convertible. At first, it's a bit swampy but gradually, you begin to see more of the ocean bays to your left and the Gulf to your right. The drive just continues to get more beautiful along the way. It's as if you can feel your body begin to unwind. Vacation awaits you…
Be sure to get to the 7 Mile Bridge during daylight hours (Mile Marker 40). Words do not do the drive justice. But the 3 1/2 hours from Miami are well worth it, especially if equipped with sunscreen, a little cooler (stop at Tom Thumb's and get a cheap styrofoam cooler), great tunes and the wind through your hair.
A great place to stop for a cool dip is Bahia Honda State Park (below at Mile Marker 36)
As stated above, once in Key West, dead-head your convertible at the Key West Airport. Turn it in! You won't need the car. Save your money and rent a bicycle. Get those cheap old ones – the cruiser bikes. We usually pay about $10-12 per day per bike and rent the bikes from a place on Truman Ave just off Duval. Not only are bikes cheaper, they are more convenient. You don't have to worry about drinking and driving or parking. It's a no brainer and if you can't handle the bicycle after pit stops along Duval, cab rides are cheap. Rickshaws are available too, but more costly.
Don't be tempted to rent a scooter. It's more expensive, more dangerous, there are still parking issues and you really don't get to places any faster. Trust me, I know these things…
ACCOMODATIONS
It's best to stay near Duval Street, the true heartbeat of the 2-mile by 4-mile island. Now there are certain places that are very nice down near Mallory Square and there are many bed and breakfasts that are also very nice, depending on your budget. If you are going to do Key West right, you won't be in your room much at all. So, get a place that is nice, clean and convenient but won't break the bank.
Try Home Away or my girl Susie Rodnon. She's a local and will work hard for you to find a place that is priced fairly to fit your needs.
305-766-1414
susie@keywestkey.com
Things To Do
1. Do a sunset/snorkel cruise…well worth it! Try either Sunny Days or Sebago. The trip to Dry Tortugas is an all-day event but breathtakingly beautiful and well worth it particularly if you are staying for 4 or more days. If you'd rather keep your excursion to 4 hours, then try one of the snorkeling trips to the coral reef. Or if you don't want to snorkel at all, there are plenty of sunset booze cruises available. Usually $50 will get you some decent munchies, the cruise, a band on board and of course those cold libations.
2. If you like jet skis, there is a place down at the Gulf end of Duval near Mallory Square just behind the Ocean Key Resort. (Side Note: I've stayed here a couple of times and it's a great spot). It's the ultimate jet ski tour. You go out for 90 minutes and do a complete lap around the island. It's about $100 but well worth it. The guided tour is a blast and you'll learn more about the island.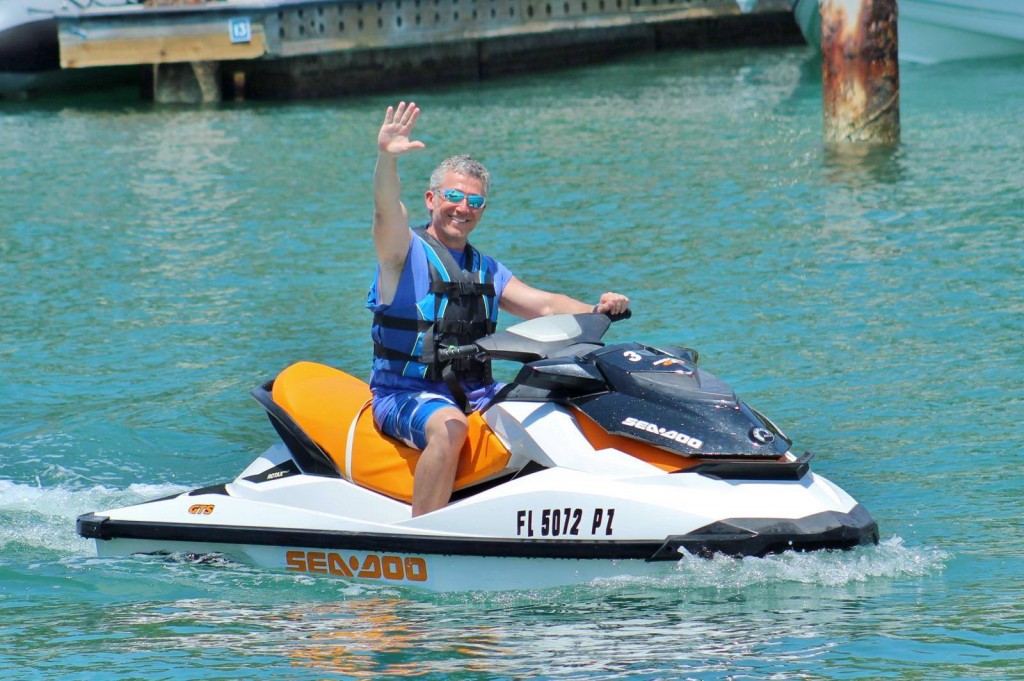 3. The Hemingway House tour on Whitehead Street is worthy and I'm not much on such tours. My attention span is that of a child's. Hemingway was an interesting guy to say the least. He was a big fan of the Original Sloppy Joe's which is now Captain Tony's. The tour is a nice thing to do if it's overcast or if you want to get out of the sun for a bit.
4. Sunsets at Mallory Square are fun…lots of Vaudeville-like acts there…there are a few tiki bars (the one adjacent to Ocean Key is great) in the area with live music, all of which take advantage of the gorgeous sunsets.
5. Once when I took the kids to the Keys, we did a tour of the dolphin playground…they swim up next to the boat…that was very cool… Check Sunny Days or Sebago. For those who think Key West isn't for kids, I'm here to tell you that it can be if you want it to be and mine can't wait to go back. But if they are under 15-ish…keep them out of the bars, even if it's just for lunch. I made that mistake when my daughter was around 10 and the guy up on stage at Sloppy Joe's was dropping F-bombs like a sailor. My daughter looked at me and said, "Dad, I don't think this place is appropriate for children." Let's just say it wasn't one of my finer parental moments.
Places to Eat, Drink & be Merry
1. Irish Kevin's Bar….is a riot…acoustic guitar players that mix in some off-color humor…and sing-a-longs…very fun place. I learned not to take the young-ins there (see above).
2. Hog's Breath (it's better than no breath at all): Always home to fun-loving and talented bands.
3. Schooner Wharf Bar – Key "A Last Little Piece of Old Key West"…during the day….go and get a grouper sandwich…it rocks and the entertainment is usually Michael McCloud….he's very mellow which is great in the sunshine while having a cocktail…he's also very funny….in an extremely dry sort of way. This is the ultimate in laid back Key West. If you are looking for energy, bring your own.
4. SLOPPY JOE'S BAR…a Key West institution that might put you in an institution of your own. And then of course there's the "Original" Sloppy Joe's, now known as Captain Tony's Saloon.
5. Other places on Duval we've enjoyed: Rick's Bar, Durty Harry's, The Smokin' Tuna, The Bull…. also check out The GREEN PARROT BAR…a locals' favorite on Whitehead Ave, emphasis on "local's bar". It isn't uncommon to be ignored by a snooty bartender who dishes preferential treatment to the locals. But the music is usually worth the temporary snubbing.
6. Have breakfast at Blue Heaven…a must! Look for the Baltimore connection. You'll be walking on it.
7. For raw bar….check out Turtle Kraals or Half Shell Raw Bar down near Schooner's in Old Town…..ask for Greg from Baltimore…he's a great bartender and partial to The Land of Pleasant Living…he'll remember us….in fact, last time we saw him, he said "I heard you were coming down." When I asked how he heard, he said he read it on Ravens 247! The power of social media.
8. If you are down in KW during football season, I recommend Dante's. It's a great pool bar and they have NFL Ticket. We once watched the Ravens and Dolphins there. Sunshine, libations, beautiful pool and a view of the harbor. Can't wait to do it again!
Other places to watch NFL games include:
• Jack Flat's
• Sandbar Sports Grill
• Rum Barrel (Friend of RSR Carol Donahoe Leonhard reports that the Rum Barrel has closed)
• Cowboy Bills
• The Lazy Gecko
Parrothead Warning
Margaritaville looks like it could be in any shopping mall and is a real disappointment, unless you frequent Ruby Tuesday's or Applebee's. Then you will feel right at home. But despite this money-saving warning, you will undoubtedly check it out because you can't help yourself, and then you will tell everyone else exactly what I'm telling you now. Unless of course you happen to be lucky enough to catch a rare Jimmy Buffett sighting, but then again if you are lucky enough to be in Key West, well, you are lucky enough.
Fine Dining
If you are willing to plunk down about $125-150 per couple (including cocktails), my recommendations include:
Hot Tin Roof
Antonia's
La Trattoria
915
Louie's Backyard
Sarabeth's
Rip Off Alert
Latitudes will lure you in with its setting and awesome sight lines. It's very pricy and at the end of the day you will conclude that the juice wasn't worth the squeeze. The wait staff was hardly accommodating after issues we had with my wife's dinner which was eventually served when the rest of us (party of six) were already on to our desserts and after dinner drinks. You might think that they would have done something for the major inconvenience and party pooper antics, but nooooo. It was as if they knew others would get sucked in by the allure of Sunset Key (it's on a small island just across from Mallory Square).
Do yourself a favor! Get better views from a sunset cruise and eat at a place that is not only better, but less expensive and snob free. They should change the name of this place to Attitudes!
Beaches
Key West doesn't have a lot of great beaches….in fact they have no "great" beaches. You can always crash the small ones at the hotels near Mallory Square or at Casa Marina Resort…no one really cares in Key West. (At least that's what I tell my friends when we sneak in.)
Casa Marina has a nice ocean side bar. Grab yourself a couple of chairs, be discreet and willingly tip the bartender, wait staff and the guys who will drag your comfortable beach chairs to your desired location. The hospitality directly parallels your generosity.
There's also Higgs Beach or Ft. Zachary Taylor beach. ZT is a bit better but Higgs has a little restaurant nearby with friendly bartenders to "hydrate" your system. Oh and if ZT's is your choice, take some old sneakers or something to protect your feet. Admittedly I have wussy feet but given my self-awareness, those old shoes allowed me to wade comfortably instead of stepping on broken coral and shells like a man walking across molten lava.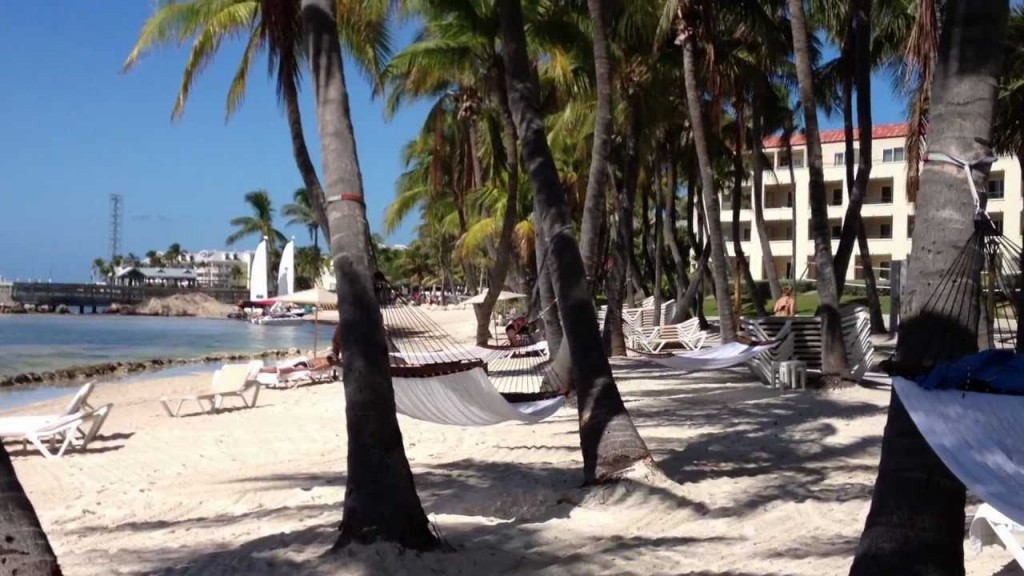 There's also a pool at the Southernmost Hotel/Inn near the end of Duval. It's open to the public for a daily fee of $5 or $6 and they have a bar there as well….usually they offer a free drink with your admission fee. Directly across Duval is the Southernmost Beach Cafe. That's a favorite spot of ours, with a friendly local flare (pictured below).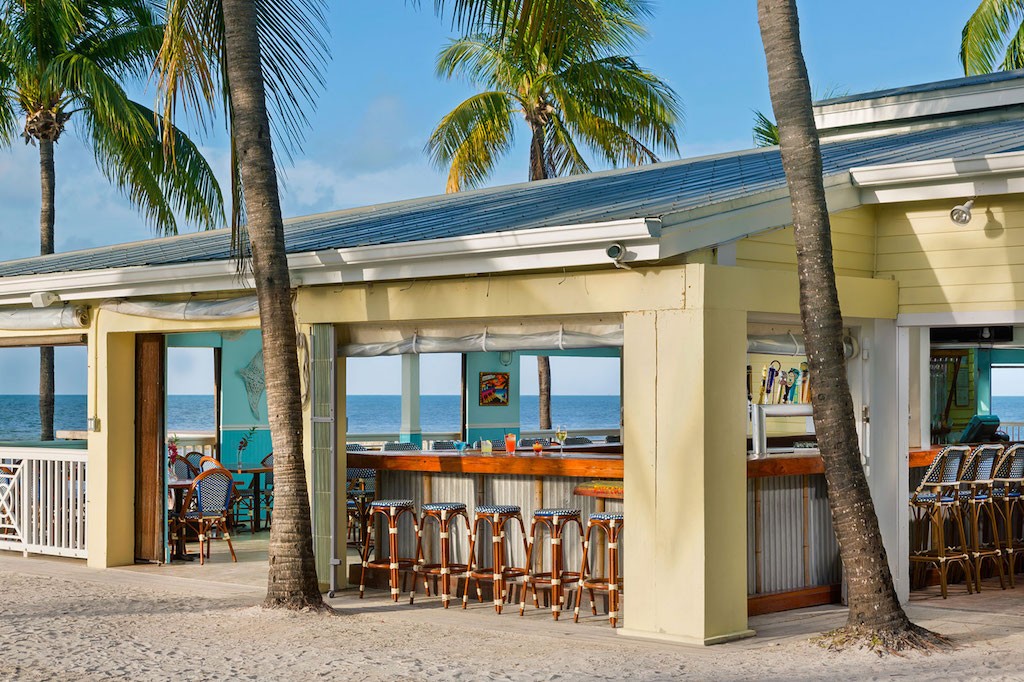 Going home…
I used to drive back from the Keys to Lauderdale but lately the puddle jumper back there or to Miami is my preferred way to go. Besides, it's so hard to leave that we waited to the last possible minute. You might also consider South Beach for a couple of days after Key West. It takes the pressure off your flight schedule although it adds pressure on your wallet.
Please share your Florida Keys experiences with us at info@russellstreetreport and we'll post them here. Feel free to send along pictures too and we'll create a Key West gallery. That said, some of what happens in the Keys, should always stay in the Keys.
THOUGHTS FROM OTHER LOVERS OF THE KEYS
Tony,
I have followed your recommendations to the letter including this great little cottage (and a no-brainer for the money) and the only bad thing that I had to deal with was leaving. I can't wait to go back! And trust me, I will!!!
Oh and this time I'll definitely pull out the Ravens24x7.com card for the extra night.
Here's to KW,
Eddie Vasiliades, Perry Hall, MD
*****
"We found a great place for breakfast this year. It's in Islamorada – www.bobsbunz.com – click on the link on the left that says Islamorada Restaurant and Bakery. They had the best food ever!
We also eat dinner at Hawk's Cay Resort in Marathon every year – Watersedge Restaurant – fine dining but very casual." ~ Dolores Pucher, Baltimore, MD
#######
Hello Tony,
I've read [RSR] for a while, my compliments for a terrific and informative Ravens website. I happened to stumble upon the link to your Key West suggestions just in time for our trip to Florida . I printed off your list and took it with us. We actually stayed in South Beach and drove down to Key West for a couple of days 6/6-7.
Other suggestions for consideration for your informational link and or next trip:
-We had to have lunch at the Hard Rock Cafe (outdoors of course)
-Take the cheesy train tour ride around town (very informative and it will orient you to the town)
-Dinner at the Blue Heaven restaurant (very different – a memorable dinner)
-You have to stop in to have a margarita at the Margaritaville bar (ask for Sherry the bartender)
-Breakfast at Camille's located at Simonton & Catherine Streets (outstanding breakfast food)
-Lunch at Jack Flat's Cafe/Bar on Duval Street – about 495 Duval ??? (excellent food at reasonable prices – great friendly service)
and you were right…
-You must experience the sunset festival in Mallory Square (go early to reserve a seat at dock side or you will be standing). The street vendors, artists and vaudeville type acts are very entertaining. The sunset "main attraction" is incredible…
-At least one morning you have to get up early to watch the sun rise over the Atlantic … a unique experience
Thanks for the tips…
I also listen to the radio show whenever my schedule permits. Good Luck with the show!
All the best…
Jack Moore
#######
Tony,
We have never met but I look at your website on a weekly basis to get updates on Ravens stuff and see what people are talking about. Then today I sign on and found your blog on Key West . Sounds like you have been there a lot. I have a surprise for you. I belong to an elite group of firefighters who crash Key West every year. This year will be our 10th anniversary of crashing Key West . We take anywhere between 80 to 100 people on our trip and it is a blast. We are down there for about 8 days and it is a hoot. We have been going down so long that we now have sponsors who get a shout out on our website in trade for their donations. We also march in the annual Conch Republic Parade host by the Vice General of the Conch Republic Peter Anderson. If you mention us he will most definitely set you up with a passport by mentioning our group.
If you have people who frequent Key West then you must at some point hook up with us as we have Key West to a science. We even have the fire department donate fire pumps for the Bloody Battle that we participate in every year. If you are not familiar this is where the Conch republic re-enacts the battle that took place for the succession of Key West from the U.S.A. Interesting reading.
Our group is known as The Castaway Travel Group and we are a travel group that has only managed to travel to Key West (talk about a state of mind). We fell in love with Key West and they did with us. We walk around Key West with tags on and day time prices on drinks and free cover to all the popular places. You need to check out our website http://www.castawaytravelcrew.com/ and I am definitely going to shout out your website to them.
Your article sparked interest because a buddy and I are doing the exact thing you talked about and making the drive from Ft. Lauderdale . I am hopeful that your group and ours could possibly merge and really become and force in Key West ….
LONG LIVE THE CONCH REPUBLIC !!!!! GO RAVENS!!!!
Keep up the good work on your website?
Wasted away,
Al Brown
Castaway Travel Group
Ravens Fan
#######
Tony,
The wife and I just got back from Key West on Saturday. I wanted to say "thanks," we took your ideas to heart and drove down from South Beach . Here are some recommendations I have, if you want to post them on your site:
1. I can't recommend these two restaurants enough: Blue Heaven and Meteor Steakhouse. Blue Heaven is laid back, and has incredible breakfast and dinner selections. It's also off the beaten path a couple blocks off of Duval Street. The Meteor Steakhouse is even more laid back, and has amazing barbecue – they have an amazing "green beans" appetizer that you have to eat and see to believe.
2. We took a puddle jumper on Continental back to Fort Lauderdale to catch our flight home. I can't recommend that enough – it's $90 each for a 50 minute flight, but you fly over the Everglades and see the Keys as well. In addition, you avoid any traffic issues and stress on your way back to catching your flight.
3. Go to Tripadvisor.com for some Bed & Breakfast recommendations. We ended up staying at The Nassau House (www.nassauhouse.com). The owners were very nice, with an impressive breakfast spread each morning that they cooked themselves. It was a little far from Duval Street – 6 blocks up Fleming Street – but we rented a couple of bikes to make it a little easier. Next time we'll stay a little closer.
Thanks,
Darren Weagly
#######
"I too just got back from Key West and had a great time. I went to a restaurant for breakfast called Blue Heaven— they had had the best pancakes and coffee and when leaving noticed the bricks (see attached). Baltimore is well represented.
We got to the Keys from Ft Myers on a two hour high speed boat ride. Ft Myers and the surrounding areas are a nice alternative to the East coast of Florida." ~ Bruce, Ellicott City
#######
Hey Tony,
Your article on the Keys inspired me! Heading down May 6-13. Flying into Miami , renting a Jeep Wrangler and doing the drive thing just like you suggested. Hope to hit some of your suggested places!
Jen Siler
Jen's Follow up
Hey Tony,
Had a great time in the Keys! Would definitely stay at the Speakeasy again, that place rocks! We recommended it to friends already who want to go to Key West in December.
Thanks for the recommendation!
Jen