Reed Easily Best Interceptor of All-Time
Print this article
I wanted to create a piece to compare Ed Reed to the top interceptors of all time on a level playing field in response to Gil Brandt's list of safeties.
I had some requests to break down my methodology…
I enhanced my methodology by normalizing season INT totals to the 72-year (1945-2016) average of interceptions per game rather than simply normalizing relative to each player's best INT season.  Here is the step-by-step methodology:
I recorded the number of interceptions and team games for each season since 1945
I calculated the aggregate 72-year rate for interceptions per game (1.2342). I'll remind folks that (interceptions per game) = (interception rate) X (pass attempts per game), so it includes implicit adjustment for both significantly higher rates of interceptions per pass attempt and significantly fewer pass attempts per game in the earlier days of football.
I calculated the interception rate per game for each season from 1945-2016.
I calculated the ratio of interceptions for each year relative to the 72-year average by taking the results of (3)/(2)
I put a column of interceptions by season (including playoff interceptions) for each player with at least 60 career interceptions
I normalized (adjusted) each player's interceptions by season to the historical average and summed to calculate adjusted career interceptions. In mathematical terms, I multiplied the vector in (4) by the vector in (5).
I then divided each player's adjusted career interceptions (6) by career games played and multiplied by 16 to calculate adjusted career interceptions per 16 games.
Here is a look at the spreadsheet used for the calculations above:
The relative results are not much different: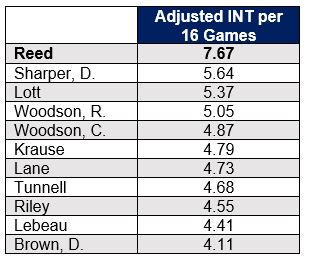 Reed's career total of adjusted interceptions per game is 36% higher than Darren Sharper, who is currently number 2.
Here is Version 1 of the table & explanation…
You can read the table, of course, but here are the highlights:
· Prior to adjustment, Reed has the 3rd most INTs of all time (playoffs included).
· With adjustment based on each player's best INT season, Reed has significantly more INTs than any other player in history.
· Per 16 games played, his INT total is almost 50% higher than the closest of the top interceptors, Rod Woodson.