Print this article
Last season, as the Ravens prepared to start training camp, it appeared as if they were loaded at tight end. The accomplished and well-rounded Benjamin Watson was brought on to complement and help lead a group of young tight ends with seemingly high ceilings.
The cast included:
• Crockett Gillmore who flashed brilliance, with an ability to make plays in traffic and a surprising knack for adding YAC. He's a willing and capable blocker to boot.
• Like Gillmore, Maxx Williams has shown glimpses of what could be. The future seemed bright.
• Nick Boyle, generally viewed as a grinder who doesn't excel at any one thing, but has a skillset to competently handle all the challenges the position demands.
• Darren Waller who possesses great athleticism to stretch the field and create mismatches.
It seemed like a very, very solid positional group.
And then along came a healthy Dennis Pitta, who to everyone's surprise, was a training camp star. Despite our collective reservations about his ability to absorb a heavy body blow, Pitta proved to be extremely durable in 2016 while hauling in 86 Joe Flacco passes for 729 yards and 2 scores.
But things didn't work out as planned for the rest of the tight end posse.
Watson tore his Achilles and never made it out of the preseason. Gillmore and Williams combined to play in just 11 games and both spent the majority of the season on Injured Reserve. Boyle served a 10-game suspension to start the season and Waller was not much more than a work-in-progress, posting just 10 catches for 85 yards in 12 games.
Unfortunately, 2017 doesn't appear much more promising.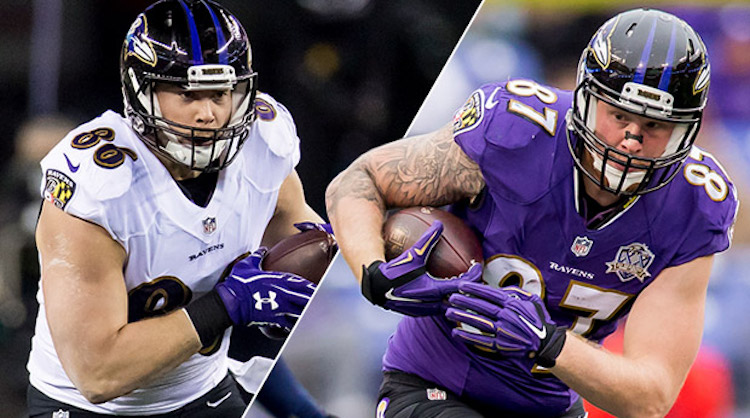 Following another unforced hip dislocation, Pitta's career is done. Gillmore has missed time during OTA's and he's a regular in the training room, missing 15 games over the past 2 seasons. It's tough to count on him.
Williams, according to John Harbaugh, underwent a unique surgical procedure on his knee that no other football player has ever had. At first Harbaugh believed that Williams would be ready for training camp. Now he's not so certain. Forgive me if I can't help but to harken back to Harbaugh's prognoses for Breshad Perriman during the 2015 season.
Next up, there's Watson who will turn 37 during the 2017 season and is coming off a torn Achilles. You thinking what I'm thinking?
Then there's Boyle. Here's a scary thought. Boyle might be the most reliable of the tight ends on the Ravens roster and he's one improperly submitted subscription for Adderall from joining the last remaining tight end, Waller, on the one-year timeout chair.
It's not a pretty picture – one leaving many fans and team analysts to wonder if the Ravens might use some of their limited cap space on a tight end – a tight end like Gary Barnidge.
Barnidge, who will turn 32 in September, is entering his 10th season in the NFL. He was a fifth-round pick of the Carolina Panthers in 2008 and has 178 catches to his credit, 134 of which came during the past two seasons. In December of 2015, Barnidge signed a 3-year, $12.3M deal with $3.25M in guarantees. That was a modest deal, particularly when you consider that Barnidge was enjoying a career season that ended with 79 catches, 1,043 yards and 9 TD's.
To help put that in perspective, Todd Heap's best season was in 2005 when he posted 75 catches for 855 yards and 7 TD's.
Yet despite the relatively modest salary of roughly $3M in 2017; despite the fact that the Browns most productive tight end on the roster not named Barnidge (Seth Devalve) has just 10 career catches for 127 yards and 2 TD's; despite employing 5 tight ends with a total of 5 combined seasons of NFL experience; despite over $54M in available cap space, the Browns still released Barnidge less than 24 hours after trading back into the first round of the 2017 NFL Draft to select TE David Njoku.
Since his release, very few teams have even kicked the Barnidge tires.
Add it all up, and I don't know about you, but my Spidey senses are on alert.
Pro Football Focus ranked Barnidge 25th out of 63 tight ends that qualified in 2016. They graded him out as the league's best pass blocking tight end and the 50th ranked run blocking tight end.
Perhaps that's why the Ravens haven't shown interest, at least publicly, in Barnidge. Maybe he just isn't a fit for the things that offensive assistant Greg Roman wants to do with the running attack.
And that's ok. If he isn't a fit, you move on.
What's not ok, is for the Ravens to enter the 2017 season with the tight ends currently on the roster.
Sure, each may possess impressive skills, but the one ability that none of them possess is availability. If 2017 is a repeat of 2016 as it relates to the tight ends, and clearly the signs are there, a lot of pressure will fall on cornerback Marlon Humphrey.
Why?
He's the guy the Ravens preferred over Alabama tight end O.J. Howard. The Crimson Tide teammates, teammates no more, may still be inextricably tied together for quite a few years.
Unless of course those high ceilings start to come into focus.