Forgotten Classics: 8/31/01
Print this article
A Worthwhile Preseason Finale
Versus the Lions in the final preseason game of 1978, Colts QB Bert Jones' shoulder was separated.
How significant was the injury? Coming off 3 straight division titles, the 1978-79 Colts went 10-22, which broke down as 5-2 with Jones starting and 5-20 without him. The franchise would never recover and was gone to Indianapolis less than 6 years later.
Baltimore fans understand all too well the axiom "nothing good happens in the last preseason game".
There is, however, a significant exception in Ravens history.
On 8/31/01, the Ravens played their final exhibition game coming off their SB XXXV win. With the Orioles playing at home that night, the Ravens played a weird noon Friday game against the New York Giants to accommodate their far-less-successful neighbors (does anyone have anything to say about that?). The Ravens returned 10 of 11 defensive starters in 2001 and boasted one of the deepest lines in NFL history with 2000 starters Michael McCrary, Rob Burnett, Tony Siragusa, and Sam Adams supplemented by reserves Lionel Dalton, Marques Douglas, Larry Webster, and Adalius Thomas.
Despite that crowded and talented lineup, rookie/Hard Knocks star Dwayne Missouri and fireplug DT Kelly Gregg were battling it out for a last roster spot in the defensive line.  Against the Giants, each had the game of his life. To summarize:
Missouri
– (Q3, 8:35): Missouri sacked Food Network host Jesse Palmer for a 14-yard loss and forced a fumble (recovered by the Giants).
– (Q4, 10:45): Dwayne sped past LT Sykes (I can't even find his real name using Google, in part because he never played an NFL game). Missouri again dislodged the football from Palmer.  As we'll see, this time the Ravens recovered…
Gregg
– (Q2, 6:53): Gregg cleaned up pressure from Brad Jackson and Jamie Sharper for a 3-yard sack of future-Ravens-head-coaching interviewee Jason Garrett.
– (Q2, 6:35): On the very next play Marvin Lewis assigned Gregg to drop to zone coverage and he collected an interception of a pass deflected high in the air by Giants lineman Jason Whittle.
– (Q4, 10:45): He was blocked to the ground by RG Rick Seubert (88 career starts), but the fumble caused by Missouri (see above) bounced right into his arms. Gregg then stood up without being touched and ran it 19 yards for the TD with a block from Missouri.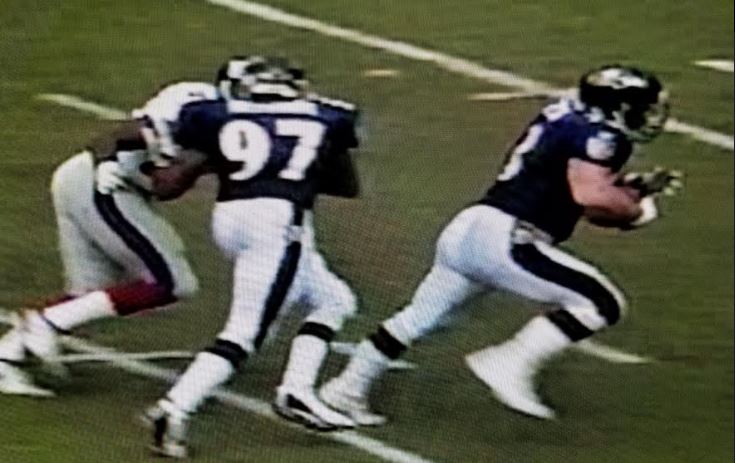 Missouri blocks for Gregg (with the ball).
Gregg in the end zone (wearing the number Marshal  Yanda would one day make famous in Baltimore)
After a game like this, it's a little surprising he didn't pick up a backhanded nickname like "catfish" or "the trash collector", but I suppose the high waistline reminded folks of "Buddy Lee" long after this game was forgotten.
You know much of the story from there.
Missouri was signed to the practice squad (Gregg was ineligible) and claimed shortly thereafter by the Cowboys. He played in 2 games for Dallas in 2001, but never again played in the NFL. He had opportunities with the Berlin Thunder (2002, NFLE), 49ers (2003), Colorado Crush (2003 AFL), Philadelphia Soul (2004-07, AFL), and Utah Blaze (2008, AFL) before retiring to a career as a HS football coach.
Gregg made the Ravens and played just 124 snaps as a rookie, primarily as a situational pass rusher (the team still had Goose and Sam Adams to stop the run). However, he would go on to play 10 seasons with the Ravens, including 124 starts among 134 games.
Kelly moved to his well-known role in 2002, when his presence helped solidify the defense after the cap purge. He would become one of the most productive tacklers among all NFL interior DL for the rest of the decade, but was never selected to a Pro Bowl. He currently stands as one of the most qualified former Ravens not yet inducted into the Ring of Honor and I expect he will receive the honor in the next decade.
This was one time when Newsome's propensity to keep an extra defensive lineman paid off, but it might not have happened this way had it not been for this afternoon in 2001.
[Click here for another Forgotten Classic in Ravens History]