Salary Cap Q&A – Can Ravens Make Room?
Print this article
With the season quickly approaching, we wanted to help fans get a better sense of the Ravens' salary cap picture. With that in mind, I recently sat down with our cap expert Brian McFarland to ask some questions that I've heard floating around from Ravens fans over the last few weeks. You can read all Brian's articles here, and see his Cap page with contract details & more here. – Tony Lombardi
Q. The Ravens are tight against the cap at the moment with roughly $6.9M in availability. That number will soon shrink once the final 53-man roster is set. If the Ravens do nothing else, what do you estimate the cap to be once the season starts?
ANSWER: The NFLPA currently has the Ravens listed at $6.9M under the Salary Cap, but in reality, that number is less. First, the NFLPA hasn't yet applied all of the Cap adjustments from 2016 (or, more appropriately, has misapplied some). Those make a roughly $1.2M difference in the available Cap space.  In addition, there are two other charges that will count, but haven't yet been taken into account – (1) Michael Campanaro's $250K roster bonus (if he makes the team) and (2) Kyle Arrington's $1.05M Injury Protection Benefit. When all of those are taken into proper account, the more realistic number for the Ravens right now is $4.34M.
Then, once September hits and final cuts are made, the Rule of 51 ends and all salary cap figures must be counted against the Cap. So, that means that (1) all players on the 53-man roster, (2) all players on IR or PUP and (3) all practice squad members must be included under the Cap. Projecting (guessing at) a final 53-man roster, the Ravens are presently set to start the season with less than $1M in Cap space. See the "2017 September Projection" tab of the Salary Cap Breakdown page. Now, keep in mind that this projection only includes one player (CB Tavon Young) on IR and anticipates that TE Maxx Williams will start the season on PUP. As we well know, when injuries start hitting in training camp and the preseason those numbers will likely increase.
Needless to say, barring a huge surprise cut that creates an abundance of Cap space, the team is going to have to rework a contract or two to create additional Cap space that will be needed throughout the season for injury replacements (much less to start the season if the injury bug hits sooner).
Q. With this adjusted cap number in mind, do you think it's possible for the team to sign a Center or Right Tackle or Tight End or all the above, who are better than the players currently on the roster?
ANSWER: Well, it's always possible for a team to create Cap space. They are likely going to have to do a restructure or two anyway, since they project to be so close to the Cap at the start of the season, so they can always go a little further to create enough space to sign someone. Plus, at this time of the year, most free agents aren't going to be able to demand top dollar, so the needed Cap space is certainly lessened.
But, keep in mind that while restructures create immediate Cap space, that comes at the expense of future Cap space. So, teams are generally reluctant to do too many restructures.
Q. If the Ravens want to create some cap space by restructuring one or more contracts, which players are the most likely candidates?
ANSWER: Unfortunately, for the Ravens, there really aren't a lot of ideal candidates to restructure, so it's going to likely have to be a choice of the least harmful of option(s).
Let's get one thing out of the way right off the bat – when talking about restructuring contracts, very rarely is the player losing any money or giving any back. Tom Brady notwithstanding, players rarely ever "take less" unless they are in jeopardy of losing their roster spots and/or don't see many options on the FA market. So, there's no reason to expect to hear that any player is taking a paycut in order to "help out the team."
Restructures of this kind, generally referred to as "simple restructures," are simply an accounting exercise, by which the player still gets the exact same amount of money, but just gets it sooner, via a bonus, instead of waiting until the season and receiving it via weekly game checks. Basically, most of the player's base salary is turned into a bonus and paid immediately. For salary Cap purposes, the bonus is prorated over the remaining years of the player's contract.  That, then, reduces the player's present Cap number, but it does add additional Cap charges (the bonus prorations) onto future years' Caps.
Because of that, it is generally players with larger base salaries who make the best candidates for restructures. So, for the Ravens that means players like Jimmy Smith ($8.5M base salary), Joe Flacco ($6M), Marshal Yanda ($6M), Terrell Suggs ($4M), Eric Weddle ($4M) and Justin Tucker ($2.8M). But, teams would generally like to avoid restructuring players that (1) you've already restructured recently, (2) are older/have injury risks, (3) already have very high future Cap numbers and/or (4) you might be looking to, or have the need to, cut in the near future (2018).
So, based on that, the only one really safe option for a restructure is Tucker. But, restructuring Tucker only creates about $1.333M in Cap space, so, obviously, they would have to still look elsewhere.
The other candidates all really come with drawbacks.
Restructuring Smith creates the greatest amount of Cap space – $5M – but Smith was already restructured in 2016, is coming off of 2 straight injury-plagued seasons and already has high Cap numbers in 2018 ($13.1M) and 2019 ($13.6M).
The Ravens also restructured Yanda in 2016 and, while offensive linemen can play well into their 30's, Yanda will turn 33 in September, so age is a consideration. Restructuring Yanda would create $3.33M in Cap space, but would raise his 2018 and 2019 Cap number to close to $11.8M.
Suggs and Weddle, because of age, also aren't prime candidates for restructures, but can create some additional Cap space – $1.5M for Suggs and $2M for Weddle.
While there has been plenty of discussion amongst fans about Flacco taking a paycut, it's not going to happen and doing a restructure with Flacco really doesn't make much sense either because it will raise his already high 2018-2021 Cap numbers. With that said, a simple restructure for Flacco (again, he's not giving up any money) would create $4M in Cap space if they decided to go that way.
So, the Ravens are going to have some difficult decisions to make if/when they look to restructure a deal or two. The guess here (and it's just a guess) is that some combination of Tucker, Yanda and Weddle would be the most likely path for the Ravens.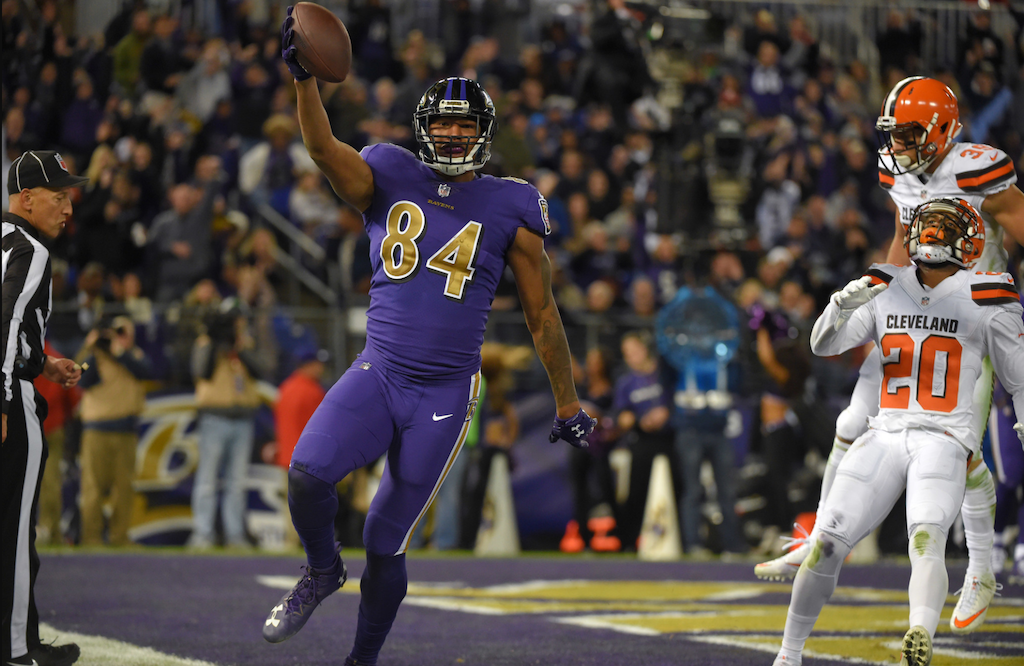 Q. Can the Ravens release the suspended Darren Waller and if so what cap savings might such a move generate?
ANSWER: Yes, the Ravens can release Waller at any time, but there will be no Cap savings from his release because his suspension has already basically created the Cap space. Once Waller was placed on the reserve/suspended list, the team received a Cap credit in the amount of his base salary ($615K). So, basically, the Cap savings has already been realized, which probably explains why the Ravens haven't actually released Waller. At this point, there's really no reason to not keep him around – he's not costing them any cash since his salary has been forfeited and he's not harming their Cap either.
Q. Zach Orr made the headlines recently after a doctor cleared him to play yet so far no team seems willing to take the medical risk on the former Raven. If he does sign elsewhere, the Ravens will receive no compensation. In hindsight, do you think the Ravens' front office handled the situation properly? What else could they have done?
ANSWER: No, there would be no compensation for the Ravens if Orr signs somewhere because he was non-tendered as an RFA. As such, Orr is a free agent.
It remains to be seen whether some other team will clear Orr to play, but the Ravens really didn't have any viable options to maintain some sort of rights over Orr.
Obviously, the Ravens' medical staff believes that Orr cannot – and should not – play any longer, so the Ravens weren't likely to want to keep Orr (or try to re-sign him) either way.
At the time, the Ravens really didn't have much in the way of options because this really is a unique situation. Once Orr was diagnosed and said he was going to retire – though he never filed his retirement papers – the Ravens either had to tender him with an RFA tender and carry him on the Cap until he either filed retirement papers or failed to show up for mandatory OTAs. Once either of those things happened, the Ravens could then have transferred him to either the reserve/retired list or the reserve/failed to report list. But, until then, they would have had to carry him on their roster and, more importantly, on their Salary Cap. Given that they are already pretty tight against the Cap, carrying Orr, just to wait him out and place him on a reserve list really wouldn't have made much sense. Especially for a player that your team physicians don't believe should be allowed to play.
Q. The Ravens almost always seem to be one of the teams that are tight against the cap. Why do you think that is and how do they compare to other clubs when it comes to dead money?
ANSWER: The Ravens are currently carrying close to $20M in Dead Money, so, yes, Dead Money is a problem again this year. This is largely due to the large number of highly paid players that have departed this spring – Pitta, Shareece Wright, Jeremy Zuttah, Arrington, Kendrick Lewis, Tim Jernigan. The good news is that for 2018, there is presently only a little over $2.2M in Dead Money counting on the Cap and, at least at this point, not a lot of candidate for release in 2018 that are carrying a lot of Dead Money. As such, Dead Money isn't likely to be much of an issue in 2018.
Q. Looking ahead to 2018, will the Ravens cap picture improve? How much better do you expect it to be entering the next new league year compared to 2017?
ANSWER:  Right now, the Ravens have 60 players under contract for 2018, with a Rule of 51 allocation of a little over $153M. Anticipating at least another $10M spike in the Salary Cap in 2018 (up to $177M), the Ravens should be in pretty good shape, especially since they don't appear to have any major pending free agents that would be "must re-signs."
While all of the Dead Money on this year's Cap makes things a bit painful, the good news is that much of the pain has been taken this year, so they should have a much cleaner Cap in 2018.