Print this article
Everybody does Power Rankings. And they do them all year long. Preseason Power Rankings, weekly power rankings during the regular season, hell, I recall seeing a Power Ranking for 2017 pop up the day after the Falcons blew a 28-3 lead!
Alas…. nobody cares. Power Rankings are like political opinions- everybody has one, and I don't want to hear any of them because they probably suck.
So instead, we did this bass-ackwards, and rank the NFL teams from the least pathetic, and culminating in the worst of the worst.
These, are the Powerless Rankings.
---
32. New England Patriots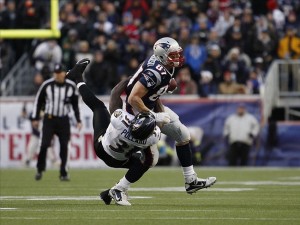 Don't get me wrong- they ain't flawless! While the entitled Pats fanbase is still focused on their 40-year-old golden child QB who likely has a coach on the team dedicated to proper whining techniques (they pay him in Ugg stock), I'm looking at a defense that isn't exactly intimdating. The Falcons shredded them for 28 points early in the Super Bowl, and barring a choke job? The Pats would be out of the cellar (remember, it's a powerless rankings, keep up now!)
31. Atlanta Falcons
I was going to put them at 30, but 31 seemed fitting, as it's the number of points they gave up after blowing a 28-3 lead in the Super Bowl. Matt Ryan's finally being released from the padded room-straight jacket combo just in time for training camp, only to attempt to lead the Falcons back to another almost-Super Bowl. Will it happen? No, because every opposing fan base will start a choke-chant in the 2nd half when the Falcons take a lead… only to watch it fall them crumble.
30. Oak(LV)nd Raiders
Here's how this plays out- the Raiders run rampant through the regular season, and make it to the AFC Championship game against New England. With a 4th and goal, down 4 points, and seconds left in the game, coach Jack Del Rio has Derek Carr pass on 4th and goal. The ball gets picked off, and the Raiders lose. Marshawn Lynch literally throws his helmet at Del Rio, and retires ON THE SPOT. From that moment on, Marshaw Lynch refuses to visit the northern most states on the East Coast, and dissolves his US citizenship because he doesn't want to be affiliated with the term patriot. He goes all Ray Finkle. It's not pretty.
29. Green Bay Packers
Aaron Rodgers can be so polarizing. One week is a raging fire and the next he's a smoldering fire (yes, I kinda stole a Hulk line from the Ragnarok trailer, come at me Disney/Marvel). Of course none of that matters when your defense is a train-wreck and plans to rely on a few mid-round CB's to help a team that got absolutely SHREDDED by the Falcons in the playoffs. Also doesn't help A-A-Ron that his #1 RB is a converted wide receiver (Ty Montgomery). I suppose it could be worse… At least Eddie Lacy isn't around to hog the carries and catering…
28. Pittsburgh Steelers
Big Ben is gonna get hurt because he's Big Ben. Martavis Bryant will get suspended because he's Martavis Bryant. Mike Tomlin will spend his season dealing with the diva that has become of Le'Veon Bell looking to get paid as both a #1 back AND a #1 wideout because he's God's gift to the Steel City or whatever. Ultimately, the Ravens will still give them trouble and that's enough to make me laugh and mock the stupid ass hankies.
27. Dallas Cowboys
Can't spell Dallas without Drama! Or, I guess you can. But yanno… they have drama. The 2017 version of As The (Jerry's) World Turns includes a slew of Zeke Elliott issues that happen to mysteriously 'disappear,' yet cutting a player (Lucky Whitehead) for a larceny charge in Virgnia… when he landed in VA 6 HOURS AFTER THE ALLEGED INCIDENT. Plus players missing conditioning tests, others missing the charter to camp… more drama than a high school homecoming. But at least they have Dak Prescott! He'll save them all because 1 season of solid play means he's the savior! Just like Romo before him, amirite fellas??
26. Tampa Bay Buccaneers
1 of 2 teams in the bottom-10 (again, powerless, keep up!) relying heavily on a 30+ WR (DeSean Jackson) to play like a, well, not 30+ wideout, and a rookie TE (OJ Howard) who supposedly will step in and just be immaculate. We all see how often those rookie stud TE's work out, right Jermaine Gresham? Oft-injured Tyler Eifert? Maybe Eric Ebron? Seriously, those are the only TE's taken in the first round since 2010. Not a single hit. All busts. Losers. But nah, OJ Howard? SURE SHOT! No way he misses. He'll catapult this offense! Me thinks Jameis is gonna have to steal a few crab legs games to get back to the playoffs…
25. New York Giants
Giants fans are treating Brandon Marshall like he's 23 and not 33, while treating rookie TE Evan Engram like he's the second coming of Gronk before he's played a single snap in the NFL. Meanwhile, they seem to forget the team has O-Line issues, a running game featuring… featuring… (Googles Giants depth chart)…Paul Perkins? Shane Vereen? Orleans Darkwa? So opposing defenses can pierce the weak O-Line while sitting back in pass coverage, doubling Beckham and… yea. That's it. Offensive plan blown up G-Men. Sorry y'all!
24. Kansas City Chiefs
Is Alex Smith still the QB? And did the Chiefs trade a future 1st rounder for a backup QB right now? And did they cut Jeremy Maclin (thanks!), lose Dontari Poe, fire GM John Dorsey, and have only one playoff victory to their credit since 1994? And you expect me to believe they're somehow better than a slightly above average team? The Chiefs are like the current version of the Orioles. Good enough to make the dance, but the show stops at the first act. Also, I refuse to support/cheer for a fanbase who praises wideout Tyreek Hill, while carelessly downplaying and in some cases, blatantly disregarding, his domestic violence issues.
23. Tennessee Titans
I've long been a Marcus Mariota supporter since his days with the Ducks in college. Coupled with Mariota, you have running back DeMarco Murray, 2nd year back Derrick Henry, rookie WR Corey Davis, then WR's Eric Decker and Rishard Matthews to round out the starters. I love the back tandem, but the receivers don't wow me at all. Decker is coming off injury, Rishard Matthews is… yea, and Corey Davis hasn't played a snap in the NFL. SUPER scary, right?! Then again, they play in the abysmal AFC South, where Houston is beatable, the Colts have lost their horseshoe, and the Jags still have Blake Bortles starting so LOL. The Titans win the AFC South, then play a real team in the playoffs and bow out quick.
22. Seattle Seahawks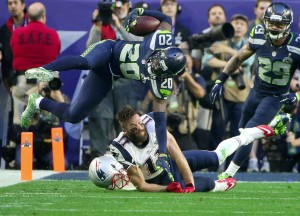 You know why they'll be great? Because they added LB Arthur Brown. Man, that guy is a STUD. Just remember how great he was for the Ravens? All those plays he made from the bench, like that one time he high-fived a random coach for a play somebody else made? Or that other time he ran out of the tunnel pre-game? Man, what a huge addition… Oh, and Seattle's O-Line makes me envy the Ravens O-Line situation. Holier than a Swiss Chesus (that's a swiss cheese shaped like Jesus, which is both holy and full of holes, thus the implied humor).
21. Miami Dolphins
RYAN TANNEHILLOL. They would've been better off in 2017 bringing in Tony Romo, Jake Cutler, or Jamarcus Russell. Sure the defense is solid, but 1: They'll NEVER top the Patriots in the AFC East; 2. They traded for Julius Thomas and think that helps their offense somehow; 3. Offensive line woes are funny to me; and 4. Ryan. Freakin. Tannehill. Remember Fin Fans (all 3 of you)- if you're not first (Patriots), you're last (YOU).
20. Baltimore Ravens
Let's be honest with ourselves: the Ravens O-Line is Fake News. They have such an awful Tight End situation, they've actually called Shannon Sharpe to come back (thus the reason he picked the Ravens to make the Super Bowl this year). Between Harbaugh, Morhinweg & Roman, you'll have three different philosophies trying to imprint their image on the offense that could end up looking like the The Three Stooges on the sideline (I like Harbs as Shemp, as he'll too eventually be replaced).
19. Detroit Lions
The whole Lions team is full of overrated guys. Jim Caldwell is an overrated coach. He came to Baltimore, filled in for Offensive Coordinator duties after the ousting of Cam Cameron, and fell into a Super Bowl. That ring led to the Lions job somehow. Matt Stafford is an overrated QB who was lucky enough to have Megatron for years and now relies on an overrated wideout in Golden Tate, best known for his overrated catch while employed by the Seahawks in the Fail Mary game. The Lions continue to act as scavengers instead of predators, picking up bodies off the Ravens heap (Caldwell, Ngata, Boldin, now Rick Wagner). They'll still finish behind the Packers, maybe grab a wild card, and watch them crumble under their overrated hype.
18. Arizona Cardinals
They have a solid secondary anchored by Tony Jeff…er…sonever mind. At least they had a great 2016 season to follow up… on… 7-9?! What the hell Cards?! You used to be good!! They'll bounce back I'm sure, but only because of Bruce Arians Kangol hat obsession. That cat is just too damn fly to be a loser. Despite all short comings, that Cards team will thrive to see Arians hat make the post-season. That and a skewed record facing a crappy 49ers team and an even crappier Rams team twice a year each.
17. Houston Texans
Yes. They have a great D. And maybe J.J. Watt will be great again, and maybe Jadaveon Clowney can be effective for a second season, and maybe the secondary holds up but guess what? They still have a rookie QB! Sure, DeSean Watson may be good. One day. But it won't be 2017, as the Texans regress, miss the playoffs, and somebody somewhere in the stadium will whimper "wish we still had Osweiler…." He'll be wrong, but it'll be funny as hell!
16. Philadelphia Eagles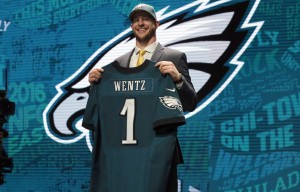 Carson Wentz added Torrey Smith you guys! Seriously, Philly fans were happy about this, as if he's some game changer. They kept blaming the 49'ers' woes for the reason he wasn't successful, instead of assuming MAYBE Torrey is just a good player as a complement at best. Also, they need to take this lovefest for Wentz back a tick. It was one season. They finished 4th in the NFC East. GREAT JOB GUYS! Alshon will flash in the pan… then leave. Torrey will have like two big catches early in the season and that'll disappear. LeGarrette Blount will need to get to the goal line to do anything effective, but won't get there (by the way, smart move Eagles bringing Blount back to PA where he's closer to his blunt buddy Le'Veon Bell up in PIT!) and Wentz will go into 2018's offseason looking for a 3rd new crop of wideouts for his 3rd season in the NFL. Solid work Philly front office!
15. Denver Broncos
Let's see… rookie coach? CHECK! Awful QB options? CHECK 3x! Seriously, who is the starter under center? Trevor Siemian? Paxton Lynch? Chad Kelly? This literally has the Jets wondering why they're getting all the flack for a lackluster QB group… At first when I saw the Broncos extended John Elway, I thought they meant under center, as he'd probably hold his own better than this collective group of future NFL clipboard holders. Alas, they'll rely on an aging defense to keep them close, but they'll finish 3rd in their division behind the Raiders and Chiefs, then maybe consider trading with Baltimore for Flacco (why not? Elway loves moving QB's away from Baltimore!).
14. Minnesota Vikings
No more All Day in Minny, but it won't make a difference, because Vikes fans believe rookie back Dalvin Cook is gonna step in seamlessly with oft-injured Latavius Murray and just… replace AP's greatness…? Yea, okay. But it's all good, the running game can be lackluster because Sam Bradford baby woooo!! I don't see Teddy Bridgewater returning this season, meaning Bradford remains at the helm, and with Stef Diggs and Adam Theilen to support he'll have a solid(ish) season, make a few costly turnovers, get his cage rattled and in comes backup QB Case Keenu… seriously? They couldn't find a better option than Keenum? WOW…
13. Indianapolis Colts
Back-to-back 8-8 seasons for Chuck Pagano, Andrew Luck, and the Colts, and I gotta tell ya… I don't think they get there again. The Colts STILL don't have a viable running back (Frank Gore is ancient), and they again neglected to fix the offensive line that allowed the 5th most sacks in the NFL in 2016. So once again, I will avoid T.Y. Hilton & Donte Moncrief early in fantasy drafts, only to see them go nuts on lobs by Luck with five guys in his face (actual players, not the burger chain).
12. Carolina Panthers
The Panthers went from amazing in '15 to 6-10 and laughable in '16. So which version will we see in '17? A laugh so heavy, it'll make WR Kelvin Benjamin jiggle like a bowl full of jelly. Or jam. Whatever is more jiggle-prone. Preserves maybe? Erroneous, I suppose, but Cam Newton will be relying heavily on rookie Christian McCaffery, not only in the pass game where Devin Funchess is looking bustable and Benjamin is looking popping fresh, but also to absorb all of Cam's hits to keep him upright and healthy(ish).
11. New Orleans Saints
Should I be impressed that the Saints added Adrian Peterson? He's a 30+ running back, hasn't shown his abilities since his pre-injury days, and coupled with 40-year-old Brees' loss of Brandin Cooks via trade (stupid trade, thanks for making the rich, richer jerks!) I'm not sure how this offense will fare in '17. I mean, Ted Ginn Jr, Michael Thomas, Coby Fleener… BLEH! Brees has no go-to. He has a bunch of middling receivers, and in a division with the Falcons, Bucs and Panthers? You need more than that. Sorry N'awlins, but at least you'll always have Mardi Gras.
10. Buffalo Bills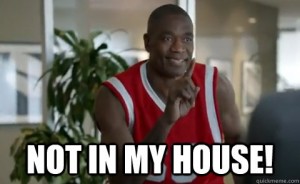 Word is that new Bills coach Sean McDermott removed the video games and pool table from the Bills locker room. So what does this mean? It means the Bills are clearly a pathetic excuse of a team if they need their coach to take their toys away just to get them to pay attention. You know who does that crap? I DO when my kids misbehave! These are grown adults who clearly can't handle, or so thinks the coach. In fact, I won't be surprised if the next move he makes is mandatory bedtime stories, teeth check at night, and making sure they eat their veggies BEFORE the snacks at lunch. I'm honestly worried what will happen if McDermott sees a player coloring outside of the lines…
9. Washington Redskins
Congrats Dan Snyder! You are the proud owner of the most dysfunctional franchise in the NFL, possibly all professional sports in the US! Where do we start? There's the obvious politically correct issue at hand, then there's the firing of GM Scott McLoughlan after 'leaking' word that he has a drinking problem to help justify his ousting, then keeping the imbecile Bruce Allen on staff simply because he's a yes-man, then low balling Kirk Cousins and blaming HIM for not signing, all while watching Cousins' two best receivers walk, and replacing them with a 1-year-flash-in-the-pan in Terrelle Pryor. So what happens this season? The team struggles, Cousin's is distracted because he knows he'll sign elsewhere and a down-tick in performance won't effect his next contract, and come 2018 the Skins are left clueless as to how they'll move forward. Keep on doing you Danny boy!
8. Cincinnati Bengals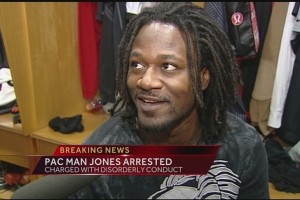 Marvin Lewis is still hanging on to that job somehow. I mean, he makes the playoffs for years, but can't win a damn thing, then his team crumbles to the ground and… he's still there. WOW. But I guess I shouldn't be shocked by a franchise that supports Adam Jones' constant off-field issues, doesn't look to change Vontaze Burfict's on-field lack of discipline, and drafts a player in Joe Mixon with a history of domestic violence. Really shows your true colors, eh Bengals? Also, your offensive line is going to be trash this season and you'll finish 3rd in the AFC North ONLY A GAME AHEAD OF THE BROWNS YEA, I SAID IT.
7. Los Angeles Chargers
L.A. Chargers. This still sounds weird. I'm not okay with it. I'm also not okay with a city having two teams (here's looking at you New York!) when other major cities are pining for a team. Alas, the greedy NFL… but back to Philip Rivers, who has twice as many kids (8) as he does playoff wins (4). The Ravens stole Phil's Woodhead, but it's cool because the Bolts added rookie WR Mike Williams… who is injured, and might miss the entire season (depending on if you believe reports or his personal denial). But hey, at least the Chargers can now put the D in Los Angeles! (If you don't get the joke that there's no D, I can't help you with anything)
6. Jacksonville Jaguars
What did the Jags do this offseason? Oh, just the usual- blow a crap ton of money in free agency (A.J. Bouye, Calais Campbell, Barry Church), hire Tom Coughlin back to hang out in the front office, and totally disregarded last season's offensive line woes, while getting weaker due to free agency losses (Beachum, Joekel), then drafted Leonard Fournette to tote the rock to… well, I guess to wherever the defensive front overpowers the Jags' O-Line, so call it like 1-2 yards behind the LOS? But none of that matters, so long as Blake Bortles is still the quarterback. The Jags won't give up on Blake. Blake won't give up on not working to improve his decision making. And thus, the second coming of Kyle Boller came to be, just as the prophecies foretold!
5. Chicago Bears
CHICAGO FRONT OFFICE. IF YOU ARE READING THIS DON'T DRAFT MITCH TRUBISKY! HE'S REALLY NOT THAT GOOh… you went ahead and traded three picks to move up a single spot for the average-at-best QB from UNC who suddenly wants to go by Mitchell instead of Mitch (no, son). Well then. Neat, I suppose. I mean, Alshon is gone, Kevin White makes Breshad Perriman look like an Iron Man, Markus Wheaton is… a person, and Zach Miller is still in the league so that's cool!  Okay I'll ask once and never again- Bears, are you sure you don't want Jay Cutler back? Maybe call Tony Romo and see what's shakin? Even if they infused Peyton Manning's DNA in Trubisky and gave him the pull that Brady has on officiating, the Bears still finish dead last in the NFC North.
4. Los Angeles Rams
If Jared Goff is your starting QB, you're gonna have a bad time. If Tavon Austin is your only proven talent at receiver, you're gonna have a bad time. If your praying that Todd Gurley will suddenly return to 2015 form, with total disregard for that offensively offensive line that was 2nd in the NFL in sacks allowed, you're gonna have a bad time, and also a need for a ton of bourbon come Sundays. How bad must it suck to be an L.A. fan with two teams and not a single decent option to cheer for? It's cool L.A. residents, you can just hop on the Patriots bandwagon like the rest of the sports world tools. It'll go great with your Dubs jerseys you bought just a few years ago.
3. San Francisco 49ers
Kyle Shannahan is now the head coach of the 49ers after running out of Atlanta as quickly as possible following his implication with the cumulative effort to lose a Super Bowl in which Atlanta led 28-3. That choking sensation still sits deep in Lil Shanny's soul. He gets into press conferences and chokes on his words. He goes to the batting cages and can't hit a ball until he chokes up on the bat. He tries to brush his tongue at night (post-teeth because he's not  a savage) and chokes on his toothbrush. He's just an illustrious choker, and that will carry over to be part of his legacy in San Fran as well. But hey, perhaps he won't be able to choke if he can't get a lead behind Bryan Hoyer throwing to Pierre Garcon and literally nobody else of value. Also Jeremy Zuttah is their starting Center. Go on, chuckle under your breath. We're all doing it too.
2. Cleveland Browns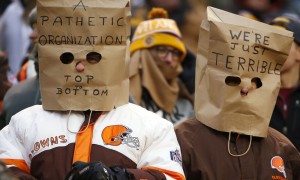 Where to start… where to start… bet that's how every front office meeting sounds like at the beginning of the league year (rim shot!). Cleveland's starting QB will be… Brock… Osweiler? Wait, didn't they trade for him to flip him? Now they're acting like they wanted him all along? Yeesh…  good thing he has a proven track record of not being completely incompetent and awful all of the time. Of course, Osweiler can throw to… well crap, Terrelle Pryor and Gary Barnidge are gone… they have rookie TE David Njoku but no proven talent just yet, Corey Coleman couldn't stay healthy last year, and that's about it for weapons. Good thing the Browns defense is solid. Wait… is 30th in points allowed and 31st in rush yards per game allowed good? This team is still as laughable as their mascot that looks like a cross breed between the Lucky Charms leprechaun and a character from Lord of the Rings.
1. New York Jets
Oh Jets… if you're gonna tank? Try your best to make it a little less transparent. They may as well not show up on Sundays, as they've taken this offseason to trade away every single veteran player of value (Brandon Marshall, Nick Mangold, David Harris, Eric Decker, Darrelle Revis), not address the QB position (Josh McCown! Yay!), and essentially wave the white flag well in advance of Week 1. To rub salt in the wound, mixed with some rubbing alcohol and shards of fiberglass, longtime Jets linebacker David Harris is now with the Patriots. Ouch. Meanwhile, the Jets fanbase will spend the regular season practicing their articulation of the 'boos' likely to descend upon the 2018 NFL Draft with the Jets picking first overall (probably a kicker).