Top Ravens Bubble Players to Follow
Print this article
With training camp set to kick off this week for the Baltimore Ravens, much of the discussion over the next six weeks will be around the final 53-man roster and whether or not certain players on the bubble can emerge as future contributors for the team.
In recent years, key players on the bubble such as Zachary Orr, Patrick Onwuasor and Michael Pierce used strong training camps and preseason performances to go from unknown to supporter in Baltimore's lineup.
This year, there are a slew of young players on the cusp of making the final roster, but without a strong August, their time in Baltimore could be short-lived.
Let's take a look at the key Ravens players on the bubble to follow during training camp.
Keenan Reynolds – Fan favorite? Sure. NFL talent? Not yet. It is no question that the Ravens fan base would be ecstatic to see Reynolds stick around in Baltimore, but the reality is he must prove himself as a true return man and offer at least a glimmer of hope at wide receiver. The 2016 season was expectedly a red shirt year of sorts for Reynolds, but now is his time to prove he is more than just a premier athlete in order to make the final roster.
Lorenzo Taliaferro – After a promising rookie campaign in 2014, injuries and limited playing time held Taliaferro back during the last two seasons. Already a solid special teams contributor, Taliaferro's obstacles to making the team are proving himself as a fullback/running back hybrid, as well as simply staying healthy.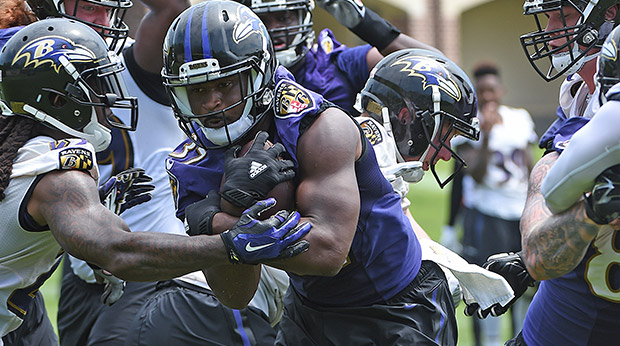 Buck Allen – Heading into 2016, Allen was expected to be a key contributor after a rookie season in which he ran for 514 yards and caught 45 passes. However, something went wrong and Allen barely hung onto the roster, carrying the ball only nine times during his second season. The season-ending injury to Kenneth Dixon buys Allen some time, but if he cannot return to 2015 form, his roster spot is in jeopardy.
Willie Henry – Based off talent and college production, Henry logically should make the team. But, the reality is Henry failed to touch the field as a rookie and enters his second season competing against a rather crowded lineup along the defensive line. If Henry is noticeably outplayed by the likes of Chris Wormley and Carl Davis in training camp, then he will be far from a roster lock come final decision time in September.
Brandon Boykin – Early in his career with the Philadelphia Eagles, Boykin showed promise as one of the top young slot cornerbacks in the NFL. However, things begin to tail off in 2015 when he was traded to the Pittsburgh Steelers and his role decreased. In 2016, Boykin spent time in Carolina and Chicago before suffering a season-ending injury. If healthy and back to his Philadelphia form, Boykin is a prime candidate to contribute in the slot with the season-long absence of Tavon Young.
De'Ondre Wesley – Hovering on the Ravens roster for the last two seasons, Wesley has a prime opportunity this year as the competition at right tackle is bleak. Competing against the underwhelming James Hurst, Wesley could at the very least emerge as the team's primary backup tackle.
Tim Patrick – Of the undrafted rookies this year in Baltimore, Patrick arguably has the most upside. At 6'5, 210 pounds, Patrick is similar to past Ravens prospects such as Tommy Streeter and Darren Waller in the sense that the size and athleticism are there, but he is more potential than finished product at this point. At the moment, the only roster locks at wide receiver seem to be Mike Wallace, Breshad Perriman, Jeremy Maclin and Chris Moore, potentially opening the door for a promising athlete such as Patrick.
Matt Skura – After a year on Baltimore's practice squad, Skura may be ready to make the next step in 2017. With 40 starts at Duke, Skura has the experience needed to offer hope that he could sneak into Baltimore's backup offensive line rotation depending on how the starting competition at centers shakes out.