Print this article
For many Ravens fans, we live the life of the underdog, and we wear it on our sleeves.
Whether it's carryover from the original Paul Tagliabue shafting of Baltimore (museum is coming along just swell Paul!), frustration over constant low expectations shelled out by national media, or general saltiness at the very few and far between prime-time games hosted by the Ravens, our local fan base is always sure to voice our objections loud and clear, in hopes to be heard, recognized, and appreciated.
As of late however? I'm not sure Ravens fans want to be in the national spotlight. At least not in this way.
There's the whole Kaep drama (sign him? no? think about it? but not really? but maybe? but also maybe not?), then there's the conga line of injured players tweeting about a 2018 comeback (I've literally run out of fingers), Joe Flacco's back questions, suspensions, retirements…
Can't a Ravens player just save a puppy from a burning building and get some good pub for the team?
Fret not my fellow Ravens fans- it could be worse!
Here's a look at a few teams that should boost our spirits as we mutter under our breath 'at least we're not those fans!'
Cleveland Browns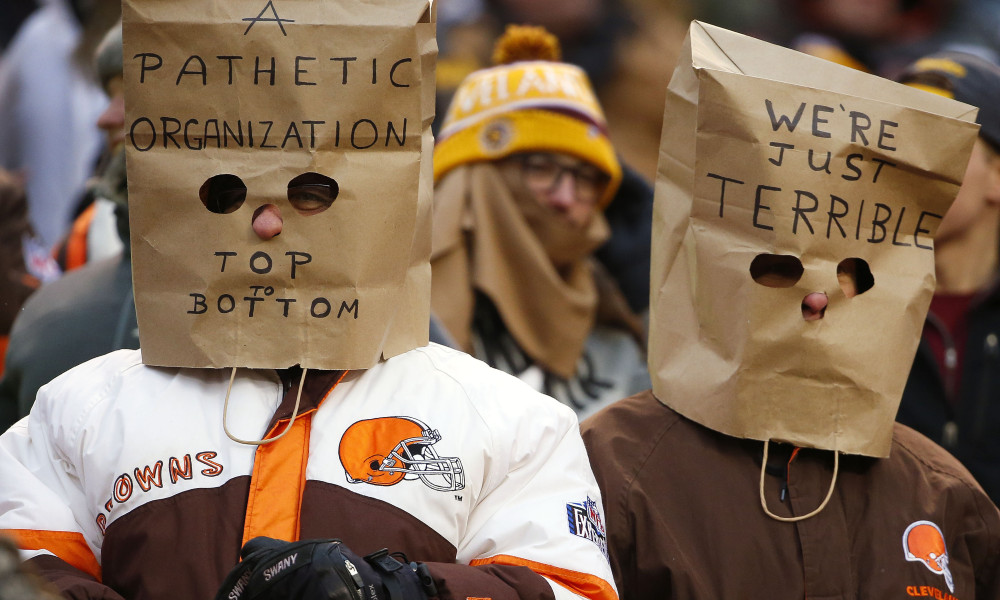 This is easy. Too easy. After a 1-15 season, the Browns are looking for any sort of improvement. So, yanno, 2-14 works. Maybe 3-13 or 4-12? On paper the O-Line looks improved, but they still lack a quality running back, a quarterback, and a true receiving threat on offense.
Defensively… I mean Myles Garrett! Cool! Neat! But unfortunately for Browns fans, he doesn't play secondary and every position on the front-7.
Did I mention lack of quarterback?
Also, I'm a huge believer that Jabrill Peppers is just 'good' at everything, not 'great' at anything, and will end up a bust. But hey, the Browns are already used to high profile busts in the draft. Right Johnny Manziel? Trent Richardson? Barkevious Mingo? Justin Gilbert?
The highlight of a Browns season is Tony Grossi blocking Art Moddell from the Pro Football Hall of Fame. Or maybe coming REALLY close to beating the Steelers.
Thanks for T-West by the way!
Los Angeles Chargers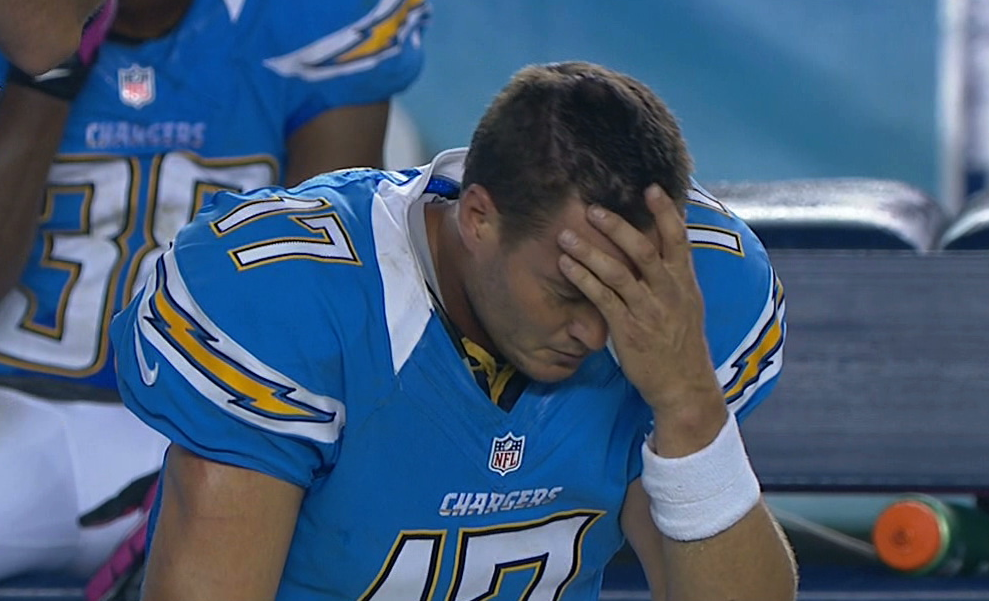 Still feels wrong to say. Probably because 1) LA has a team already, 2) San Diego didn't deserve to lose this team after 59 years, 3) LA will be a Rams city first and foremost, with the Chargers getting no love, and 4) they won't even be there until 2019. Until then, the Chargers will be playing in an itsy bitsy 30,000-seat stadium in Carson, CA.
The Carson Chargers. Gross.
To make matters worse? The team that finished 2016 with 27 bodies on IR (2nd in the NFL), just saw their 2nd round pick OT Forrest Lamp go down for the season with a torn ACL. This, coupled with 1st round pick WR Mike Williams currently shelved with injury and rumored to possibly be done for the 2017 season as well, is not a good start for the Chargers season.
Side note- remember when Ravens fans begged the team to trade up for Williams in the 1st round? And remember when Day 2 of the draft started and Forrest Lamp was a wanted man in Baltimore for O-Line help that was direly needed?
Dodged a few bullets there, eh?
New York Jets
Oh to be a Jets fan…
If you think it's a trainwreck in Baltimore, imagine the Ravens in the position in which the Jets currently sit.
Imagine if the Ravens voluntarily cut their top veteran linebacker (Terrell Suggs), defensive back (Eric Weddle), offensive lineman (Marshal Yanda), and both of your top wideouts (Mike Wallace and say, Jeremy Maclin for the sake of argument) all in the name of… of… well hell, I don't know why. Rebuild, I suppose. Tank for a top pick maybe. But who cares if we got that top pick, because we'd boo the pick no matter who it is.
Now also cut Flacco, and have an open quarterback competition between Ryan Mallet, Vaughn, and bring in like Andy Murray or Christian Ponder. But what would it matter who throws passes when you've ousted your top two pass catchers and weakened your O-Line, without as much as a whimper in free agency looking to bring anybody in?
Do all of this, then tell your fans you think you can still compete and win games, while the rest of the league laughs at you as you quietly debate Sam Darnold vs Josh Allen vs Josh Rosen (yes, I know Rosen isn't on that level, but it's the Jets we're talking about here).
Washington Redskins
Without pointing fingers or naming names, through some convoluted and twisted means, Skins owner Dan Snyder (oops, I name dropped) found a way to force out fan favorite GM Scott McLoughlan earlier this offseason. Under the table rumblings about alcohol abuse, leaks to the media, rumors about tension between McLoughlan and Snyder's BFF Bruce Allen, radio silence for weeks on end and it all culminated in 'he gone.'
From a player standpoint, the Skins also suffered the loss of star wideouts DeSean Jackson & Pierre Garcon, which could effect Kirk Cousins' numbers in 2017.
Speaking of Kirk Kurt Cousins (I've apparently been misinformed for years, as Bruce Allen called him Kurt a handful of times in a press conference last month), I don't believe it's possible for any professional franchise to botch the handling of their star player any more than the Skins did here. A 2nd franchise tag, allegedly 'tried' to negotiate a five-year deal, then held a press conference after the deal didn't come to fruition, blaming Cousins for not taking it! They blamed the player they want to keep long term!
Alas, he'll be in San Fran next year with Kyle Shannahan, and the Skins- who could have traded him for a few first rounders this offseason- will see nothing in return other than a single compensatory pick.
No matter how bad things are here, they are always worse just a short trip down 95.
New England Patriots
Pft! What a joke of an offseason!
First of all, they had to waste precious time preparing for 2018 by toting around some friggin' trophy, getting fitted for rings, doing some parade in Boston… or Foxboro… or… okay, so another point! You don't even have a defined city! How lame?!
Then your quarterback turns 40 and we all know 40-year-old quarterbacks are just destined for more greatness, right?
And look no further than the draft for a sucktastic offseason: no pick until the 3rd round? How do you manage that?
I mean sure, they traded their 1st round pick to the Saints for WR Brandin Cooks, acquired DE Kony Ealy, signed former Raven Lawrence Guy, and maybe also added TE Dwayne Allen… and CB Stephon Gillmore… and RB Mike Gillislee… crap, they signed former-Jet LB David Harris too??
Man, I hate this team.