"We're Starting This Drill Over!"
Print this article
Ravens Training Camp 2017 Starts to Wind Down
As the players walked to the podium for the post-practice interviews, Joe Flacco was standing just outside the entrance, talking with Owner Steve Bisciotti. The cameras, which had been pointed at the podium were quickly reversed to get video of the conversation. Chad Steele, the Ravens VP of Public Relations then tried to get the media refocused for interviews, which took several minutes.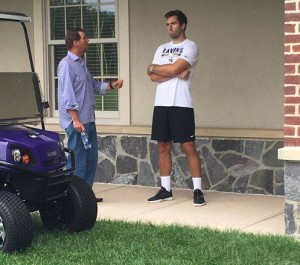 With the preseason opener tomorrow, the Ravens still had 10 players absent including Joe Flacco, Breshad Perriman, Kenny Bell, Kenneth Dixon (out for season), Nico Siragusa (out for season), Alex Lewis, Austin Howard, Maurice Canady (out indefinitely), Sheldon Price, and Marlon Humphrey. John Harbaugh did not clarify Howard's status nor questions about game availability.
Special Teams Coordinator Jerry Rosburg has a switch he can turn on and off. At the podium, he's cerebral and funny. On the field, he lights into players when they make a mistake on special teams. Today's target came from punt coverage drills:
"We're starting this drill over because Bowser doesn't know what to do! Back to the left hash."
The offensive line still does not resemble what I expect to see in the opener. From left to right, Ronnie Stanley, Jermaine Eluemunor, Ryan Jensen, Matt Skura, and James Hurst were a makeshift first unit. Marshal Yanda participated in individual drills, but not all 11-on-11 segments. Austin Howard has yet to practice. Alex Lewis has missed the last 4 practices.
The Ravens do not include SCB (nickel) on their depth chart, but Lardarius Webb is getting first-team reps there. It gets confusing after that. Brandon Boykin has played both nickel and outside CB, but he was 3rd in for reps at SCB today after Webb and Jalen Hill. Boykin got his hands on a pass in the middle of the field in a 3-on-3 drill (3 DBs cover 2 receivers). That pass fell incomplete and on the very next play, Boykin tipped a long pass down the right sideline into the hands of Keenan Reynolds. Newly acquired corner Trevin Wade (5'10", 190) played only on the outside.
The offense executed a successful 2-minute drill using all 3 QBs. Vince Mayle beat Otha Foster on a 10-15 yard connection. After consecutive plays involving Trevin Wade (PD vs CJ Board, good underneath bracket coverage of Board on a ball that he could not haul in) went incomplete, Quincy Adeboyejo caught a 25-yard pass down the left sideline. Josh Woodrum then threw a TD strike to Griff Whalen. Harbaugh asked for several more plays to be run, including a tight spiral from Mallett to Matthews for another TD.
Fun Drill of the Day
I'll have to simply describe the drill which got the most attention from the players.
A ball carrier is instructed to dive into a pit with the ball extended, maximize yardage, and maintain control as 2 coaches attempt to knock the ball free with long padded-arm attachments. Perhaps 20-25 players went through the process, but Keenan Reynolds, Reggie Porter, and Trevin Wade were the 3 who lost the ball in the process. Each fumble was met with howls from the other players standing around. Lardarius Webb got the highest effectiveness score for a long-low dive with control maintained. Tony Jefferson earned style points for leaping unexpectedly high for the dislodging crew. Judges disqualified Jimmy Smith for falling backwards into the pit to protect the ball.
Like the tennis ball drill, it's a practice diversion which the players enjoy.
Individual Notes
• Tim Williams tipped a swing pass to the right at the line of scrimmage.
• Tyus Bowser maintained good coverage of Terrance West along the left sideline.
• Chris Moore beat Reggie Porter for a long completion from Mallett down the right sideline.
• Mike Wallace looked every bit the veteran receiver. He used his body well to make a short catch versus Daniel Robertson. Later he got away with a shove in the end zone to separate from Porter on a 10-yard TD from Mallett.
• Eric Weddle stepped in front of a pass at the goal line, but dropped the interception.
• Ben Watson demonstrated good hands catching a ball away from his body by the right sideline.
• Michael Pierce collected an interception on a pass deflected, from Taquan Mizzell.
• Mizzell otherwise was impressive, showing burst out of catches and on run plays.
• Za'Darius Smith had an impressive inside spin move on Stephane Nembot during 1-on 1 drills. He later got was upset with De'Ondre Wesley about an apparent trip. Previous camps have had almost daily physical altercations, but this verbal confrontation reminded me that I have yet to see extracurricular contact this camp.
• Willie Henry stood out during the 1-on-1 drill for using heavy hands to free himself of T Marquice Shakir.
Quotes of the Day
Tony Jefferson as he entered the field observing a successful pick route completion to Michael Campanaro:
"C'mon, ref, throw the flag. That's illegal."
Terrell Suggs to everyone within range of his voice near the end of the 2-minute drill:
"You better double-team me."
This is especially comical without pads where there is effectively no pass rush.