Secondary Battles Heat Up
Print this article
Training Camp Notes—8/15/17
The Ravens practiced in the rain on Tuesday, but John Harbaugh continues to be besieged by injury questions.
Harbaugh commented on Breshad Perriman's hamstring injury, but reported that he had not heard "anything definitive" on Ronnie Stanley, who missed his 3rd straight practice.
From left to right, the first team offensive line was James Hurst, Ryan Jensen, Matt Skura, Marshal Yanda, and Austin Howard. Ronnie Stanley missed a 3rd straight day of practice. Ryan Jensen moved back to center for other 11-on-11 segments and Marshal Yanda did not participate all the way through.
On the plus side, Jermaine Eluemunor and Tyus Bowser again practiced.
CB Marlon Humphrey played with the ones and took Jimmy Smith's spot (sat out, reason undisclosed) at CB. On the first play of 7-on-7 drills he undercut an out route from Mallett, but dropped an easy interception. Humphrey otherwise looked good in coverage and is scheduled to make his preseason debut against the Dolphins on Thursday.
Another corner who started quickly was Robertson Daniel. He closed well on a pass short right, undercut an out route for an interception of Mallett by the left sideline, and broke quickly on a short pass to Chris Matthews near the line of scrimmage.
Despite the losses of Young and Canady, The Ravens still have significant depth in the secondary which fared well versus Washington. I expect the Ravens will keep 10 in the secondary this season and here are my brief notes of the players still fighting for a spot:
Safety
Locks: Tony Jefferson, Anthony Levine, Eric Weddle
Chuck Clark: He is currently playing with the threes, but as a draft pick, he has an advantage due to 4th-year option (no RFA season). Given the injuries, Webb is likely to play primarily SCB and not safety, which should help Clark maintain a spot for special teams, development as a dime, and a much needed infusion of youth at the Safety position.
Otha Foster: Outside looking in.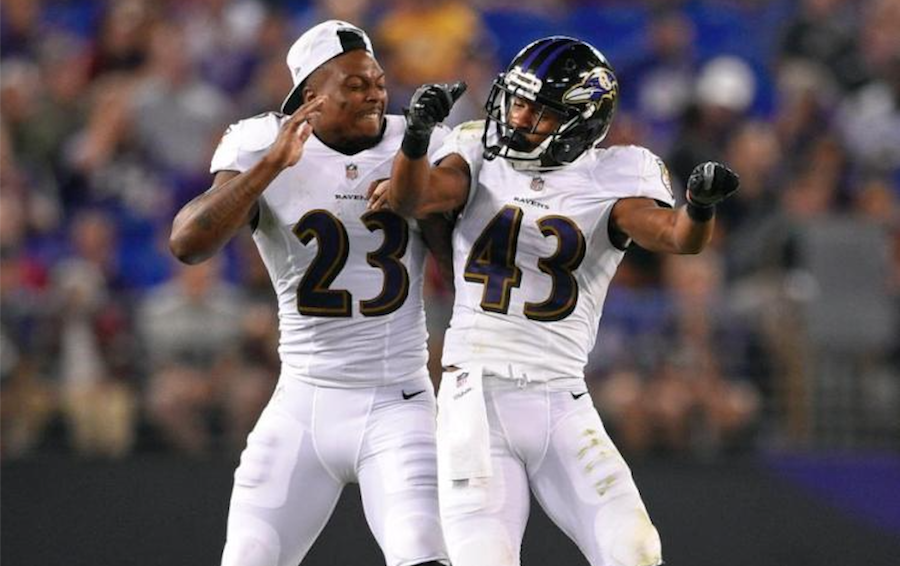 Cornerbacks
Locks: Brandon Carr, Marlon Humphrey, Jimmy Smith, Lardarius Webb (while he's also playing safety, I expect him to see most of his snaps this season at nickel)
Brandon Boykin: He missed practice today and is far behind Hill at this point for the backup SCB role. He might need an injury at this point to make the team. As is the case at other positions, the option value of a UDFA will outweigh any small difference in play, so he needs to significantly outplay some of the younger corners to make the team.
Robertson Daniel: He's still a 1st-year player and had a nice practice today. His intriguing size (6'1", 205) makes him an outside candidate the Ravens might like to stash or trade, since he will be pilfered from the practice squad in time. I expect he and Price will get extensive reps the remainder of the preseason.
Jaylen Hill: He is close to a lock now after a terrific game versus the Redskins. He's taken over from Boykin as the backup SCB and continues to take reps on the outside as well. Hill's ball skills could be a tremendous addition to this defense because A) the Ravens are a little light there and B) it is reasonable to hope the defensive line will create more pressure and tip more balls. The 4-year option the Ravens have on Jaylen makes him look like the most valuable UDFA of this preseason.
Reggie Porter: He has struggled through much of camp and seems unlikely to make the team.
Sheldon Price: He's working from behind after missing time, but the Ravens still appear to like him and he remains just a 2nd-year player for progress towards free agency. He needs to show something in live fire versus the Dolphins.
Tevin Wade: He's the experienced option at outside corner who is in his 5th NFL season. He played well in the first exhibition game, but will need to do even more to make the team. That could come in the form of special teams or play at nickel.
I expect the Ravens will keep 10 defensive backs, so Boykin, Clark, Daniel, Hill, Price, and Wade are playing for 3 spots. This is a close and fluid race, but in terms of likelihood to make the team, I rank them:
1. Hill
2. Clark
3. Wade
4. Boykin
5. Daniel
6. Price
Individual Notes
• Mike Wallace broke off a route to lose Brandon Carr in 7-on-7 drills.
• Ryan Mallett had another tough day that started as the rains began. He underthrew Campanaro on the left sideline by 5+ yards. A few plays later he overthrew Maclin between the numbers and left hash.
• Jaylen Hill had good step-for-step coverage and inside position on Chris Matthews on a route down the right sideline.
• Matthew Judon closed quickly on QB Josh Woodrum for an apparent sack.
Quote of the Day
"My bad, Smokes": Matthew Judon to Taquan Mizzell after colliding with the RB from behind.