Two-Minute Drill: Street Clothes for All
Print this article
PRAISE [insert choice deity] WE'VE REACHED THE END OF THE PRESEASON! 
The final week of preseason games are upon us, and I think this gif speaks for everyone here:
Agreed Zach Galifinakis. But we do care about you. Give us more Due Date & a tad less Masterminds. I'll even settle for OG Galifinakis in Out Cold (a pre-Reno 911 Thomas Lennon & a pre-Anchorman David Koechner both in the movie- solid flick).
But I digress. Back to football.
We'll see most, if not every starter in street clothes this week. Which in turn likely means fewer injuries in your fantasy lineups so hooray for you!
On a quick fantasy note- a minor PSA that I feel obligated to relay to everyone:
DON'T DRINK AND DRAFT.
You'll end up drafting WR Kenny Golladay in the early teens instead of like Round 16, at best. And feel foolish. And people will laugh. Oh, will they laugh…
LAST WEEK: RAVENS 13, BILLS 9
As I write this article, my front door is being coated with a paint stripper. It takes 30 minutes to fully set in before you can strip the paint.
I'd rather watch that 30 minute process on a loop than last week's game again.
Here's every fan tuned into last weeks game watching the Ravens "starting" offense: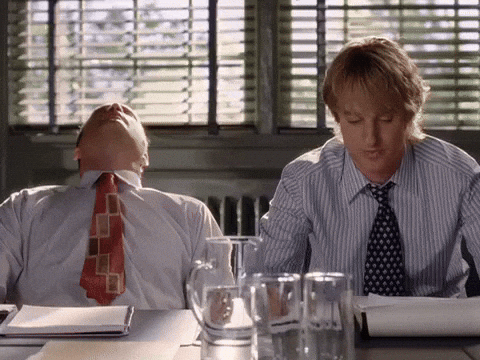 (Wedding Crashers is the perfect comedy. Hands down. Come at me.)
Just more 'bleh' on offense from the starting bunch. The Ravens starting 5 on the O-Line should be a prop bet in Vegas weekly (your best guess is still likely wrong), while none of the skill players have made an impact, and Ryan Mallett put up another ho-hum performance going 6 of 10 for 58 yards.
On the Defensive side of the ball, the Ravens did their thing from start to finish, with the most notable play of the game a Matt Judon sack that took Tyrod Taylor out of the game with a concussion. Rumor has it the medical staff assumed Tyrod was concussed when he suggested he liked playing for the Bills organization & thought they were playoff bound…
Speaking of concussed, Justin Tucker almost 'tucked up' by going for a tackle, getting shaken up and requiring a quick noggin check by the medical staff. Luckily, he passed his concussion tests, so the Ravens are still able to score in the regular season.
WHEW.
THIS WEEK: RAVENS @ SAINTS Thursday 8/31 @ 8pm*
*most likely
Due to the devastation caused by Hurricane Harvey, and its continued path of destruction, for a brief moment yesterday the game was in limbo.
Will they play in New Orleans?
Will they play at all?
Fortunately, order was restored rather quickly.
Tomorrow night's Saints-Ravens game at the @MBSuperdome is on as scheduled

— New Orleans Saints (@Saints) August 30, 2017
So what should we look forward to tonight?
SIDELINE GEAR & STREET CLOTHES. 
After all, the starters will still get most of the screen time and chatter in the booth, which basically becomes one giant Nike ad for the NFL Shop's apparel.
We'll also get a ton of 53-man roster predictions. Every touch by Mizzell will become "he's proving his worth, but is there a spot for him?" Every touchdown pass by Josh Woodrum will become "Are the Ravens going to keep 3 QB's? Can Woodrum make it to the practice squad if not, or will somebody scoop him up?"
There will also be a ton of chatter about this Ravens defense. With a mere 19 total points allowed in the preseason through 3 games, another low scoring affair by the opponent will get some rumblings of a once great defensive team returning to it's throne. Rightfully so too!
Wait, is there a gif for the Ravens D? Sure is!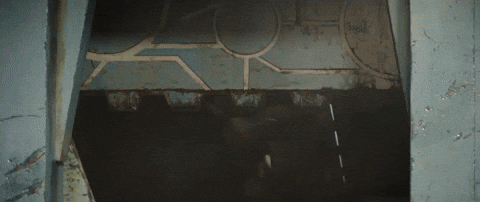 This is how I want to see Brandon Williams come out of the tunnel for the Ravens opener in Week 2.
The Rest of the Slate
Look… I don't expect you to watch the Ravens game tonight, let alone any other game, despite the full slate taking place tonight. Odds are, you're finishing up your final few fantasy drafts in the evenings. Maybe the game is on for background noise? Maybe it's just an excuse to not watch HGTV with your significant other? Whatever the logic, here's a few noteworthy options to keep in mind.
Giants @ Patriots (7:30pm)- Brady is going to be curled up in a ball in the far corner of Robert Kraft's suite during this game. Meanwhile, Eli Manning will be on the G-Men sideline, smirking ear to ear, reminiscing of the good ol' days against this same team…
Browns @ Bears (8pm)- The Browns will likely see Bears QB Mitch Trubisky, whom they passed on in this year's draft. It would be just swell to see Trubisky toss a couple TD's against them, and have the Browns fanbase, who is all-in on Kizer (just weeks after being all-in on Brock Osweiler) start to question their pick.
Seahawks @ Raiders (10pm)- Look, I know Marshawn Lynch likely won't be playing in this game. BUT. On the off chance he is? I'd like to see the Raiders get down to the 1-yard line and Lynch stomp it in, then jog over to Pete Carroll, hand him the ball and whisper "like that, Pete." MIC DROP.
Rank 'Em!
With former Ravens ILB Zach Orr joining the Ravens coaching & personnel staff, let's take a look at a few others who would be welcomed additions to the coaching staff.
Top-5 Former Ravens We Need Coaching in Baltimore
5-Ed Reed – Assistant WR Coach. Bobby Engram is great and all, but Ed can teach Breshad Perriman how to actually reel in those home-run shots downfield.
4-Dan Cody– Strength & Conditioning Coach. Who better for the role than a guy who knows nothing other than getting injured? "Yea don't lift that, I hurt my back doing that once… well don't stretch like that either, I pulled a muscle once doing that too… oh come on, running? You're asking for trouble…CAMP, DON'T DO ANYTHING EVER."
3-Jacoby Jones – Director of Choreography. With the new, lax rules on touchdown celebrations, having Jacoby back in the mix to teach these guys a thing or two about a legit 'celly' is crucial to team morale. A Brandon Williams/Jacoby Jones pre-game dance off ritual would be CRUCIAL.
2-Kyle Boller – Offensive Assistant. Boller isn't worth a lick as a coach, but having him around the Ravens will remind fans that perhaps Mallett on the roster isn't the worst thing we've dealt with since '96.
1-Jim Harbaugh – Assistant Head Coach. I mean… just in case… well, you know…