Stick to Baseball, Cleveland
Print this article
I'm currently extremely jealous of Cleveland's baseball team. The Indians just recently set a new record with 22 consecutive victories, and look well on their way to their second straight October Classic. Meanwhile, the Orioles….well, let's not talk about them.
So let's continue to make those Indians fans jealous of our football team. You know, the one we "stole" from them that has two Lombardi Trophies since leaving.
Let's take a look at the stats, quotes, and more in this week's CRAB BAG c/o Casa Mia's White Marsh.
KNOW THY ENEMY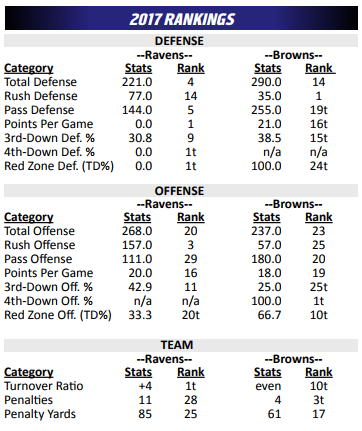 SERIES HISTORY
QUOTES OF THE WEEK
The NFL Network's Peter Schrager on S Tony Jefferson & S Eric Weddle:
"[Jefferson] is a guy who might be the most underrated defensive player in the sport. Tony Jefferson has swagger; he is a personality. Him and Weddle will make up the best safety combo in the entire AFC this season. You have your Kam [Chancellor] and Earl Thomas up there in Seattle, but you go down to Baltimore, and this is like a mini 'Legion Of Boom,' what they are building down there in Baltimore on the back end. I think this Ravens defense could be outstanding this year."
C.J. Mosley on the Ravens' Week 1 defensive performance:
"It's a great start for the defense and a great start for the team. It won't mean anything if we don't come out next week and play even better, especially against another conference opponent. It's always about getting better."
OLB Terrell Suggs on the Ravens' Week 1 defensive performance and what he told S Tony Jefferson:
"We were okay. We could have been a lot better today. We're gonna enjoy it, but we have a lot of improvement to make. We're just like every team who won one game. It's one game. … In the middle of the game today, I said to him, 'You had a great career at Arizona, but you were meant to be a Raven.'"
Offensive coordinator Marty Mornhinweg on the impact of WR Jeremy Maclin:
"He's gifted, talented. He's smart. He's natural. He's smooth. He has outstanding hands. He's tough. He has a lot of great qualities. The one that popped into my mind first when asked the question was 'consistency.' He plays at a high level, consistent basis. He plays like a Raven. That's the way we want to play. He's a physical dude."
New Orleans Saints K Wil Lutz on K Justin Tucker:
"He has definitely set a standard for everybody that everybody is trying to get to. He's one of the best – if not the best – at what we do. Everybody wants to aim to be the best, and right now, it's tough to argue that he's not the best. It's cool to watch for me, because I was there with him [as a rookie free agent in 2016]. He gives me something to chase."
GETTING TO KNOW YOU ~ Q&A with Jeremy Maclin
What is your main source of motivation?
"The fact that I am a competitor is motivation enough. But recently being married and trying to start a family, I think that is what it's all about – being able to provide for and support them and being able to lead by example for my family. Those two together – being a competitor and my family – give me all the motivation I need."
What is your favorite sports memory as a fan?
"I grew up in St. Louis, and I had a chance to go to games when 'The Greatest Show on Turf' was there with Isaac Bruce, Torry Holt, Marshall Faulk and Kurt Warner. I had just started getting big into football when that was going on, and being able to watch those guys and see how dynamic they were was really cool for me."
What is your proudest achievement outside of football?
"It would have to be starting my foundation, 'J-Mac Gives Back.' It's tailored towards kids in alternative living situations, kids raised by grandparents, single mothers, single fathers and kids below the poverty line. I do anything I can to help people in situations like that. I do backpack events, Mother's Day events and camps. When I retire, I'll probably extend it even more."
If you could have witnessed any event in history, what would it be?
"If I limited it to just sports history, it would be either Carl Lewis at the Olympics or Wilt Chamberlain's 100-point game."
If you could trade lives with somebody for one day, who would it be?
"My dog. I just want to know what he goes through on a daily basis and what he sees and how he feels. I'm kind of curious." (laughter)
How would you describe the Ravens' culture in one word?
"Respected. You can feel that all around the NFL. From a distance, you respect this organization. Even if you are on a different team, there is something about the Ravens that makes everyone respect it."
What did you know about John Harbaugh before signing here?
"I heard about the type of man he is and the type of coach he is and how much people enjoy playing for him. He's very real and authentic. He loves to let everyone show their personality, but at the same time, he has command of the room, and when it is time to work, it is time to work. As a player, you have no choice but to respect that."
HEY, YOU LOOK FAMILIAR! ~ Key Connections
Ravens general manager/executive VP and Hall of Fame TE Ozzie Newsome played 13 seasons in Cleveland. After his playing career, he then held positions as a scout, assistant to the head coach/offense/ pro personnel, and director of pro personnel before moving to Baltimore as VP of player personnel in 1996.
Baltimore special teams coordinator/associate head coach Jerry Rosburg was the ST coordinator for the Browns from 2001-06, while Ravens defensive line coach Joe Cullen held the same title in Cleveland for one season (2013).
The Ravens' staff is comprised of many who were invited to join the franchise when it moved from Cleveland: SVP of football admin. Pat Moriarty, SVP of public & community relations Kevin Byrne, VP of football video operations Jon Dubé, SVP of operations Bob Eller, VP of IT Bill Jankowski, and VP/head certified athletic trainer Mark Smith.
Ravens senior personnel assistant George Kokinis was the Browns' GM in 2009. Kokinis began his career with Cleveland as an operations intern (1991) and then as a scout (1992-95).
Baltimore director of pro personnel Vincent Newsome played two seasons (1991-92) for the Browns before becoming a special assignment scout for the team from 1993-95.
Ravens WR Chris Matthews signed with the Browns as a rookie free agent in 2011, and TE Benjamin Watson played with Cleveland from 2010-2012. … Selected by Cleveland in the NFL Draft were RB Terrance West (fourth round, 2014) and TE Vince Mayle (fourth round, 2015).
Browns head coach Hue Jackson was the Ravens' quarterbacks coach for two seasons (2008-09). … Browns senior offensive assistant Al Saunders served the same role for the Ravens from 2009-10.
Browns director of player personnel and Baltimore native Chisom Opara spent the 2004 season as a player personnel assistant with the Ravens after signing with the team as an undrafted free agent in 2003. … Browns director of college scouting Bobby Vega spent the 2004 summer as a player personnel intern with Baltimore.
LAUGH OF THE WEEK AT EXPENSE OF RAVENS' OPPONENT