Two-Minute Drill: Off to London!
Print this article
Week 2 of the NFL season has come to a close, and just like an episode of Maury (is this even a thing anymore?) there was plenty of drama to go around. Here's a quick glimpse at the Weekend-That-Was.
–Marshawn Lynch danced. The Jets got their feelings hurt.
-The Seahawks finally scored a touchdown while beating the 49ers by a whole 3 points. That's bad.
-The Falcons opened their new stadium the same way they closed the last one, with a solid whooping of the Packers.
-Cowboy Zeke Elliott decided to throw a tantrum & quit on the team down big.
-The Steelers were handed a cupcake win when the Vikes held Sam Bradford out with an injury and started Case Keenum.
After the dust settled, only eight teams remain with perfect records.
The Ravens are one of them.
Yee-haw.
---
LAST WEEK: RAVENS 24, BROWNS 10
A two-score game, but the Ravens had control from the opening kickoff. Que the highlight reel!
Okay, just a bullet point summary, I lied…
— DeShone Kizer turned it over in 2/4 possessions to start the game before a phantom 'migraine' sidelined him. Suuuuure….
— Joe Flacco hit Jeremy Maclin in the end zone with 0:01 on the clock for the 3rd Ravens TD of the 1st half. Some call it risky. Others, ballsy. I call it 'lucky you scored or else 70,000 people would've booed.'
— Everybody got an interception, I think.
— Kenny Britt & Sammy Coates both quit running routes in the 4th. I'd bet they play themselves on Madden with other teams every night before bed…
— Marshal Yanda & Bam Bradley both got knocked out for the season with injuries. Maxx Williams is in a boot. Brandon Williams got hurt. Terrance West too. My heart can't take many more injuries…
Ultimately, the best moment was Eric Weddle's post-game note about being angry because they can be better. Better than 10 points allowed, 5 turnovers & 3 sacks…
And he's right!
And that fact alone should scare the hell out of this weeks opponent…
---
WEEK 3: RAVENS @ JAGUARS
Sunday 9/24 @ 9:30am
Set your alarm for 9am, roll out of bed, grab some crumpets & tea (Krimpets & coffee are acceptable as well) because it's time for some good ol' fashioned London football!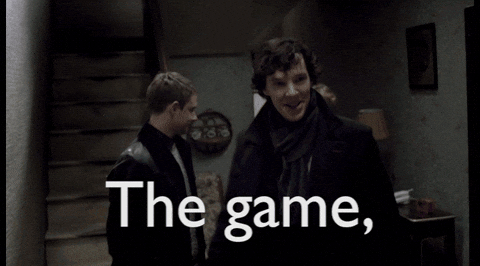 The Ravens head to Wembley Stadium for their first foray over the pond on behalf of the NFL. Despite a neutral site, the Ravens will be the visiting team thanks to the Jags commitment to the UK Series, as well as the Ravens' contractual obligation to hold 10 home games @ M&T Bank Stadium every season.
But who honestly cares, THE FLOCK IS IN THE UK!
And also I called this last year. I simply cannot stress this enough, simply because I'm never right about anything (just ask my wife).
A quick glimpse at the matchup:
The Ravens come into the game at 2-0 with a defense that has allowed the same amount of points on the season (10) as they have turnovers forced. Granted, they've played the lowly Browns and lowlier Bengals, but given the challenge those two AFC North rivals have posed for the Ravens even in their best seasons, & the fact that Baltimore has maintained control of both games from kickoff to the final knee, is a very promising sign.
Last week, Flacco finally seemed to start hitting his stride, working the mid-range game, getting back to tight end use, and the usual check down. His confidence seems to be returning, and as long as his remaining targets can maintain health (knock on wood) he'll continue to progress.
Then there's the Jaguars.
In Week 1 the Jaguars defense was en fuego against the Texans and had everyone speaking highly of them.
Then Week 2 came, and the same defense gave up 37 points to the Titans. Couple that with last week's realization that the Texans offense is, well, awful, and the Jags defense suddenly becomes drastically less intimidating.
The offense of the Jaguars is a big question mark for me. Rookie RB Leonard Fournette has the ability, but behind the lackluster Jags offensive line, he hasn't been able to get much going. Blake Bortles is still Blake Bortles, except it appears the coaching staff is trying to reign him in a bit, forcing him to take fewer chances and play safer.
So far it doesn't appear to be working.
Prediction: The Ravens defense shines once again, forcing 5 more turnovers: 3 Bortles picks, a Fournette fumble, and a 4th quarter Chad Henne pick after Bortles is pulled. The picks come courtesy of Tony Jefferson, Anthony Levine Sr, and Webby with a pair.
Terrell Suggs will spend the morning giving courtesy backfield hugs to Bortles with a pair of sacks, while the team collects 3 more on the day.
The Ravens offense will do exactly what they did in the first two weeks of the season: find a way to put up points before halftime, then run the ball & clock for the better part of the second half with minimal points on the board. In this game, it won't be a tall task, as Flacco tosses a pair of first-half TD's to Mike Wallace & Maclin, while Buck Allen runs one in as well. Alex Collins will have a clean game (no fumblitis) and finds the end zone in the 4th quarter following a Bortles turnover, forcing him out of the game.
The best win to date by the Ravens brings them back to Baltimore at 3-0 ready to face a 3-0 Steelers team.
BAL 34
JAC 10
---
The Rest of the Slate
The true beauty of the Ravens playing at 9:30am EST is that you get a literal day chock full of football! And even better, there's primo games in every time slot! Here's the best of the bunch, and how to please your spouse by spending dawn til dusk on Sunday tuned in.
Or possibly tuned out…
Ravens @ Jags (9:30am~12:30pm) – I'm jacked but also not jacked because we get back-to-back James Lofton broadcasts. Hope that cat misses his flight to London…
Browns @ Colts (1:00pm~4:00pm) – Hear me out: This game is going to be flat out atrocious! Fans everywhere will be questioning how many of the Top-25 NCAA teams can beat both Cleveland and Indy. But honestly? I'd just like to watch so I can hear the commentary from the CBS booth. How do you even make stuff up to try to be riveting for this? They'll end up talking about a really nice pen they have, or the time they…
Seahawks @ Titans (4:00pm~7:00pm) – The Seahawks lost in Week 1 to a good Packers team. Then in Week 2 they eeked out a win against an awful 49ers team. So how will they fare against a middle-of-the-road team? Will the Russell Wilson hype train come crashing down after a single TD pass thus far? Will the once daunted Hawks defense get slashed in the run game again? (My fantasy team hopes so).
Raiders @ Redskins (8:30pm~whenever it gets boring & you pass out) – Skins fans can't be feeling great thus far. They were trounced by the Eagles in Week 1, then barely got by a bad Rams team in Week 2. While it's easy to assume the high-octane Raiders offense will have their way while Khalil Mack decimates Kurt Cousins (don't @ my intentional typo!)? It could be close! Like… they could have jet lag? Or… maybe half the team gets 'migraines' like Kizer when he got scared last week playing the Ravens? Yea, those are about the only options.
---
Rank 'Em!
It's London Week!
In celebration of the Ravens' first trip over the pond, let's theme our top-5 around it this week, shall we?
Top-5 Gifs For Your 9:30am Gameday Experience
5.Wakes up, turns on TV, wife looks over at me…
4. After Bortles throws his 3rd pick of the day…
3.When Flacco throws a near pick on a bad pass…
2.After a Ravens player inevitably gets injured…
1.After the 34-10 win…