Flacco Keeps It Simple vs Raiders
Print this article
Heading into Sunday's game against the Oakland Raiders, patience seemed to be running thin with Baltimore Ravens quarterback Joe Flacco.
After starting the season off with two solid performances, Flacco looked downright awful against the Jacksonville Jaguars and Pittsburgh Steelers, signaling cause for concern as to just how good he will be in 2017.
Now coming off a 30-17 road win and a 222-yard performance in Oakland, Flacco's stock is trending back upward.
Of course, any sort of respectable performance against the Raiders would have been an improvement, but Flacco's game in Oakland was impressive on its own merits.
On just 26 attempts, Flacco looked like his old self, keeping his decisions as simple as possible, and breaking out his deep-ball ability on multiple downfield completions to Mike Wallace.
So what changed? How did Flacco return to form after arguably his worst two-game stretch of his career?
For Flacco, as the saying goes, "keep it simple, stupid!"
Simple is just how Flacco kept it, as he never once allowed himself to overcomplicate things. He analyzed the defense before the snap, stuck to the most sensible route possible and executed. Let's take a look at how Flacco succeeded on Sunday by properly taking what the Oakland defense gave him.
On the first play from scrimmage, this was on display.
Flacco sees a single-high safety, with two receivers facing man coverage. This is an ideal scenario for a one-on-one deep ball to Wallace, which is just what Flacco has in store.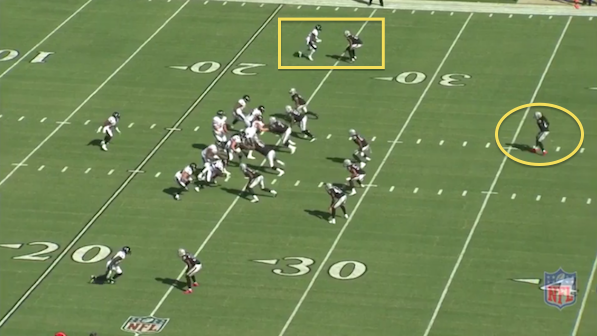 Flacco turns and sees Wallace breaking free down the sideline off the snap, and this is an easy pitch-and-catch as the safety cannot make his break until Flacco releases the ball.
This play is a prime example of Flacco sticking to the basics and not complicating the situation. He knows more often than not, Wallace will win downfield in one-on-one coverage, and trusts his arm to make the throw.
Even on shorter throws, Flacco accurately diagnosed the defense and kept his rhythm smooth and easy.
Here, the Ravens have three wide receivers, with Jeremy Maclin in the slot against soft coverage over the middle of the field.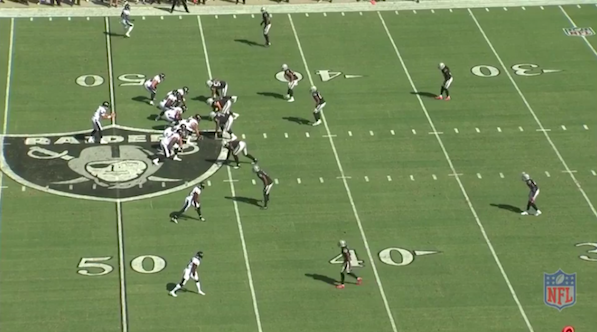 With the sidelines covered by the secondary, Flacco makes the right decision to attack the middle of the field, allowing Maclin to work with plenty of space.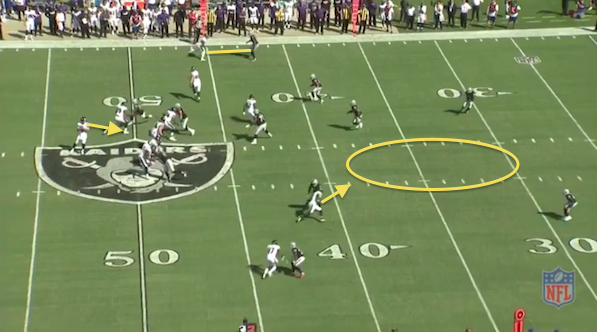 An accurate throw by Flacco allows him to fit the throw into a tight window around four different defenders.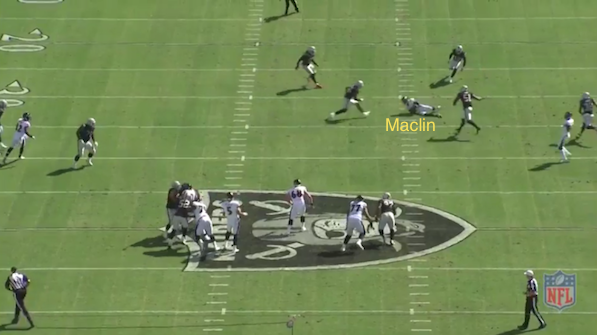 This is an example of Flacco recognizing before the snap that the middle of the field would be open, standing tall in the pocket and being confident in his decision and throw.
As the game went on, Flacco's confidence noticeably grew, as late in the game he hit Wallace again on a 50+ yard throw.
Here, the short-to-intermediate part of the field is covered, but Flacco notices Wallace breaking deep, with the backend safety initially breaking toward the line of scrimmage.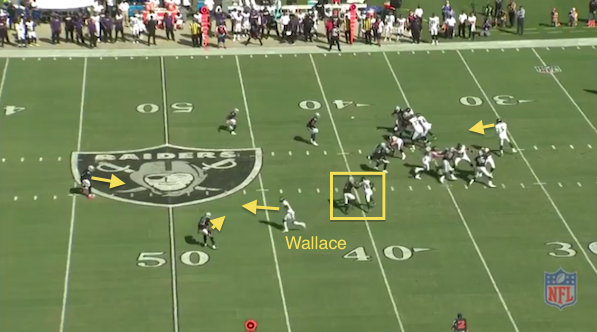 The slight hesitation by the safety allows Wallace to get behind him downfield, and Flacco accurately recognizes this as a win-win play in the sense that a properly placed (past the safety) ball can only result in either a catch or incompletion, but not a turnover.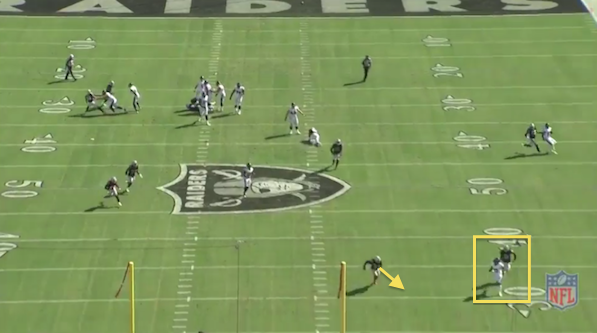 The shrewd move by Flacco to take a shot downfield is complemented by a perfectly thrown ball, and a Wallace reception.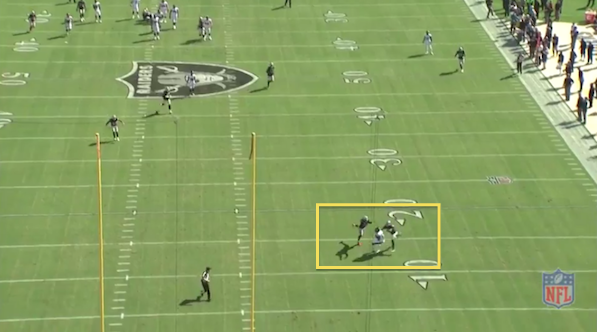 Throws like these are examples of Flacco staying composed as he analyzes the defense, standing patiently in the pocket and then executing. Against Jacksonville and Pittsburgh, Flacco did not seem confident off the snap. Rather he seemed to enter panic mode once the play began, and resorting to improvising on too many occasions.
Against Oakland, Flacco seemed much more calculated and deliberate in his decisions. He did not throw any jump balls, he did not force throws into coverage and he did not prematurely leave the pocket.
Sunday's win was Flacco's cleanest performance of the year, and not by coincidence, his most simple in terms of decision making.
As long as Flacco can continue to stick to the basics, the #5 that we saw in Oakland on Sunday could be here to stay.