Beware the Mobility of Mitch Trubisky
Print this article
Heading into Sunday's game against the Chicago Bears, the Baltimore Ravens have a dream scenario of sorts.
Fresh off a crucial road win in Oakland, the 3-2 Ravens will take on a 1-4 Bears team with a rookie quarterback playing in his first road game in the NFL (and just his second game overall).
Mitch Trubisky started his first game on Monday night against the Minnesota Vikings, looking like a rookie more times than not in a 12-for-25 performance with just 128 passing yards to show for it.
Now, Trubisky comes to Baltimore on a short week and quite frankly should not be expected to accomplish much against Baltimore's talented secondary.
However, as some Ravens players have already suggested, while Trubisky is inexperienced, his athleticism and mobility cannot be overlooked.
Throughout Monday's loss to Minnesota, Trubisky's mobility was on display, and he used his legs and ability to throw on the run to make some impressive throws. Given the aggressive mentality of Baltimore's defense, it will not be a surprise to see Trubisky take advantage of plays in which the defense is too aggressive.
Let's take a look at how Trubisky's mobility led to success against Minnesota, and why it will be the one aspect of his game that Baltimore needs to limit on Sunday.
Trusbisky's ability to throw on the run was regularly on display. Here, Trubisky executes a simple rollout.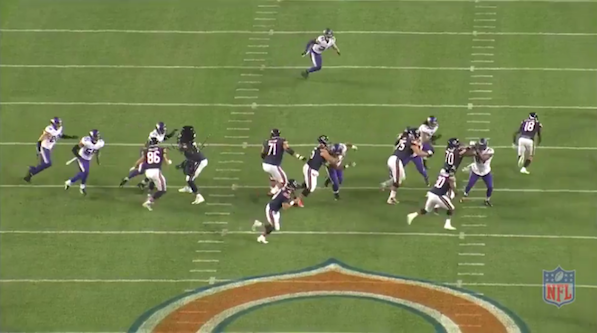 As he makes his way outside of the pocket, Trubisky locates his receiver breaking free downfield.
With pressure coming from his left side, Trubisky must make this throw while on the run. Planting his feet and setting himself up for the throw would likely lead to a sack.
He accurately places the ball downfield while on the run in a play that some veterans struggle to make. Plays like this show why Trubisky was a first-round pick, and why he could make some big throws against Baltimore.
Another staple Trubisky put on tape against Minnesota were simple runs up the middle on broken plays. Here, Trubisky faces a four-man rush, with no receivers coming open downfield.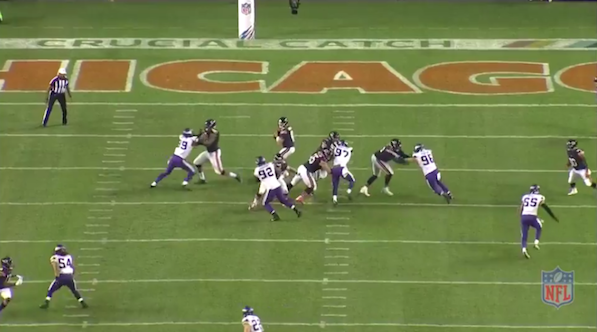 Trubisky stands tall in the pocket and waits for a lane to open up, taking off up the middle and picking up positive yardage on the play.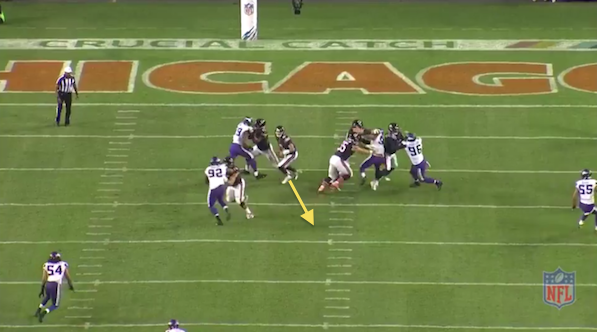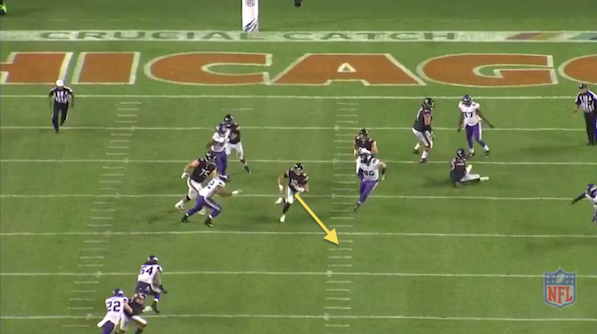 Given the high-pursuit nature of Baltimore's front seven, Trubisky will likely have several chances to take off up the middle, and defensive coordinator Dean Pees must have quarterback contain contingencies in plan for Sunday.
One other aspect of Trubisky's play that Baltimore must neutralize is his ability to roll out of the pocket on play-action.
Here, the defense pursues the running back as Trubisky fakes the handoff and rolls out of the pocket.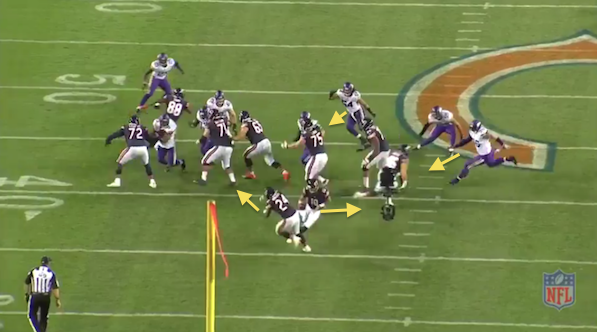 The quarterback uses his legs to work his way away from the defense and outside, waiting for a receiver to become open downfield. Again, Trubisky must make a throw on the run, as planting his feet would allow the defense to close in before the pass.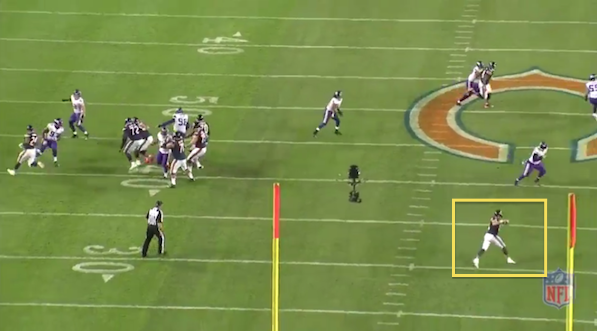 Trubisky delivers another perfectly placed ball downfield while on the run, resulting in another long completion.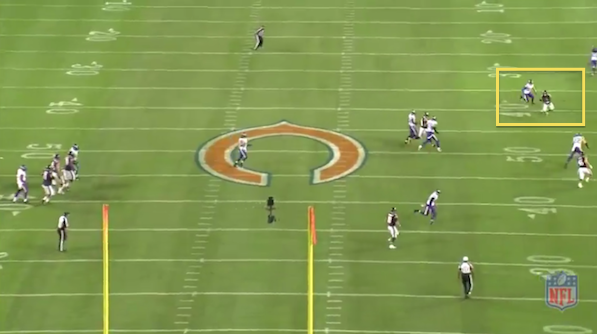 Luckily for Baltimore's defense, while Trubisky has talent, the reality is this is only his second NFL start and first game on the road. He flashed some brilliance on the run in his first start, but if he fails to make plays with his legs against Baltimore, he will be in for a long day in what could end in an easy victory for the Ravens.