Bears Maul The Ravens 27-24
Print this article
Since the Ravens won Super Bowl 47 their record in 4+ seasons is (35-37). That's the body of work for John Harbaugh & Co. during the post Ray Lewis–Ed Reed era.
They are a franchise whose tires are stuck in the mud and they don't have AAA. Instead they just keep pushing the accelerator and go nowhere. In other words, they repeat the same mistakes time and time again expecting different results.
Yet nothing changes.
Mind-numbing clock management, antiquated offense, passive defense, inconsistency at quarterback, an injured reserve list that resembles a M.A.S.H. unit and a collection of receivers that the Little Sisters of the Poor could cover. And then we're "treated" to these wonderful words of wisdom from Coach Harbaugh following another ugly loss:
"Hard-fought, very disappointing loss. Congratulations to the Bears. Obviously, they made the plays that they needed to make, especially with the turnovers and interceptions. I thought our guys played their hearts out. I thought our guys played hard. They fought their way back. The two special teams touchdowns were huge, obviously, in the game. It's not for lack of heart, that's for sure; it's not for lack of effort. It's for lack of execution at times, and that's what we have to get better at. We just have to improve all the way across the board."
Harbs has to be a believer in participation trophies, right?
And by the way, when will Ravens owner Steve Bisciotti reach his breaking point?
The coaching blunders and inadequacies aside for a moment (we'll get to that in a bit), Bisciotti has to be at least somewhat dismayed by the performance of his front office. Last week I wrote a piece that described some of the Ravens inadequacies on draft day. Dating back to 2009 through 2013, the Ravens have only 4 players on their roster selected during those 5 drafts, namely Lardarius Webb, Jimmy Smith, Brandon Williams and Ryan Jensen. That's worse than any single playoff participant from the 2016 season except the New York Giants who also employ just four players from those draft classes.
And since then, it hasn't gotten much better, particularly in Rounds 1 through 3 where the team HAS TO find its playmakers. And they haven't.
So, when you consider all of these draft day misses, it begs the question, "Who's to blame?"
Is it Ozzie? Is it the scouts? Are the scouts and coaches not on the same page? Are the coaches incapable of developing players?
Is it all of the above?
And while you think about those questions, here's another…
How can the Ravens invest so much in a franchise quarterback and then fail to support the investment with adequate weapons?
It's mind blowing!
They've invested draft picks in skill position players, but they've fallen way short. Breshad Perriman, Maxx Williams, Kenneth Dixon and Chris Moore, what have you done lately? What have you done at all?
Perriman on the season has 4 catches for 26 yards on 18 targets! During his 2+ seasons in the NFL he has 37 catches on 82 targets for 525 yards and 3 TDs. After a possible 38 games (he's played in 21), you have a pretty good read on a player. Perriman's book reads, "Bust".
They either don't understand how to draft a receiver or lack the teaching skills to develop one, or both. And given their regular salary cap woes, they can't afford to go out and get one, like an Alshon Jeffery who was available this past offseason.
Had the Ravens fielded even average receivers yesterday, the result of the game would have been much different.
Let's get to it…
THE GOOD
Alex Collins (15 carries, 74 yards) and Buck Allen (10 carries, 49 yards) both ran with purpose and good vision. At times, both grounded out yards when the yards seemingly weren't there. Each averaged 4.9 YPC…Ronnie Stanley was effective as both a run blocker and was steady when asked to protect Joe Flacco during his 45 drop backs.
Terrell Suggs chipped in with 4 pressures, ½ sack and 4 tackles, one of which was for no gain and two for losses of 7 and 6 yards, respectively…Michael Pierce was effective collapsing the pocket to allow the edge rushers to converge on Mitch Trubisky. He was also a stalwart v. the run with 6 tackles, 1 TFL and a fumble recovery. He'll be happy to see Brandon Williams' return to the lineup…Special teams were terrific. Justin Tucker's 50 yard FG may have been good from 65 yards. Sam Koch netted 48.9 yards on 7 punts, 2 of which were pinned inside the 10. Bobby Rainey had the presence of mind not to quit on a kickoff return and the end result was a 96-yard TD. Michael Campanaro had a clutch 77-yard punt return for a score.
How often does a team get a kick return and a punt return for touchdowns in the same game and still lose?
THE BAD
Joe Flacco's passer rating on the day was a putrid 48.8. He missed on a few throws that were available, particularly a back-shoulder opportunity in the end zone to Mike Wallace. He also mindlessly registered another delay of game penalty when facing a third and 12 at the Bears 18. But clearly, he had little help from his receiving corp. Campanaro dropped a second quarter pass on third down that would have kept a drive alive. Perriman looked like the T-Rex in Toy Story trying to haul in a pass for a gain of 25 yards and his seal-flapping attempt to catch the pass helped tip the ball into the waiting hands of the Bears' Bryce Callahan for the INT. Chris Matthews slipped in the end zone when Flacco rolled right and tossed a strike that should have gone for a TD had Matthews maintained his footing. Then there was Chris Moore who opted to chest-bump a laser from Flacco, eventually caroming into the hands of Baltimore native Adrian Amos. Ninety yards later it was 24-13 Bears. By my calculations if Flacco's receivers do their jobs, like maybe catch the ball, that 48.8 passer rating flips to a 90.2 rating. Fourteen of the Bears points were directly tied to those interceptions.
But the apologies for Flacco's numbers aside, at least a couple times per game, the Ravens signal caller's mind goes into vapor lock. There was the aforementioned delay of game penalty that makes you go WTF! Later, he looked like a jittery rookie when he broke containment, had time to set and throw but instead illegally crossed the line of scrimmage first, and then hit Mike Wallace for a score that was negated by Flacco's penalty…Maxx Williams killed the Ravens first promising drive when he fumbled just after it appeared his catch would give the struggling offense a first down at the Bears 20. To make matters worse, Williams left the game with yet another injury.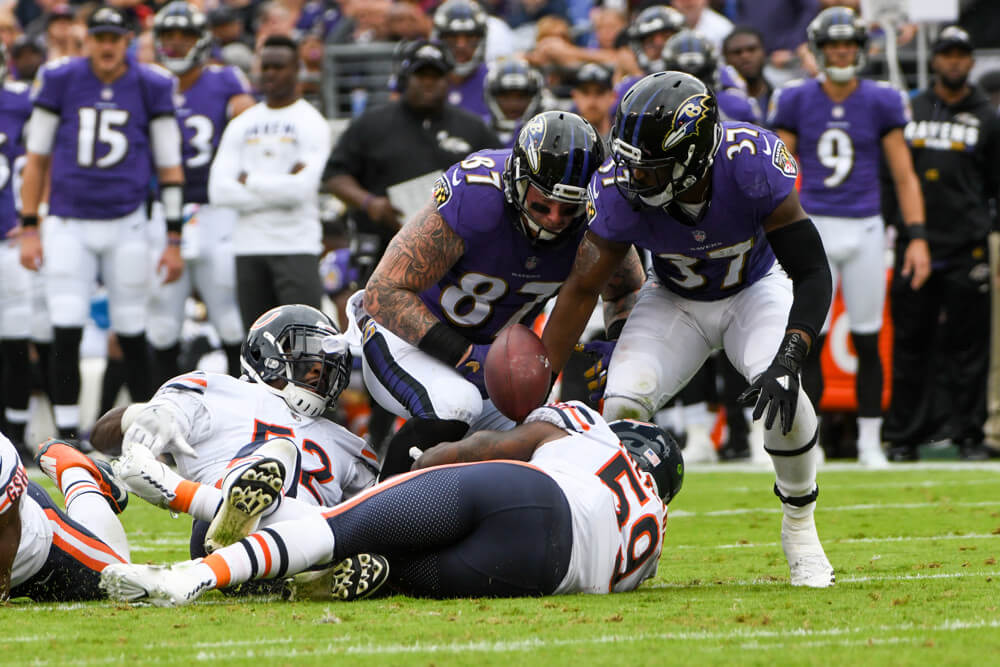 Jermaine Eluemunor was taken to school by the Bears Akiem Hicks. It was a complete mismatch and a baptism by fire for the rookie guard…C.J. Mosley and Patrick Onwuasor played like they were on skates. Each was regularly pushed around. Mosley missed a couple of tackles and rarely makes plays around the line of scrimmage. One might think that the decline in his play (he's the 32nd ranked ILB by Pro Football Focus) could be the result of the injured Brandon Williams. Not so according to C.J.:
"[Williams' absence] hasn't affected me too much. The Bears run that stretch game. It's a little different with the stretch game. With the stretch game, offensive linemen have an easier chance of getting up on the linebackers. For the most part we did a pretty good job today. We just have to be able to sustain those types of plays. For the passes and the runs that they got we have to do a better job of trying to avoid those big plays."
A pretty good job?
And that brings me to…
THE UGLY
So, let's talk about that "pretty good job" that Mosley described above. The Bears had 231 yards rushing on 54 carries (not a misprint) despite the Ravens registering 9 tackles for a loss. The Bears had 19 runs of 6+ yards. And it was rather obvious that the Bears were going to take the air out of the ball to accelerate the game and limit the opportunities for mistakes by Trubisky. The Bears knew it. You knew it. And even Dean Pees knew it but they did little to thwart the Bears' obvious plan. Chicago had tremendous success running on first down leaving the rookie signal caller with much more manageable down and distance situations. Not forcing Trubisky to beat them was a major tactical blunder by Pees and the Ravens.
The Ravens tackling was awful, the biggest culprit being Eric Weddle. In overtime, the first of Trubisky's career, the Ravens had the rookie pinned back at his own 7-yard line. There's no way the kid is going to take any chances with the ball and keying on the run could force a punt and give the Ravens very good field position, probably a first down away from a Tucker FGA. Instead Weddle tries to tackle the ball and 53 yards later the Bears have a first and 10 at the Ravens 40…Weddle's sidekick at safety was even worse during the afternoon. It gets tiring, constantly seeing the back of Tony Jefferson's jersey. Both of the Bears' offensive TD's were the result of coverage blunders from Jefferson. He's done next to nothing this season and is currently the 66th ranked safety by PFF (Weddle is 62nd), yet the 9th highest paid. Obviously, Jefferson is frustrated, as evidenced by a completely unnecessary face-masking penalty.
Here's a little more ugly that will have you reaching for Pepcid AC:
• After the first quarter the Ravens had 31 net yards of offense to go with 44 penalty yards.
• The Ravens were 0-2 in the red zone despite a Bears defense that was 20th ranked in the red zone.
• Coming into the game the Bears' third-down defense was ranked 28th, stopping teams just 45% of the time. Yesterday the Ravens were 3 for 18 (17%) on third down.
The Ravens offense is the league's 29th best – or 4th worst depending on your perspective. They have the 31st ranked passing game and the 31st ranked team passer rating. They have 8 offensive touchdowns IN TOTAL through six games! It's fairly safe to say that Marty Mornhinweg is not working out.
Defensively the Ravens are ranked 16th and that's after a fast start against the then hapless Bengals and Browns. And it's not as if they've faced great quarterbacks in their other games. Outside of Ben Roethlisberger, the Ravens have taken on Blake Bortles, E.J. Manuel and of course, Trubisky. The Ravens defense could be 16th ranked against those opponents just for showing up.
And these dismal results come on the heels of a major investment in Pees' unit. They backed up the Brinks truck for Brandon Williams and stroked a big check for Tony Jefferson. They added Brandon Carr and spent their first four draft picks on defense. It's fairly safe to say that Dean Pees is not working out.
Which of course brings it all back to the head coach.
I admire Harbaugh's loyalty. I admire how is high character players support his program.
But the program isn't working. A .486 winning percentage since Super Bowl 47 doesn't define success. His substandard coordinators are his to own, as are the results. His quarterback's lack of development after cashing in on Super Bowl 47, has also taken place on his watch.
And speaking of watches, the Ravens sideline is clueless when it comes to clock management. The timeout they burned before Tucker's final field goal is inexcusable. That timeout could have been the one asset they needed in regulation to give the Tucker a shot at a long game-winner. But those things don't happen under this administration.
OTHER NOTES
According to NFL.com's Kevin Patra, Tarik Cohen's halfback option pass to Zach Miller for a score was the first by a Bears' rookie running back since Gale Sayers in 1965. Cohen is also the first person 5'6" or shorter to throw a TD pass since Wee Willie Smith in 1934 for the Giants.
The officiating from Ed Hochuli's crew yesterday was abysmal. They allowed a lot of hugging by offensive linemen go un-flagged and they threw flags that they shouldn't have. One of which was the roughing the passer flag against Za'Darius Smith. His take down of Trubisky wasn't late or malicious. He simply wrapped up the rookie QB's feet. By rule a defender can take down a QB below the knee when attempting to pass, "provided he does not make forcible contact with the helmet, shoulder, chest, or forearm". Smith did none of those things and Hochuli was staring at the play just a few feet away.
THE MEGAN FOX AWARD
The Ravens breakout player so far this season has to be Matt Judon. Yesterday Judon had 12 tackles, four for losses, 2 sacks and 2 QB hurries. During a frustrating afternoon, Judon's game was a thing of beauty. Now if that performance could only rub off on Mosley and Onwuasor…