Falling Towards Rock Bottom
Print this article
5 Stages of Grief
You guys… this is bad.
Like real bad.
Bad to the point that, if only for a brief moment Sunday, I thought to myself "I don't even recall the Kyle Boller days being this awful on offense."
That's low.
Alas, we have ourselves a Thursday night showdown with the Fins at M&T Bank Stadium, and we need to speed through the 5 Stages of Grief and move on, as the Ravens will prepare for another subpar backup quarterback that'll probably look like a young Tom Brady against our defense…
Denial
So wait – you're going to tell me in the past 3 games, the Ravens have faced 2 backup QB's & a rookie in his second game… and have lost 2 of those 3 games?
BULL.
And now you're going to sit there, look me in the eyes, and tell me with a straight face that the Ravens defense was gashed for 169 yards on the ground this week for consecutive 150+ yard rushing games against the Baltimore defense… and expect me to believe that?
MORE BULL.
There's simply no way this team has gone so quickly from a formidable team in all facets of the game to a shell of their former selves, and one that is currently looking at the 7th pick in the 2018 draft!
Sure, injuries have happened, but the Ravens aren't the only team facing injuries to key positions! And yea, we have seen some totally abysmal coaching, but that's commonplace around several other franchises, and at least they manage to put points on the board and keep games close! Hell, the Browns took the Titans to OT today using 2 different QB's!
If the Browns can almost beat Marcus Mariota and the Titans, there's simply no explanation for the Ravens ineptitude across the entire team right now…
Anger
Yanno what pisses me off more than anything about the current state of the Ravens?
THIS WAS AVOIDABLE.
It truly was, and all it took was Steve Bisciotti realizing 2 major factors: this team has been awful in the draft, and the Harbaugh plague is real.
How many piss poor selections have we seen over the years? Essentially our draft picks end up 1 of 2 ways: injured or out of the league.
Seriously, just look at 2015 & 2016 (too soon for 2017) as the most recent sample: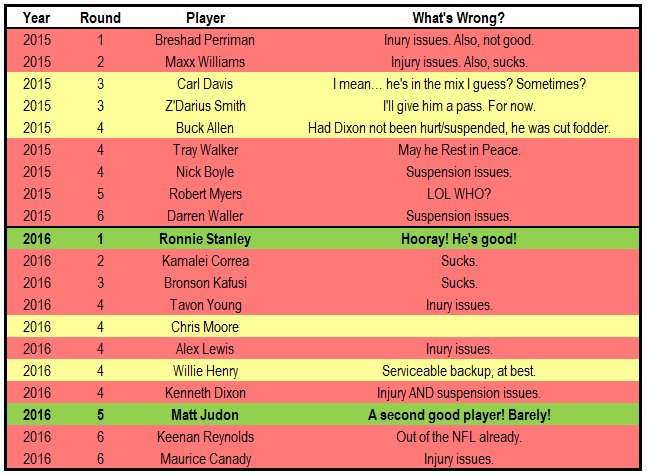 2 players out of 20 are actually solid picks.
That's it.
Blame Ozzie, blame scouts, but ultimately, blame Bisciotti for not bothering to make any changes to the process, as this 2-year snippet is just a brief glimpse into an issue that's been going on for years…
Then there's the coaching.
John Harbaugh has overstayed his welcome for 2 years now. Who the hell knows if the players even like him, but I can surely say the fans are, well, not a fan of Harbs. The man deceives media in regards to injuries ("he should be back soon" = 10 weeks), he constantly defends awful play on the field, he defends pathetic coaching even more than his players, and speaks entirely in coach-ese. Everything is "we're close to being good," or "I think there's a few positives to take from this game."
SHUT IT, JOHN.
Time to pack your crap and move on, and while you're at it? Take Marty Morhinweg & Dean Pees with you!
But that would mean Steve Bisciotti would have to accept the fact that the trio of coaches sucks horribly. Which he has yet to do. And likely won't. Ever.
Bargaining
Back to Stevie Biscuits here – had he realized this coaching staff was so unbelievably awful last offseason and started from scratch?
We'd still be in this same boat.
The big difference? At least it would be expected with a lesser team, and accepted knowing it's the start of a rebuild, but with a potential bright light at the end of the tunnel.
If Bisciotti would have set emotions and personal relationships aside, we would currently have a young, up and coming coaching staff with some fire in their gut, passion on the sidelines, and less predictability than the geriatric coordinators we have right now, and if that were the case? Perhaps these close games would be wins instead of heartbreaking losses.
Of course, had all of these injuries and suspensions never been an issue, who knows where this team would be right now… likely a hell of a lot better than 3-4, losing consecutive games to a rookie quarterback and a backup…
Depression
Of course, none of this matters any more this season. At least not in terms or wins or a potential shot at the playoffs. Those hopes are long gone…
Let's be honest here: if the Ravens defense can't stop the run game of one-dimensional offenses, and the offense can't call a play to save their lives (or at least Flacco's life), how do they expect to win a single game the remainder of the season?
I'm honestly not even convinced they can win their final match against Cleveland this season, and I'll be totally shocked if they don't end up with a top-5 pick in the 2018 draft…
Of course, draft position won't matter, because Ozzie will still be the GM, they'll still consider defensive players at a super-deep position as the Best Player Available, continue to ignore the offense, and on the picks they do make for the offense, it'll either be a busted player or too late to make a difference (see literally 90% of our drafted WR's coming in Rounds 4-7).
Then whatever players we take will be ruined by the same coaching staff we see today, as Bisciotti will spend the next 6 months talking them up, placing his undying trust in them, and blaming 'unfortunate injuries' for the bulk of this team's issues.
Then we'll go through the usual motions – Flacco won't work with his receivers, we'll lose a few playmakers to injuries and a few more to suspensions, then the offense remains stagnant once again. Maybe we just go ahead and give Flacco another extension while we're at it, right?
Let me know when this cycle ends…
Acceptance
I hate to sound like a broken record, but ultimately? We have to accept that this Ravens team is a bottom 5 NFL team right now. Injury asterisks don't add wins to your total, we don't control the coaching decisions, and we can't fix Flacco's mechanics by yelling at the television (even if we add as many 4-lettered adjectives as possible).
Instead, as Ravens fans, our focus should be on hope.
Hope that they can steal a game or two this season- preferably in Pittsburgh!
Hope that some of these young players step up and make strides in their game, with a positive outlook for 2018 and beyond.
Hope that the current coaching regime finds their way out of Baltimore, allowing for a true rebuild to start from the ground up.
Hope that, sooner rather than later, we'll see the energy return to a packed M&T Bank Stadium, as opposed to the current half-assed cheering from a half-filled stadium in Baltimore.
And truthfully?
Hope that it can't get much worse than this…