Trent Green Drops Truth Bombs
Print this article
Before we get into the phenomenal performance in Sunday's Ravens game – that of Trent Green & Greg Gumbel, not the Ravens – I want to touch on a very important note that I happened to catch during the broadcast of said game.
If you heard a familiar sound in the background on a handful of occasions, typically 3rd down defensive plays for Minnesota, you weren't alone.
That sound? The familiar tune of The White Stripes hit song "Seven Nation Army."
The same song many Ravens fans believe we "own," was played many times during the game by their DJ (who I don't believe played any Taylor Swift – just saying), further proving my point that Baltimore sports teams do not own Seven Nation Army, and quite honestly, it's time to move on to a new touchdown anthem anyway.
If we can ever score one again.
But that's a different can of worms for a different day…
Back to the main focus of the game – once again, Greg Gumbel and Trent Green were amazing.
How amazing?
Imagine having to work the broadcast booth for CBS during a grass growing tournament. That's essentially what Gumbel & Green had to do on Sunday when the Ravens came into the conversation, particularly the offense. It was a whole bunch of nothing going on, with a rare successful play for positive yardage, allowing Gumbel a rare uptick in demeanor… only to fade back into the humdrum lackluster ways of the Ravens offense.
Despite the lack of action for the Ravens on both sides of the ball, the duo kept from becoming Ben Stein clones.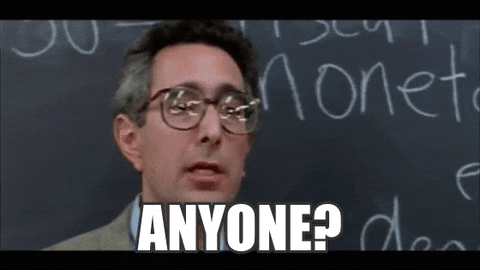 Lots of chatter about Ravens injuries parlayed very nicely into Mike Wallace's concussion on, what I'm sure many would agree, was a very a-hole-ish hit by Andrew Sendejo of the Vikings.
Of course, Gumbel had a minor slip up early on with the injury report:
"Just to recap, Perriman is out, he suffered a concussion last week against Chicago, Jeremy Maclin is out, he didn't even play last week, now Mike Wallace out with a concussion. That leaves … (long pause trying to compare names to numbers)… Griff Whalen, Chris Moore, Michael Campanaro, Chris Matthews."
Not entirely true – Matthews was also ruled out with an injury prior to the start of this game.
Gumbel also referred to Vince Mayle as a 'hybrid' which, sure why not, but if he's a hybrid anything? It's Tight End & Running Back, as he's seen more hand-offs in the backfield than he has receptions.
Back to Wallace's head shot, which seemed to be the major focus of the FG Fiesta in the 1st half of Sunday's game.
Fortunately, Wallace was able to walk off the field, head to the locker room for testing, and promptly return to the sideline. Once back in the Ravens bench area, viewers at home were subjected to Wallace pacing the sidelines in search of his helmet trying to sneak back into the game, which prompted Green to do what he does best, and keep it real.
In reply to sideline reporter Jamie Erdahl's note that Wallace's situation is "ongoing," Trent had this to say:
"I hate to tell you this, as a player, it's not an ongoing situation because if they take your helmet and say you're not going back in the game? You're not going back in the game."
I mean… not a shot at Erdahl by any means, but Trent is clearly passionate about concussions. Makes sense as a former NFL QB who's likely been concussed more times than he can remember. In fact, with Wallace continuing the Great Helmet Hunt, Trent took a solid dig at the Ravens wideout:
"As we continue to see Mike Wallace walk around… all he's doing is confirming to people that he had some type of head injury by continuing to act like he's going back in the game when it's not gonna happen."
Oh, Trent…
Speaking of keeping it real, Green wasn't afraid to mince words in regards to the officiating either.
He questioned a lack of DPI penalty on Brandon Carr's early interception, disagreed with Matt Judon's penalty for hands to the face that extended a Vikings drive resulting in a field goal, strongly disagreed with an Adam Theilen O-Hold when it was a blatant Marlon Humphrey hold, and really had no qualms in calling out the NFL penalty – not specifically the officials – for a roughing the passer penalty against the Vikings on a slightly late hit on Joe Flacco.
"I understand they're trying to protect the QB's legs, and that's why they're calling that on Johnson because he went low but you've got to look at the entirety of the play, he got tripped going in there… I don't know, I don't agree with that call."
I mean… he's not wrong. Sure, we liked the call because it benefited the Ravens, but flip the script and we'd be fuming. Can't blame a guy for stumbling post-trip into Flacco, right?
Speaking of the Ravens QB, fret not-  Trent did indeed dip into the Flacco pool on Sunday, and really focus on the wording here:
GG: "Joe Flacco has been under a lot of criticism and heat back in Baltimore for his play this year, hard to blame him right now when you really have no one to throw to."

TG: "Well he hasn't played really well this year and part of that due to the fact that he didn't have the preseason or part of training camp due to a back injury, and it took him a while to get back into it. Then all of a sudden in Oakland, it looked like he'd be back to the old Joe Flacco, throwing the ball downfield. Then suddenly you come into today's game, 3 of your WRs- 2 of them starters – are out with injury, then Mike Wallace gets knocked out with a concussion so not many weapons today."
Nothing Green said was wrong – although he did fail to mention the awful play calling, Joe's issue with mechanics, and the fact that WR's aren't the only ones catching passes especially in Baltimore – but the specific note of Flacco throwing the ball downfield in Oakland intrigues me. I don't think I've seen him take any downfield shots prior to, or since that game in Week 5.
I wonder when we'll ever see those deep shots again…
Ultimately, I think I'm moving this Gumbel & Green duo into my number 2 slot right now. They don't skirt the truth, they call BS when they smell it, and Trent trash talking Wallace was just comical.
That being said, I hope for their sake they don't get stuck with another Ravens game. Two has been enough, and a 3rd would literally leave them speechless with nothing new to say…
Then again, we could have a bunch of former practice squad players filling in for newly injured players by then! That could be exciting!
---
Image of the Game
Remember when the Ravens could fill stadiums like this?
---
Quote of the Game
When the game is so stagnant, that there's literally nothing else to talk about…
"Lotta Purple in this stadium… Prince would be in his glory here." 

-Greg Gumbel