(Over)reaction: Ravens Still Aren't Good
Print this article
In the wake of a 40-0 lambasting of the Miami Dolphins- what has become more of a ritual for the Ravens than anything else- those fans who had jumped off the bandwagon are clamoring to get back on, and those who remained loyal to the team have raised both the bar and expectations for a potential push into the postseason.
Yea… I'm not buying it.
First and foremost, the bandwagoneers are touting the final score- the biggest shutout in Ravens history shows how great they are!
Except… isn't this the same group who also chimes in on close wins against awful teams that 'the score doesn't matter, and only the W-L record shows?'
And really, let's take an unbiased look at this game with our purple tinted glasses tucked away, shall we?
Matt Moore was the starting QB. And no, Jay Cutler wouldn't have been much better, but he too was not Miami's starting QB- Ryan Tannehill was the Fins signal caller at QB1 coming into this season.
Essentially, Matt Moore is their 3rd best option (after Tannehill injury, added Cutler because Moore wasn't good enough to start).
In comparison, imagine starting Josh Woodrum.
Wait. I forgot how many people in Baltimore believed practice squad journeyman Woodrum was our savior after some solid preseason play against other practice squad players…
The Fins defense isn't exactly a force to reckon with either, and if you don't believe that because you see nameplates of familiar big names- Suh being the most obvious of the bunch- just realize the Jets put up 28 on them last week.
Josh McCown, Robby Anderson, Bilal Powell scored 28.
Then there's the penalties.
I don't think there's any secret about the dirty play of the Filthy Fins. Suh with a throat choke of Ryan Mallet (but, self defense!), Kiko Alonzo with an inexcusable head shot to Flacco on a slide, I think there was an eye poke of Austin Howard in there somewhere…
Essentially, the Dolphins defense was giving the Ravens yards and opportunities. First and goal from inside the 5 twice on idiotic personal foul penalties- both turning into touchdowns.
Would the Ravens have still turned those drives into 7? Possibly, but recent history shows us that Baltimore red zone trips tend to turn into chip shot field goals more than touchdowns.
Speaking of field goals, special teams didn't exactly turn in a stellar performance.
There was Justin Tucker's obvious shoulder shrug tell pre-snap allowed the defense to time their jump on his 47 yard field goal attempt, leading to a clean block. Then Sam Koch had a horrendous punt (he's usually good for one bad one a game these days), and Griff Whalen nearly turning over the ball after bobbling a fair catch, leading to a change at punt returner with Lardarius Webb taking over for the remainder of the game.
This isn't to say the Ravens are a bottom-5 team by any means; Alex Collins has all of the makings of a stud running back, Flacco will likely return, and the defense can build confidence from this game.
But at the end of the day? We've been down this road following the win in Oakland, only to be let down the following week against the Bears.
And the week after that against the Vikings.
Hell, go back a few more weeks when we were flying high after beating bottom-3 Cleveland and Cincy, only to get dismantled by Jacksonville & Pittsburgh.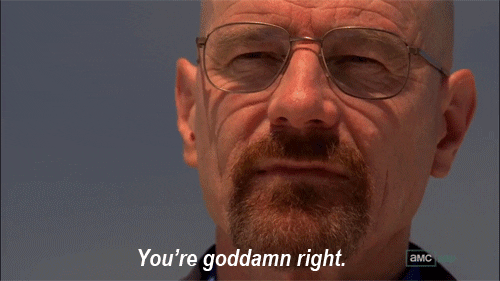 Eventually, Dean Pees will revert to rushing 3 all game without blitzing, Marty Mornhinweg will face a real defense and make zero adjustments after a first half under 100 yards of total offense, and we'll lose.
Given the schedule- facing a killer Texans offense, playing in Green Bay (regardless of no A-A-Ron Rodgers) & Pittsburgh- I guarantee a bad loss is going to happen again this year.
And when that day comes, the bandwagon will lighten the load once again, talk of the playoffs will turn into draft chatter, and this guy?
I won't be the least bit shocked, because this Ravens team still isn't good.