Ravens Season Slipping Away
Print this article
But Harbaugh Says, "We're in it!"
So far in 2017 the Ravens have faced the following quarterbacks:
• Andy Dalton
• DeShone Kizer
• Blake Bortles
• Ben Roethlisberger
• E.J. Manuel
• Mitch Trubisky
• Case Keenum
• Matt Moore
• Marcus Mariota
And yet despite this rather unimpressive lineup of signal callers the Ravens are just (4-5) largely because the team's offense is stuck in the mud. But never fear Ravens Nation! Your team is still in it despite what NFL Lines suggest. Just ask John Harbaugh:
"We are in it. We are in it. There is no doubt about it, we are in it. Obviously, going down to Tennessee – we knew this – going down to Tennessee was a big opportunity for us. We had a chance to get out front of the race. We had a chance to stay with the Steelers, and we are not saying we can't win the division. We can win the division. We just have to get on a roll."
Clearly the Ravens weren't on a roll against the Titans. They managed to blow another winnable game against a mediocre opponent – because they too, are mediocre…at best.
Over the course of the final 7 games the Ravens will face no less than 3 backup QB's (Packers, Texans, Colts) plus whatever project the Browns roll out. Those are four games that should end in victory and could push the win total to eight. That leaves the Lions (H), Steelers (A) and Bengals (H). Winning their home games could push the Ravens to 10 wins.
So, maybe the Ravens are "in it". This plan isn't an unachievable one, but it does require consistency. And the only thing consistent about the Ravens is their inconsistency and a wretched offense led by a quarterback who is unlikely to ever play to the level of his contract.
Think about this. Since the Ravens started (2-0) they have lost 5 of 7 and in those five losses they have not scored a first half touchdown.
Yes, the Ravens are "in it".
We're just a little unclear on the "it".
THE GOOD
Jeremy Maclin had a productive afternoon posting 8 catches for 98 yards. In a Ravens offense, those numbers are prime Jerry Rice-like, relatively speaking. He did seem to ding his shoulder and has so often been the case during Maclin's career, his status going forward will be unpredictable. He'll benefit from the bye…According to Pro Football Focus the Ravens offensive line gave Joe Flacco ample time on 7 of 54 drop backs. That's impressive. On a couple other occasions, Flacco failed to slide up in the pocket which would have given him a clean look downfield. Instead he was sacked…The Ravens effectively executed a screen pass to Maxx Williams who ran with purpose after making the catch (17-yard gain). Such effectiveness with screens is a rarity for Marty Mornhinweg's offense.
The Ravens front seven did a nice job of containing the Titans one-two punch of DeMarco Murray and Derrick Henry. They combined for just 45 yards on 17 attempts. That effort becomes even more impressive when you consider that Michael Pierce had a very early exit due to an illness and Bronson Kaufusi, once again, was inactive. That increased the workload for the defensive linemen on an unseasonably warm day in Nashville…Matt Judon had 10 tackles. He set the edge effectively and his hustle contributed to his tackle total as he chased a few running plays down from behind. He quickly diagnoses and acts upon flanker screens. He also had a sack and a couple QB hurries.
The Ravens corners played well. Jimmy Smith continues to play like a shutdown corner and Marlon Humphrey looks like he's ready to start. Maurice Canady had an impressive debut as a lengthy slot CB, oftentimes assigned to Eric Decker. Interesting choice by Dean Pees given Decker's height advantage over other slot candidates like Jaylen Hill and Lardarius Webb. Canady did lose Decker once during a play extended by Mariota's mobility and the lack of pressure. The result was a dagger – the Titans' final score. Canady also played well as a gunner on teams. Ditto for Chris Moore who also made contributions on the kick cover team and hauled in the 16-yard pass from Sam Koch during the fake punt.
THE BAD
Joe Flacco's apparent unwillingness to see the field and let plays develop despite having ample time to throw is mind-boggling, especially for a 10-year vet. Flacco had 10 completions for 70 yards to tight ends Ben Watson (7) and Maxx Williams (3). Seven of those completions only amounted to 37 (4.63/completion). He hit Mike Wallace four times for just 19 yards. That's 4.8 yards per completion to MIKE WALLACE!
In the first image below Flacco is all too eager to throw out into the right flat to Ben Watson despite very adequate protection AND against zone coverage designed to keep plays in front of the defenders in order to protect the end zone. The play goes for a minimal gain and the Ravens were forced to send in Justin Tucker to kick the field goal.
Later in the game, Flacco again has time when facing a third and 3. Needing a quick score in what was then a two-possession game, Flacco tries to dump down to Bobby Rainey. The easy pass falls incomplete. Given the game situation and the need for a quicker score AND understanding that this was two down territory, why not take a shot at Wallace who is at the top of the screen with a clear advantage to gain separation?
Of Flacco's 47 passes only 13 traveled more than 10 yards from the LOS. One of those was an ill-advised pass intended for Watson down the right sideline during which Flacco stared down his tight end, attracting the attention of Titans' safety Kevin Byard who got his second interception of the day. It was just the Ravens second play from scrimmage in the third quarter.
Flacco also needs to do a better job of recognizing a 3-man rush. He waits too long to climb the pocket which against such a rush allows a quarterback the opportunity for an unobstructed view of the field. Instead he let the rush envelope him, going down for one of the two sacks.
The Ravens struggled to get their ground game going. Their 3 backs managed just 65 yards on 21 carries. Part of that can be explained away by a dominant performance from Titans' D-lineman Jurrell Casey who was disruptive in the middle, often redirecting running attempts inside the tackles. The running game also missed a vital component to the success of Greg Roman's attack – Nick Boyle. His absence can't be understated.
Eric Weddle was late over-the-top on the game's first play from scrimmage – a 29-yard connection to Rashaad Matthews…The Ravens struggled to keep Delanie Walker in check. He had 5 catches for 71 yards…Defensive coordinator Dean Pees failed to implement deceptive blitzes. He did so against the Bengals, Raiders and Dolphins which by no coincidence were the defense's most impressive performances on the season. Yesterday's absence of such deception was puzzling.
THE UGLY
The Breshad Perriman experiment is over. It's time for the Ravens to just admit that they've missed on yet another early round WR pick and move on. Not only are Perriman's drops alarming, but for the second time this season, those hands of stone batted the ball into the waiting hands of a defender. Roberto Duran has nothing on the Ravens 2015 first-round draft pick.
Sam Koch's shanked punt was no different than a turnover in Ravens territory and it came directly after a booming 56-yard punt from Koch followed by an immediate drop of the returner by Chris Moore. The excellent play was called back due to an illegal formation by Tyus Bowser, another Ravens second-round pick who seems too cerebrally challenged by the NFL. Following the shank the Titans took over on the Ravens 26. Then, three plays later, Za'Darius Smith was called for roughing the passer, a horrible call that resulted in a first-and-goal at the Ravens 5. Three plays later it was 16-6…Justin Tucker's onsides kick was DOA and traveled just 7 yards.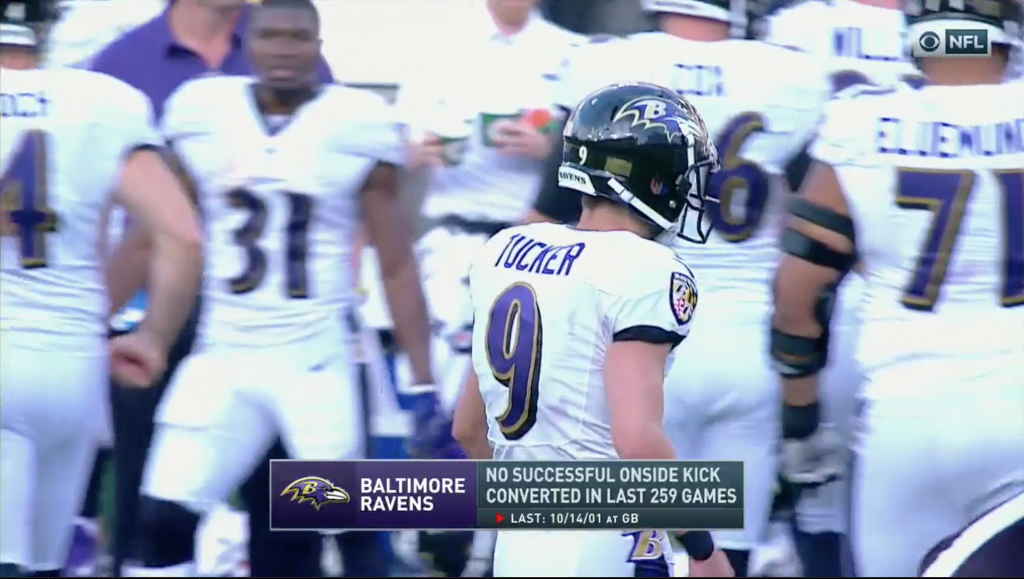 THE MEGAN FOX AWARD
This week's "player of the game" goes to the 15,000 plus Ravens fans in attendance. It was a festive weekend and the fans were initially in strong-voice, only to be silenced by the ineptitude of the Ravens offense.
It's going to be a long two weeks before the Ravens visit the Green Bay Packers.