No Silver Linings in Charm City
Print this article
Hi guys.
It's officially the bye week, and the Ravens left us with two weeks to sulk after another heartbreaker nailbiter just awfully executed game all around, as they fell to 4-5.
Bet you're pretty down right now, huh?
WELL GUESS WHAT?
It's only going to get worse!
Despite a fortuitous schedule, it looks like the Ravens are headed for more mediocrity. Say anywhere from 7-9 to maybe 9-7, and per usual these days, watching the playoffs from their collective couches.
In most cases of mediocrity around the NFL, teams find a silver lining that they try to push out to give the fans hope for the future, and faith that the status of mediocrity will eventually – hopefully sooner than later – turn into above average, possibly great!
Take a look around the league:
-The Bengals are bad, but Joe Mixon is a bright spot & they still have A.J. Green (whose time, despite what Jalen Ramsey may say, is not nearing an end)!
-The Rams were bad, but upgraded their offense, fired Jeff Fisher, and are a young team on the rise!
-The Texans were awful offensively for years, but with recent picks of Will Fuller, Donta Foreman & Deshaun Watson, the future looks bright!
-The Packers aren't going anywhere, but the return of Aaron Rodgers is the key to returning to the playoffs in 2018!
–The Broncos offense is horrendous, but their defense is still one of the best in the league and will be for years to come!
-The Falcons are having an off year, but with Matt Ryan, Julio Jones & their backfield, they will continue to be dangerous!
-The Jags are one real quarterback away from being a perennial contender!
Then… there's the Ravens.
Do you see a silver lining? A great player or unit that can be the focal point of this team moving into the future? A great draft pick or free agent acquisition to bring this team back to the playoffs in the near term? A specific injured player who will return in 2018 and bring this team back to the playoffs single handed a la Rodgers?
Let's be honest folks: the current version of the Ravens have no silver lining in their future.
NONE.
Based on this team today, here's the future of the Ravens:
–Joe Flacco has been playing awful football, has a bloated contract for years to come, and also has Steve Bisciotti's unwavering support.
-There are no wide receivers or tight ends the Ravens can count on beyond 2017: Breshad Perriman (bust), Mike Wallace (FA who won't want to return), Jeremy Maclin (great 2nd option- not a focal point), Michael Campanaro (FA), Maxx Williams (bust), Ben Watson (FA)
-Running backs – Alex Collins aside – offer no hope: Terrance West is a free agent, Bobby Rainey is a stop-gap, Buck Allen was due to be cut prior to Kenneth Dixon's injury/suspension, and Dixon himself can't be counted on with his issues.
-A brutal offensive line, chock full of injuries and holes, with it's best player, Marshal Yanda, on the back-end of his career.
-A defense that cannot consistently pressure the QB, can't stop the run, and breakdowns in the secondary at crucial times.
-A veteran safety tandem – Weddle and Jefferson – being paid big money to play subpar football.
-Their most vocal leader – Terrell Suggs – isn't far from retirement.
-A coaching staff that continues to struggle, but just like with Flacco, has the full support of Bisciotti who blames injuries over anything else.
GROSS.
The closest thing the Ravens have to a silver lining for their immediate future comes in the form of 3 players:
C.J. Mosley, Brandon Williams, and Alex Collins.
Is that enough to get fans excited, or at the very least, hopeful that things can turn around?
In Mosley, you have a great player, but he's much like Flacco in the vocal department, as he's more of a silent leader. And unfortunately for C.J., as an inside linebacker in Baltimore, he'll forever be compared to Ray Lewis. He's good, but nobody will ever get 'pissed off for greatness' like 52.
With Williams, you won't get fans excited, as he isn't making the sexy plays. He's not a sack guy, nor is he picking off passes, forcing fumbles, etc. Don't get me wrong – Williams is phenomenal at what he does, and the Ravens should consider themselves lucky to have him! But he's not getting fans hyped for the future.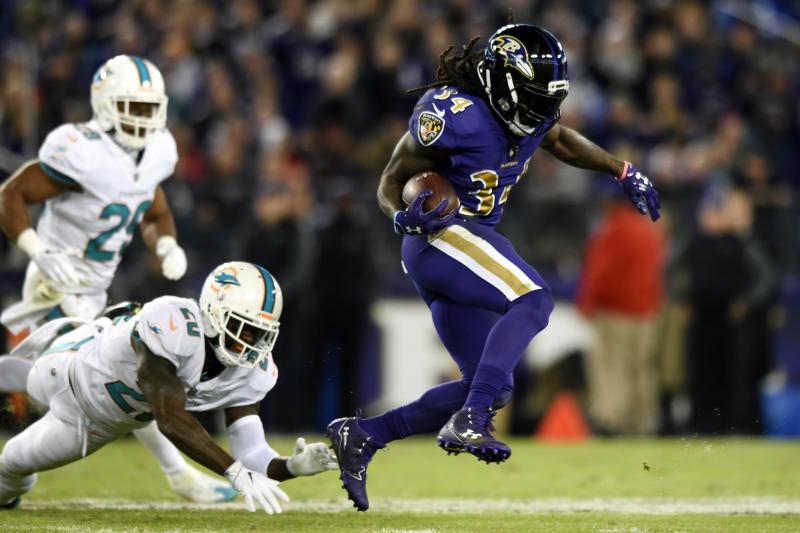 Then you have running back Alex Collins.
Collins is not only the biggest silver lining on offense, but because he makes the big plays, he's likely to be the first thing Ravens fans think of for the future of this team. While Collins has been very good so far, it should still be taken with a grain of salt, as the sample size is still limited and, lest we forget, he has fumbling issues. Drinking the purple kool aid at the water cooler may lead to talk that Collins is an elite talent, but he's still not looking like top-10 NFL running back material.
Yet.
Let him get into his second season with similar results (and hopefully a line/coaching staff to support his efforts) then we can talk top-10.
With these 3 players in mind, can the Ravens sell fans on that silver lining?
If everything else stays status quo (which I expect, as Bisciotti seems very adamant that injuries are the reason for his teams downfall every season, not the GM, coaches, or players) will the future of these 3 players be enough to put fans back in the seats at M&T Bank Stadium? Keep fans tuned in on Sundays to the game at home? Keep driving merchandise sales?
I just don't see it happening.