Hurst More Valuable at Guard Than Tackle
Print this article
If the Baltimore Ravens want to have any chance of making the playoffs after this final four-game stretch, one part of the team that has little room for error is the offensive line.
The unit has struggled at times during the 2017 season, yet as a whole, they have looked much better during Baltimore's recent three-game win streak. One lineman who has contributed to the recent success is left guard James Hurst.
After a dismal performance in Green Bay in which Hurst was thrown back into the fire at left tackle in relief of an injured Ronnie Stanley, Hurst has settled back into what appears to be his more natural position at guard.
Prior to this season, Hurst was a backup turnstile at left and right tackle, playing in every game since his rookie season in 2014 and earning spot starts at both tackle positions. To be frank, Hurst was below average for most of his first three seasons.
In year four, injuries galore occurred across the offensive front, leading to a starting role at left guard for Hurst to kick off the season. Before the season, there was little hope that Hurst could provide much more at guard than tackle, but through 12 games, the sample size is large enough to say he just might have something going for him at the position.
Let's look at his play at tackle versus guard – particularly in pass protection – and how he has been able to find a home on Baltimore's offensive line.
First, we will take a look at the bad, which is Hurst at left tackle. Not exactly a swift-afoot offensive lineman, tackle is not Hurst's best bet, given his lumbering first step off the snap. Against Green Bay, this was apparent as he is slow out of his stance as pass rusher Clay Matthews bursts off the line.
Hurst is already at a disadvantage and struggles to regain his ground. He is caught reaching for Matthews as the outside linebacker speeds past the tackle.
Hurst is simply too slow on the edge for the much faster Matthews, and playing in isolation is not Hurst's game.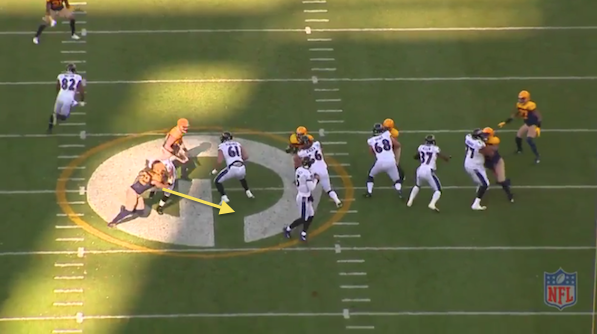 The end result is an easy sack for Matthews as he pushes past Hurst en route to the quarterback.
Plain and simple: Hurts's skill set is not made for playing in isolation on the edge. His qualities are much better suited for confined spaces, which is why guard is proving to be his more natural position.
Following the Green Bay game, Hurst was able to move back to left guard, and the results have been positive.
Against the Houston Texans, Hurst showed he could play in a more condensed area of isolation. Here, Hurst has better positioning off the snap as he is able to square up his body instead of opening to the outside.
Hurst comfortably engages with the pass rusher and maintains proper form and balance off the initial contact.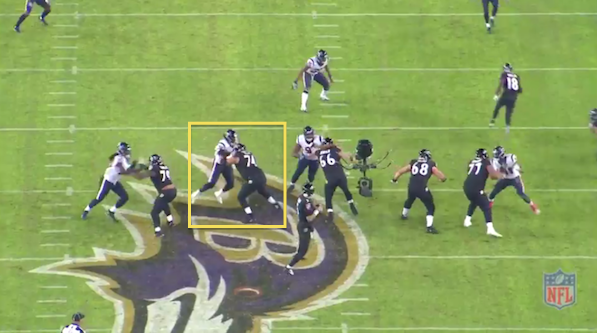 Proving to be much more natural at an interior position, Hurst is able to fend off the pass rusher throughout the duration of the play.
Plays like this show that Hurst does have some qualities as a pass protector; he just has to be in the right position to succeed. Contrary to the sack allowed in the Green Bay game, playing at left guard allows Hurst to come out of his stance with a more squared-up positioning, helping to compensate for the superior speed of the opposing rusher.
With the position change also seems to come a renewed sense of awareness for Hurst. In last week's game against Detroit, Hurst showed an ability to make quick decisions in tight spaces.
Hurst is engaged with the interior defensive lineman off the snap, with left tackle Ronnie Stanley handling the edge rusher. As the play develops, the Lions run a simple stunt play on Stanley and Hurst, with the defensive end breaking inward toward Hurst.
This forces Hurst to make a quick adjustment, letting go of his initial assignment and repositioning himself for the new oncoming pass rusher. Hurst effortlessly does so as he slides back into position inside and picks up the defender.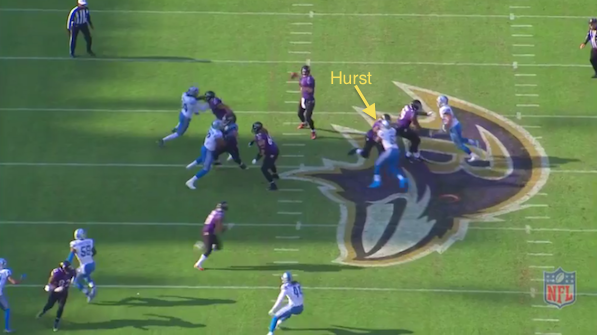 Plays like these show how Hurst simply seems more comfortable and composed at guard than tackle. Once a punchline for jokes about the offensive line, Hurst has been more than adequate for Baltimore this season at the guard position.
With the uncertainty of guards Marshal Yanda and Nico Siragusa as they return from severe injuries next season, Hurst very well may be in the mix at guard again in 2018. In the meantime, if Hurst can continue to develop at left guard, he could be a key piece for Baltimore down the stretch this season.