The Plan to End Pitt's Winning Streak
Print this article
Offense
 Reading the Zone Dropper
For one game at least, quarterback Joe Flacco looked like a totally different player against the Lions. He was tremendous in every phase – accuracy, mechanics, footwork, timing, anticipation, decision-making. He was also on point when it came to his pre-snap and post-snap reads. Now, the offensive line and backs (especially Danny Woodhead) also deserve plenty of praise for seamlessly sliding and coordinating their blitz pickup responsibilities. But Flacco's ability to decipher the Lions' blitzes certainly made a difference.
He'll have a tougher challenge on his hands against the Steelers. Pittsburgh runs a complex scheme that forces opposing QBs to differentiate between noise and substance. A lot of pre-snap movement, a lot of exotic alignments.
For instance, last week against the Bengals, the Steelers showed a double overload look in which both sides of the line were threatened by blitzers. In these situations, they'll exchange rushers, bluff out, and play zone behind whatever they bring – and the opposing QB has to crack the code in a matter of seconds.
However, in the past two weeks, quarterbacks have figured out where the blitz is coming from, and they've been able to get rid of the ball quickly to beat it.
There are a couple of things Flacco will need to key in on to win the chess match. One, he has to target the areas where the outside rushers will drop into coverage after faking the rush. Andy Dalton often targeted the soft spots behind outside linebacker T.J. Watt (a hybrid player who will fake the rush but drop into zone), right before he could get to his landmark. Snapping and getting rid of the ball quickly before Watt or Bud Dupree can get to their drops is imperative.
It'll also be crucial for Flacco to vary the snap count. With all the pre-snap movement the Steelers show, catching them off guard will be critical. Running the quick game could lead to some busted coverages, just as it did against Detroit.
Blocking Stunts and Twists
Again, the Steelers present a lot of challenges with their exotic rush schemes. Not only do they go against the grain with their standup rush looks and defensive back blitzes, they weave in line games up front to make things even more difficult for protection schemes.
Before the Monday Night broadcast against the Bengals, Jon Gruden diagrammed the combination of stunts that the Steelers run – the T-E (tackle-end) and E-T (end-tackle), are staples. They'll use Watt as the crasher to free up Cameron Hayward (who'll loop from inside to outside) and they'll also reverse their roles, so Watt can get a shot to rush from an inside gap. In the case of Hayward, he'll also stand up at times and has terrific lateral quickness for a 3-4 DE.
The objective of these stunts is to collapse the pocket from the inside out and get the quarterback to escape laterally. It'll be up to the offensive line to handle the exchanges well and pass off their responsibilities cleanly. The Steelers will also combine some bluff blitzes with their stunts to force the linemen to step up, so Flacco's ability to work with the unit in the pre-snap phase and provide plenty of time to ID the rushers will be critical.
Offensively, coordinator Marty Mornhinweg needs to move the pocket and get Flacco throwing on the run to negate some of these "sitting duck" scenarios where the pocket collapses quickly. Well-timed draws and delays (which we saw against the Lions) can also be effective to neutralize the rush. Lastly, Flacco's ability to slide and climb the pocket will also be a factor – especially when the Steelers run their stunts using just a three-man rush.
Targeting the Middle of the Field
After weeks of forgetting they had an intermediate passing attack, the Ravens rediscovered their inside-the-numbers mojo against Detroit. Receiver Jeremy Maclin and tight end Ben Watson were prominent targets for Flacco over the deeper layers of the middle of the field. In the case of Maclin, he found his footing releasing from bunch and stack looks (a welcome change up) to get free on crossing and dig routes. Maclin took advantage of mismatch opportunities from the slot.
He'll need to carry over that role against a Pittsburgh defense missing linebacker Ryan Shazier. The Steelers will replace Shazier with Arthur Moats (who is not a traditional ILB) and a cast of characters. The reality is, none of them measure up to what Shazier brings in the coverage game, and this is an area Mornhinweg needs to exploit.
If Maclin operates more from the slot, the Ravens don't necessarily need to go to their three-receiver sets and open up their offensive sets to set those matchups up. For instance, pre-snap motion from base looks will allow Maclin to move inside and alternate with Watson or a back like Danny Woodhead.
Last week, we saw Woodhead in the lineup with Alex Collins, giving the Ravens a lot of flexibility to transform into a four-wide look with Woodhead as the move guy. Woodhead should continue to be the move guy and isolate one of those inside backers in space.
Defense
Disguising Single-High Coverages
As the season has progressed, quarterback Ben Roethlisberger has been better and better at hitting downfield passes, mostly to the "always open even when he's not open" Antonio Brown. In many instances, Roethlisberger throws the ball up to him even when he's double covered or just covered in general. Brown finds a way to track and snatch the ball away from defenders better than any receiver in the league. But what makes the job of defending this combo tougher is Roethlisberger's ability to read single-high safety looks in the pre-snap phase and target Brown relentlessly when the safety is influenced away from Brown's side.
Coverage wise, the Ravens are going to provide help to whatever side Brown lines up on. That should be a given. In this case, expect Brown to line up plenty on rookie Marlon Humphry and for safety Eric Weddle to provide help over the top.
But if Weddle tips the coverage look too soon in the pre-snap sequenceBen is going to pick his one-on-one matchup and fire away. If it's Brown, he'll run stop routes and back-shoulders to get loose along the sidelines. Martavis Bryant is another problem altogether because he can take the top off the coverage.
Weddle's ability to disguise single-high looks is going to be critical to fool Roethlisberger. If he provides a predictable coverage look, it'll be pitch and catch all day, and for big plays downfield. Weddle's movement needs to keep Roethlisberger guessing between Cover 1, Cover 0, Cover 2, Quarters coverage, between pre-snap and post-snap phases.
Taking a Page from the Steelers' Pass-Rush Blueprint
As I discussed at length in the offense section, the Steelers run a lot of stunts and line games with their front, using unconventional paths to get to the quarterback. In contrast, the Ravens run plenty of deceptive blitzes (at least lately), but they don't devise nearly as much stunt and exchange action between their front line. This is the perfect time to change the pattern.
In fact, the Bengals had success using stunts and loops with Carlos Dunlap as an inside rusher. They were able to split the A gaps and create pressure right in Big Ben's face in obvious passing situations.
The Ravens will need to pick their spots when they rush more than four or five defenders (and they should), but the best approach is to be creative with their line and use more contained four-man pressures while dropping seven into coverage. Especially given the loss of Jimmy Smith, this is the type of game to force Roethlisberger and crew to operate against more coverage looks and rely on the front to get home.
Get Your Hands Up and Anticipate Pump Fakes
When the rush doesn't look like it'll get home, that's the perfect opportunity for the line to get their hands up and attempt to deflect the ball. Led by Terrell Suggs, the Ravens front defenders have shown a knack for anticipating the timing of Roethlisberger's throws and have disrupted his pass attempts in the past.
Roethlisberger also has a knack for holding the ball to buy time. He'll use pump action to move defenders out of position. The front and the rest of the defenders need to stay active, get their hands up without leaving the ground, and play with discipline when the Pittsburgh QB tries to improvise.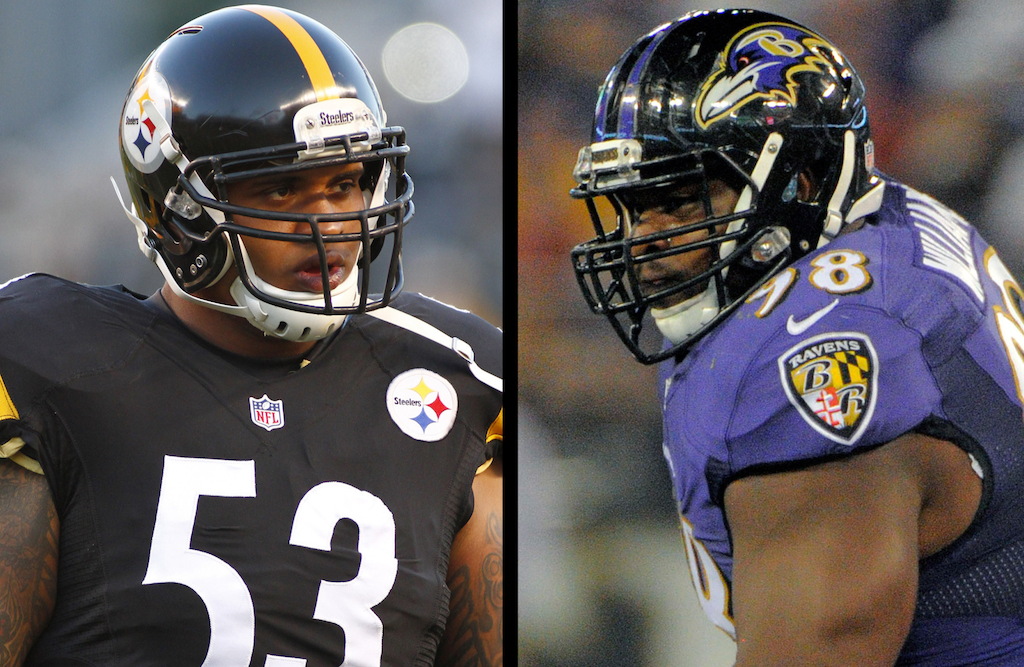 One-on-One Matchup to Watch
It doesn't need to be said, but just in case you didn't know, Williams was out the last time these two foes met. He's back now, and the Ravens' run defense has regained its teeth in the process. Williams has almost single-handily snuffed out the inside rush attempts of teams since his return. However, the Steelers present a different challenge altogether. They'll test the Ravens on perimeter runs – specifically the counter play that killed Baltimore in the last game. Along with David DeCastro, Pouncey remains a key cog on pull blocks. He'll have the challenge to slow down Williams' penetration, which is a critical factor in which side wins in the ground attack.