One And Done in Baltimore For Maclin?
Print this article
It's no secret that the acquisition of Jeremy Maclin has been disappointing. Intel was gathered on Maclin from sources with ties to the team such as Andy Reid. It's likely that Marty Mornhinweg chimed in too. After all, he does have career connectivity to the former Missouri Tiger. The Ravens concluded that Maclin would provide speed, accomplished route running and could be the chain-mover they needed given the departures of Steve Smith, Sr. and Dennis Pitta.
Maclin has been very underwhelming and many have suggested that he no longer harbors a love for the game.
On Monday Night Football against the Texans, Maclin quit on a deep post. This past Sunday in Pittsburgh he and Joe Flacco looked like a pitch and catch tandem that had just met. Flacco targeted the 9-year vet 11 times, connecting on just three passes for a whopping 27 yards. Towards the end of the game, Maclin went down with an apparent injury during the contest's waning moments, costing the Ravens a timeout. He walked off on his own and returned to the game 2 plays later.
Draw your own conclusions.
(Special thanks to Caleb Shepherd)
pretty sure @jmac___19 just faked an inury to force a penalty and only ended up costing his team @Ravens a timeout. sat at one play and came back in @espn @ESPNNFL put him on #c'monman pic.twitter.com/IDx163bMbo

— Caleb Shepherd (@originalcshep) December 11, 2017
Unless he has some sort of resurgence during the balance of the season, it is likely that Maclin will be gone. Passing on Maclin's option in 2018 will save the Ravens $5M in cap space.
HELP WANTED
If the Ravens do pass on Maclin's option, they could be looking at a very depleted receiving corps. Mike Wallace and Michael Campanaro will be free agents in 2018. That leaves Chris Moore and Breshad Perriman as players under contract. Oft-injured Chris Matthews is a restricted free agent. Preseason star Tim White in currently on injured reserve and Quincy Adeboyejo is on the team's practice squad.
We all know what a challenge it is for the Ravens to assemble a competent receiving corps.
THE DEAN OF DEFENSE
As reported last week, Dean Pees will be retiring after the 2017 season. Pees is a highly respected coach yet there is frustration within the organization that centers on the defense. The return on the investment in free agents and draft picks just isn't there – Sunday Night in Pittsburgh being a perfect example.
[Related Article: Swansong For Pees]
Meanwhile in Indianapolis, things aren't going well and this season could be the end of the road for Chuck Pagano as the Colts skipper. If he's willing, Pagano sits atop the Ravens wish list as a replacement for Pees. When Indy visits Baltimore on December 23, keep an eye out on the streets of downtown, Inner Harbor East or Little Italy. You just might see Harbs wining and dining old pal Chuck.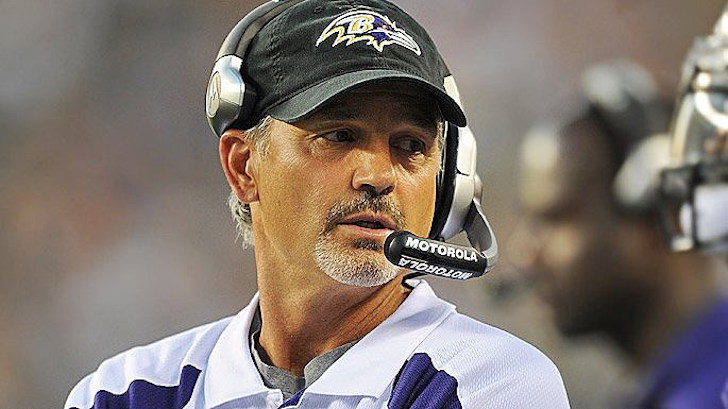 That said, if Pagano decides his days as a coordinator are over, a wildcard option could be the Bears' Vic Fangio. The 59-year old Pennsylvania native was the DC in San Francisco under Harbaugh's brother Jim and now occupies the same position in Chicago.
Despite the Bears convincing 33-7 win over the Bengals on Sunday, head coach John Fox and his (13-32) record in Chicago sits upon thin ice. If Fox is fired, Fangio becomes a free agent and he might view a similar position in Baltimore with a team that employed him for four seasons from 2006-2009, as a desirable option.