Post-season Roster Evaluation: Defense
Print this article
It's the end of the season and time to take stock of the Ravens roster again.
I like to split the roster into 5 qualitative categories relative to the ultimate master, the salary cap.
Young Producers
Maurice Canady, Willie Henry, Marlon Humphrey, Matthew Judon, Michael Pierce, Tavon Young
These are players on their first contract who are already starting (or should be) and are playing well. A team needs as many of these players as possible to continually outperform the salary cap.
On both a snaps and productivity basis, the most significant contributors are Judon (71.6% of snaps) and Pierce (54.4%). Marlon Humphrey started the season without a position, but ended as the Ravens #1 corner and played 54.7% of snaps. Young was lost for the season, but figures to figure prominently in the 2018 secondary. Willie Henry did not play his first NFL snap until Week 3, but nearly led the DL with 54.1% for the season as the primary interior pass rusher. Canady is the big addition to this group since midseason. He accumulated 295 defensive snaps after returning from IR.
Za'Darius Smith remains just shy of this group.
Developmental
Tyus Bowser, Chuck Clark, Carl Davis, Jaylen Hill, Stanley Jean-Baptiste, Bronson Kaufusi, Patrick Onwuasor, Za'Darius Smith, Tim Williams, Chris Wormley
These players are all still on their rookie deal, but something is holding them back from consistent performance, a starting role, or both.  We hope that most, if not all, of these players will emerge to be young producers quickly. In truth, some are running out of time to do so. Since this group is both critical and crowded, let's take a look individually to see why I have tagged them as I have and what each needs to do to move up:
— Bowser: He finished with just 152 defensive snaps (15.1%) which must be considered a disappointment after winning Defensive Rookie of the Week in Week 2 versus the Browns. However, he plays a crowded position behind Judon, and with 5 players who were healthy for the bulk of the season. He's shown the ability to cover, rush the passer, and play the run at times, including a terrific preseason. In many ways, his situation now is similar to that of Willie Henry in 2016, but he will get a chance for more playing time due to injury if not sooner.
— Clark: His role expanded in the second half and he finished with 50 snaps between the back end and dime safety roles. He's flashed skills as a tackler, pass rusher, and in coverage which would allow him to replace Levine's key role if the need arises. As a 6th-round selection, he's priced at the same level as Ozzie Newsome dimes throughout Ravens history.
— Davis: He finished with 281 snaps (27.2%) and played primarily a the 3rd DL in standard sets. He'll be a 4th-year player in 2018 and I see no danger of being cut, but he needs to play more consistently and generate some pressure to move to the young producer group.
— Hill: He was effective in an 8-snap debut at SCB in the 2nd half versus the Vikings, but finished with just 15 defensive snaps for the season. He lost time to Canady at SCB then suffered a severe ligament injury which may cause him to lose some or all of the 2018 season. He was the Ravens' best player during the preseason and has the prototype SCB size to go with impressive ball skills. If he's able to play, I expect he'll back up Tavon Young next season in the slot and continue to provide outstanding depth. As often happens, his chance to excel is most likely to come from injury.
— Jean-Baptiste: He was active for the finale against the Bengals, but did not play a defensive snap.
— Kaufusi: He's been singled out by Harbaugh for a lack of physicality and played just 31 snaps for the season. He should be further along after 2 seasons, but he's a player for whom the organizational need at 5 tech may force more chances.
— Onwuasor: Despite a lack of ideal ILB size (6'0'", 217 lbs), he showed many of the same traits as Zach Orr in terms of a willingness to throw his body around in the run game, but he's not an instinctive coverage linebacker. I expect the Ravens to draft an ILB who will compete with Patrick for the starting job, but he remains valuable for depth and special teams.
— Smith: Za'Darius played 502 snaps (48.6%) and made some significant pass rush contributions. He lined up frequently on the inside in the Ravens dime package, which allowed the Ravens to get by with 4 active DL for most games (plus Ricard for emergencies). Unfortunately, his weakness holding the edge against the run showed up again in the first drive of the finale vs the Bengals. His roster spot is in no jeopardy for 2018 and the Ravens will need to make a decision on whether or not they offer him a long-term deal. With the current depth at OLB, I am expecting the Ravens to let him walk and salvage value in terms of a compensatory pick.
— Williams: Tim generated some pressure when active, but finished with just 119 snaps (11.5%). He needs to be a full-time and effective situational pass rusher to move up to the producer group. Entering his 2nd season, he and Bowser have the most upside.
— Wormley: He finished with just 115 snaps and was inactive for much of the 2nd half. The team is desperate for help in terms of interior pass rush, which is where he could carve a role.  If he is simply backing up Henry, Davis, Williams, and Pierce, he'll have more difficulty getting playing time.
Veterans Playing for Market Value
Brandon Carr, Anthony Levine, CJ Mosley, Jimmy Smith, Terrell Suggs, Brent Urban*, Eric Weddle, Brandon Williams
A large chunk of the cap is (or will be) spent here and these players are the ones (generally) who are worth it.
The Ravens may let a couple of these players go next season (Carr, Webb). It is possible Suggs will retire or be cut.  Brent Urban will be a UFA coming off a Lisfranc injury which will undoubtedly reduce his market value for 2018, but he's provided his last snap of below-MV play on his rookie contract. Mosley will either be signed to a long-term deal or play for 5th-year option money in 2018. Brandon Williams and Jimmy Smith are well-paid cornerstones who aren't going anywhere in 2018.
Veteran Cap/Value Concerns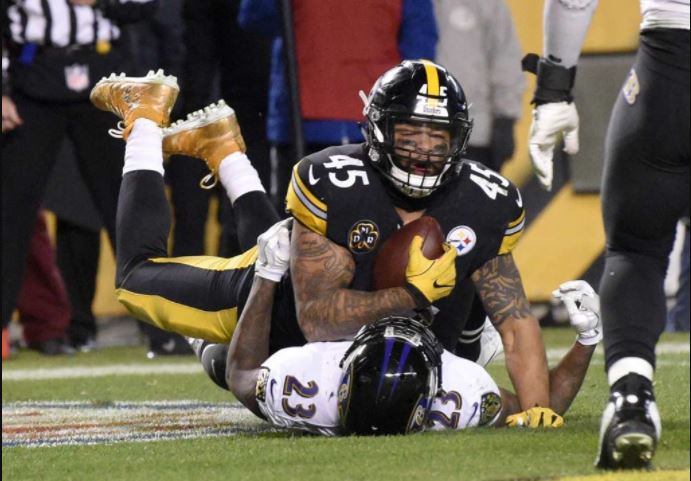 Tony Jefferson, Lardarius Webb
Jefferson is young and his usage was an issue, but he played poorly on the back end. Lardarius Webb lost SCB snaps all season to Hill then Canady. It's possible he can return as a backup safety, but I think the Ravens are likely to try and get younger and cheaper. Weddle is clearly nearing the end of a fine career.  Playmaking safeties have become a hot draft commodity, so the Ravens will need to plan whether 2018 or 2019 is the appropriate time to spend a high pick (perhaps #1) on a centerfielder.
Transitional
Brandon Boykin*, Bam Bradley, Kamalei Correa, Steven Johnson*, Albert McClellan
I see no obvious future as a contributor for any of these players. Boykin and Johnson are stopgap players. McClellan will be coming off an injury at age 32. Bam Bradley is the best bet despite coming off a serious knee injury. He has the size and shape to play ILB and provide value as a core player on special teams for 3 more seasons of control. Correa may finish his time with the Ravens as a special teams player if an opportunity does not arise via injury.
Note: Players whose name is followed by "*" are free agents.