Don't Count on Ridley the Raven
Print this article
The NFL Draft takes place in three months. Between now and then, we will have the combine, pro days, and pre-draft visits. Once all of those take place, the first round of the draft will start to take shape. Until then, we as fans, are bogged down by a never ending cycle of mock drafts.
In a fair number of those mocks, the Ravens have been linked to Alabama's Calvin Ridley, the talented number one-rated WR. The Ravens' presumed selection of Ridley is a match made in heaven for both the Ravens and their fans. Ridley is a bona fide playmaking receiver who will start from day one and improve the offense. He would be the number one wide receiver the Ravens have been searching for since Anquan Boldin, as they would finally address the offense and get Joe Flacco some help in the passing game. The cherry on top in all of this is Ozzie gets to draft yet another player from his alma mater!
It's easy to see why both fans and team would be excited about the selection. Ridley can be compared to fellow former Alabama first round picks, Julio Jones and Amari Cooper. Ridley (6'1" 190lbs) has a similar build to both Jones (6'3" 220lbs) and Cooper (6'1 210lbs). An argument can be made when comparing stats he had the best career of the three. Ridley finished with 224 catches for 2,781 yards and 19 touchdowns in college. Jones finished with fewer catches, yards and touchdowns than Ridley. Cooper's yards and touchdowns (3,463/31) are far superior, but let's remember, he had A.J. McCarron for two years, and Blake Sims who in 2014, Cooper's best year (124/1,727/16), set Alabama's single season passing record. Ridley on the other hand, had Jacob Coker and Jalen Hurts throwing to him.
Not Happenin'
Now, let's be honest: Jones was selected sixth overall (and the Falcons gave up a king's ransom to move up and grab him.) Cooper went fourth.
So, why are we so convinced that the Ravens could have a shot at this Ridley – who we've established compares favorably to his Tide predecessors, both of whom were selected 10-12 picks earlier?
Ravens fans should pump the brakes a little, and hold off on ordering any custom made purple jerseys with Ridley on the back. I have looked over the draft order multiple times, come up with a ton of different scenarios, and I just can't see how Ridley makes it to the Ravens at 16.
With teams like the Browns (4), Bears (8), 49ers (9), Bengals (12), Redskins (13), and Cardinals (15), looking for an upgrade at the position or a receiver to pair with their young QB, the Ravens will not be fortunate enough to have Ridley fall into their laps.
To go a step further, Ravens fans should brace for the possibility that at 16, the Ravens don't even take an offensive skill player, but maybe an offensive lineman or even a defensive back or linebacker.
While that will not make many happy, the bottom line is the Ravens only have seven picks, limited cap space, and a ton of holes on the roster to fill. They need to take quality players with each pick, while many will scream that if Ridley is gone, they should just take the next wide receiver. The reality is the next wide receiver (James Washington, Christian Kirk, Courtland Sutton) is not worth the 16th pick.
The same goes for any tight end.
Other Options
So if you are still reading after all this doom and gloom, I'll give you a few names you should be getting to know over the next 12 weeks. These are players that I feel could still be on the board at 16 and would fill a major need for the Ravens.
Derrius Guice – Running Back – LSU
Now this would be a sexy pick for Ravens fans who want an offensive playmaker. Recently, Assistant GM Eric DeCosta said he felt there was good depth in this draft at running back and it all starts with Guice. Guice was a three-year player at LSU, backing up last year's first round pick Leonard Fournette for two years.
In his sophomore year, when Fournette missed over half the games, Guice busted onto the scene with almost 1,400 yards and 15 touchdowns. His junior year was hampered by some nagging injuries and he was not 100% but still was able to rush for 1,251 yards and 11 touchdowns. Watching Guice run and bounce off of defenders, reminded me a little of Ray Rice. No fan would be upset if we got another version of him.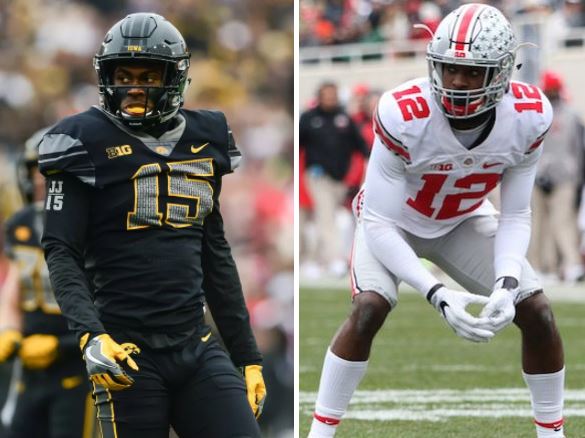 Josh Jackson and Denzel Ward – CB – Iowa/Ohio State
These are two of the top-ranked cornerbacks in this class and both could come in and start day one. 2017 first round pick Marlon Humphrey played very well and exceeded expectations and pairing another young corner with him would be beneficial for the long term. Jimmy Smith cannot be counted on for 16 games, and the Ravens can save $4M in cap space by letting Brandon Carr walk.
Jackson is a big CB (6'1"), who was a one year starter at Iowa, but showed up in the big games, hauling in three picks against Ohio St and two more against Wisconsin. In Iowa he played more zone, but with his size he can match-up man to man with bigger opposing wide receivers.
Ward, on the other hand, is only 5'10" and is probably the best corner in this class, and could fall to the Ravens simply because of his size. Many draft experts have said if he was about two inches taller, he would be a lock as a top ten pick. Ward is cut from the same mold as former Buckeye corners Gareon Conley and Marshon Lattimore. Ward is an aggressive man-to-man corner who can lock down receivers.
Billy Price and Michael McGlinchey – C/G and OT – Ohio State/Notre Dame
I know, two offensive lineman. But both of these are mid-western guys who are mean and nasty. Price can play both center and guard and would fill the void of Ryan Jensen, who I believe will price himself out of Baltimore. Price is extremely strong and will not get pushed around in the middle by bigger defensive tackles in the AFC North.
McGlinchey played both RT and LT and was a college teammate of Ronnie Stanley. Stanley has worked out pretty well for the Ravens and McGlinchey (6'8" 312Lbs) could provide the other bookend to the line. These selections would allow the Ravens to continue to build their offensive line through the draft, a la what the Cowboys did in recent years. Neither of these are guys who will excite fans but both would be welcome additions for pass protection and opening up holes in the run game.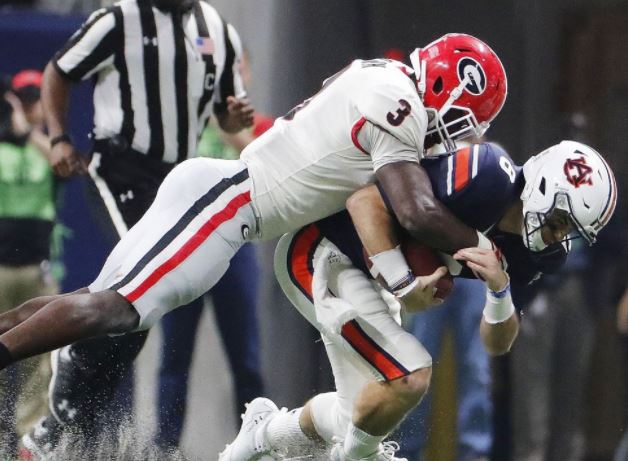 Roquan Smith – LB – Georgia
The biggest knock on Smith is, like Ward, he measures small for his position. Smith could line up next to Mosley and be the athletic linebacker who can cover running backs out of the backfield, run with tight ends, and excel at blitzing. Smith was solid, not great, against the run, but if a talent like Smith is there at 16, the Ravens should run to the podium.
Come to think of it, the last time the Ravens selected an undersized linebacker in the first round, it worked out pretty well for them.