Playing The Role of Ozzie Newsome
Print this article
During his State of the Ravens press conference, Steve Bisciotti made it clear that the team would consider some contract restructures and other means to create cap space, even going so far to say, "I think that we can make a splash and help us on the way to getting our offense clicking better."
Putting those words into actions would be music to the ears of Ravens fans who yearn for weapons to complement and bolster the play of quarterback Joe Flacco.
So, this past Saturday on The Fanimal heard on 105.7 The Fan, Saturdays from 8-9AM, we engaged in a little role playing. RSR's capologist Brian McFarland joined us in studio as did RSR's fantasy and college football analyst John Darcey. I assumed the role of Ozzie Newsome, Brian took on the part of Pat Moriarty while John took on the responsibilities of player personnel.
After assessing the roster, we created a list to determine if certain players were worthy of their respective cap numbers in 2018. The list included the following players:
Assuming Ozzie's role, while looking to create the cap space needed to make Bisciotti's free agent splash, I reached for my trusty scalpel and went to work.
First the easy cuts…
Parting ways with Jeremy Maclin and Lardarius Webb is fairly easy. Maclin never meshed with Flacco and he seemed uninterested far too often. It's somewhat shocking that the Ravens missed on Maclin given the intel available to them from Marty Mornhinweg who coached Maclin, and John Harbaugh who has an open pipeline to Andy Reid.
Webb, he's just done in Baltimore and perhaps he even knows it. Given some of the Tweets and Instagram posts this season, you have to wonder if he's already checked out of Charm City.
Danny Woodhead was rather insignificant in 2017 and he's been injury prone. In 2015, Woodhead played in all 16 games for the Chargers. But in 2014, 2016 and 2017 he played in just 13 games COMBINED! TOTAL! With Alex Collins, Buck Allen and Kenneth Dixon all returning in 2018 and given a running back rich draft this year, it's time to move on from Woodhead.
Now the decisions get a little more difficult…
Austin Howard wasn't great in 2017, but he did play better as the season progressed, finishing as the 36th rated tackle according to Pro Football Focus. As a point of reference, Ronnie Stanley was 31st. Howard carries a $5M cap figure in 2018 while releasing him saves the team $3M in cap space.
I've decided to keep Howard around for another season. It's difficult to find a starting right tackle for $3M.
Brandon Carr affords you with availability. He's durable and he has plenty of experience. But he is at best, average. Tavon Young will return from injury, Maurice Canady could be every bit as good as Carr on the edge plus the Ravens are likely to draft another corner in 2018. Given Carr's pedestrian performance (he was PFF's 70th-ranked corner), I'll take the cap savings.
The most difficult cut of all is Eric Weddle. Yes, he brings leadership and intelligence to the defense. But he's not a complement to sidekick safety Tony Jefferson. Their skill sets are similar and the Ravens have a great financial commitment to Jefferson. The Ravens need a centerfielder at safety – a player with range. Those days are behind the 33-year old bearded one. It was a great two years Eric. But a third won't be happening for you in Baltimore.
These cuts will create $17.3M in cap space.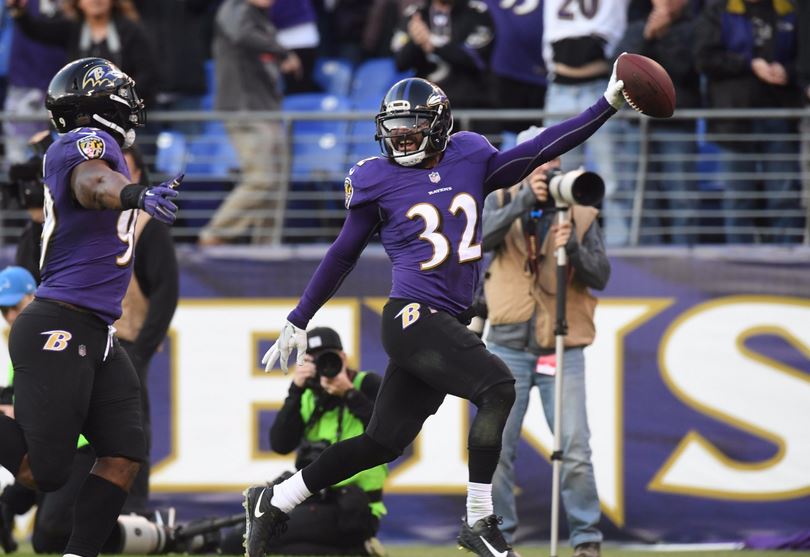 I've opted to keep the others listed in the chart above, because the cap savings isn't enticing enough to part ways with any of them prior to camp. Those that I'll keep a close eye on are Albert McClellan and Breshad Perriman. It's possible that the Ravens will draft a linebacker that could fill McClellan's role less expensively, or Bam Bradley could even step in. Perriman, let's see what he does this offseason. Even if he can produce as he did in 2016, he's worth having around for his speed and upside. That said, we won't be exercising any 5th year option with this major disappointment.
And then our attention shifted towards possible restructures. The nominees were:
Tony Jefferson
Joe Flacco
Williams is the most obvious and he was even singled out as a restructure candidate by Bisciotti during his presser. Brian McFarland estimates a restructure will save the Ravens $3-5M in cap space in 2018.
I'm going to pass on restructures for the others. Jefferson didn't have a very good 2017 so I prefer to take a look at what he can do in a role more suited to his skill set in 2018 before considering a restructure of his deal.
Marshal has struggled with injuries recently and I don't want to kick that can down the road and make it cost prohibitive to part ways if needed.
As for Flacco, he's performed so far below his pay grade and I don't want to extend that pain if I don't have to. And for now, I don't think that I have to.
Another player who we can consider in order to create cap space is C.J. Mosley. Mosley is scheduled to carry a cap figure of $8.7M in 2018. That represents the 5th year option figure that the Ravens have exercised. Linebacker Alec Ogletree of the Rams was in a similar spot to Mosley and this past season he agreed to a 4-year, $42.75M deal. Brian McFarland believes that a similar deal for Mosley could save $3-5M in cap space in 2018, depending upon its structure.
I've given the team the green light to start those negotiations and to get it done before the new league year that commences on March 14, 2018.
With the cuts, the Williams restructure and the new Mosley deal, we will create between $23.3-27.3M in additional cap space. The estimated $5-7M in cap space that we currently have will be set aside for the rookie class ($3M) and for an emergency fund in case of in-season injuries.
Now, let's go shopping…
I've heard the arguments against signing Jarvis Landry. But the guy is tough, he's smart, competitive, makes contested catches and he's great after the catch. The rub is that he isn't a homerun hitter and for a player commanding his kind of coin, he should be. But he just seems like a perfect fit and we're going to try and sign him. His deal will average $14M/year over the term of the deal. Estimated 2018 Cap Number: $7M
Adding to the pass catching mix, we'll look to the draft. But I also want another weapon to depend on – a guy who creates mismatches either with size or speed. That guy is Jimmy Graham. Yes, he's a splash signing but he's the physical red zone freak that the Ravens have never had. He commands attention and he's the kind of player who could free up Landry and our other receivers. Graham's deal will average $7M/year. Estimated 2018 Cap Number: $5M
One more pass catcher before I go…
He's not quite as fast as he once was but he can still get deep and with the other additions, he might face No. 2 corners in iso situations. For that kind of downfield threat and given his familiarity with the Ravens, he's a relative bargain. We'll ink him to a deal similar to that signed by Maclin in 2017: 2 years/$11M. Estimated 2018 Cap Number: $3.5M
Lastly, we're bringing back the crazy redhead who had a career year in 2017. Ryan Jensen is strong at the point of attack and he brings a nastiness to his position that we desire. With the return of Marshal Yanda, Alex Lewis and Nico Siragusa, we'll improve upon a line that really gelled under Joe D'Alessandris in 2017 and should be even stronger in 2018, particularly with Jensen's return. Jensen's deal will average $8M/year. Estimated 2018 Cap Number: $5M
That's $20.5M of the estimated $23.3 to $27.3M we created with the aforementioned moves.
We may use the excess to find a replacement for Weddle who complements Jefferson better. Perhaps there's a veteran corner who could move to safety economically. Maybe there's a centerfielder in the draft.
We have time to figure it out, to let things play out.
Just remember, the offseason isn't over until we tee it up in September.