Safeties Made Big Plays, & Gave Them Up
Print this article
This position is not as squared away as one would hope with the contracts doled out to Eric Weddle and Tony Jefferson the last two offseasons. Both had cringe-worthy moments in 2017, Weddle as a tackler and Jefferson in coverage. Adjustments must be made.
Let's take a look at the roster as it currently stands.
Under Contract
Tony Jefferson
Eric Weddle
Needs – Youth & range
At age 33, Weddle may not have the ideal speed and range to play deep safety in today's NFL, but his experience and instincts would allow him to be more than suitable there in 2018. His size limitations showed poorly with his tackling however, and I think he'd be better served outside the box. The Ravens should be able to squeeze another year out of him but it will be important to address free safety, likely with a high draft pick in this draft or the next.
[Catch Up on the Rest of My Positional Overviews Here]
Is Jefferson's 2017 a case of playing outside of his ideal role or should the team have some buyer's remorse?. Coming in he was supposed to be an enforcer in the box with the ability to cover tight ends and be a plus blitzer. For as much as he got exposed playing farther from the line of scrimmage I think he had trouble playing intermediately at times as well. One of the biggest storylines for the defense next season is new DC Wink Martindale figuring how to maximize his abilities. Another year like 2017 would really start to raise eyebrows.
Lardarius took a step back from a playing time standpoint as the season progressed and I would expect him to be released. He should be appreciated and respected for all he's done for the team. Pre-injury cornerback Webb was a joy to watch.
Long teased but finally freed,  Levine was a staple in the dime defense last season and he played very well. His versatility and special teams contributions continue to make him a useful cog this secondary.
Chuck Clark's selection came with more eyerolls than your average 6th round selection. Sorry Chuck, we really wanted a wide receiver. Clark was a responsible pick and he answered by playing well in 2017.  He's athletic, plays special teams and contributed in the dime defense.
Free Agent Options
Quintin Demps – I could only find one, and even this one comes with caveats. If he's not looking to break the bank and is OK not playing an every down role he could help as a 3rd safety. He does have range and has had ball skills throughout his career. True centerfield is a usually a young man's game, and when those guys hit the market you typically have to pay a premium. That's something the Ravens don't have the luxury of doing with Weddle and Jefferson on the books.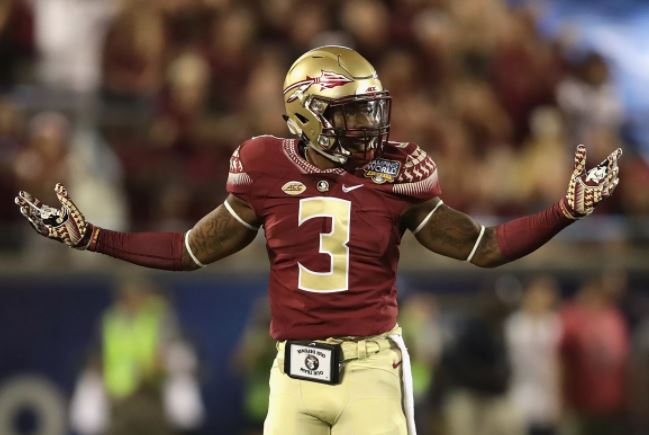 Draft Options
Derwin James, S Florida State – An impressive looking multi-dimensional safety prospect, James plays with an edge and has the frame to back it up. He can move all around the field and excel in different roles. He's probably not a true centerfielder but with development he could grow into a serviceable free safety with the flexibility to be impactful in other areas. Also, he could be BPA when they Ravens go on the clock at 16th overall.
Projection: 1st round
Justin Reid, S Stanford – Rangy and athletic, Reid probably projects better as a high safety. He's also shown the ability to come down and play in the slot, a spot he could even get better at with experience thanks to his very impressive 6.65 3-cone time. When you watch him, it feels like he doesn't always trust himself in coverage. That should get better with coaching and technique work because he's clearly got the athleticism to stay with most players.
Projection: 2nd round
Jessie Bates, S Wake Forest – I'm gonna come clean and admit I already had Bates earmarked for the Ravens in the 3rd round before we found out the compensatory pick would be a 6th instead of a 3rd. He's one of my favorite players in this class. A fluid, explosive ball hawk with a history of turning interceptions into points, he has the instincts and ball skills the Ravens have lacked at the position and could take this defense to another level.
Projection: 2nd to 3rd round
Armani Watts, S Texas A&M – So this one was weird. The first game I watched of his was last year versus Tennessee. Now I preface this by saying it was against Alvin Kamara, a guy spending his offseason doing this: Kamara pulls truck. Still, his tackling was so bad I couldn't believe he wasn't benched. This was a common theme the more I watched but he has the strength and closing speed to be a plus tackler. What kept me from turning away is his impressive ball hawking traits. He has all the ability you want to see from a centerfield safety and could be a worthwhile gamble to see if the team can improve his tackling.
Projection: 4th round