7-Round Ravens Mock: Post-FA Edition
Print this article
Most of the 2018 NFL free agency is wrapped up, and it is time to fully turn the page to this month's NFL Draft for the Baltimore Ravens.
See our previous Seven-Round Mock here
Despite some key additions at wide receiver, the position still needs improvements for the Ravens, as do several other notable holes in the roster. The draft will not be the outlet to improve every roster deficiency, but it will give the Ravens a chance to add some much needed key young players to the team.
Fellow RSR writer John Darcey and I partnered up to take a stab at how the draft could play out for the Ravens.
Round 1, Pick 16
Kyle Casey (KC): Harold Landry, EDGE, Boston College – Sure, the Ravens drafted Tyus Bowser and Tim Williams last season, but Landry is a well-rounded rusher who has the athletic potential to be a viable backfill for Terrell Suggs.
John Darcey (JD):  Marcus Davenport , EDGE, UTSA – The signings of Michael Crabtree and John Brown means the Ravens do not have to reach for a receiver here. In turn, they take the heir apparent to Terrell Suggs, in a talented but raw pass rusher.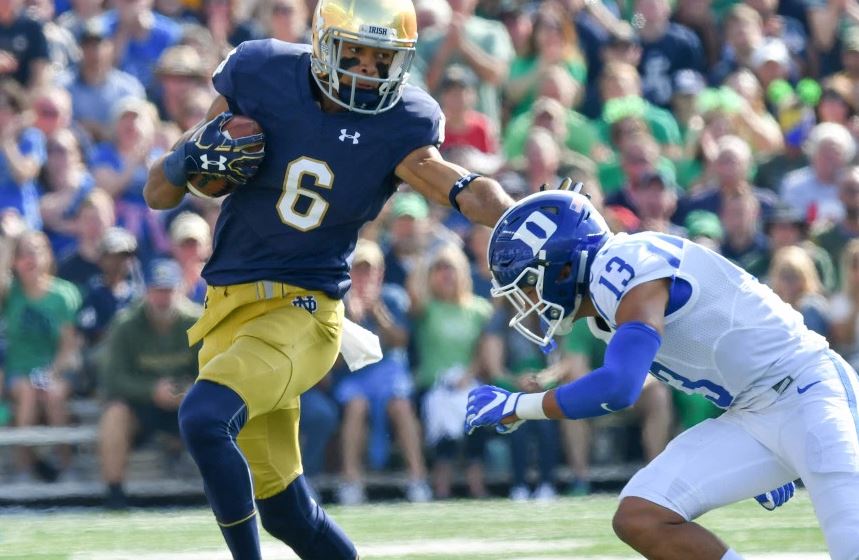 Round 2, Pick 52
KC: Equanimeous St. Brown, WR, Notre Dame – St. Brown is a true wild card play at wide receiver in this draft, as he figures to be anywhere from the third to sixth receiver off the board, making his draft projection difficult. Nonetheless, he is a 6'4″ receiver with a diverse route-running repertoire and solid athleticism, and would complement Crabtree well.
JD: Michael Gallup, WR, Colorado St – This was my pick in the first mock and it stays the same here. Gallup is the sure-handed, YAC receiver that Eric DeCosta covets. He will be a nice complement to play opposite of Crabtree.
Round 3, Pick 83
KC: Mark Andrews, TE, Oklahoma – We swear we did not plan both having Andrews here. The Oklahoma tight end is essentially an oversized receiver who can succeed over the middle of the field, which is just what the Ravens offense needs.
JD: Mark Andrews, TE, Oklahoma – The pass catching, playmaking TE which has been lacking in the Ravens offense, is found in the third round. Andrews is not a three-down TE, due to his lack of blocking ability, but he checks every other box.
Round 4, Pick 118
KC: Micah Kiser, LB, Virginia – Not a great athlete but a high-production player in college who is by all accounts a star off the field as well. Baltimore desperately needs linebacker depth.
JD: Will Clapp, C, LSU – Not buying that the Ravens go into the season with Matt Skura and Alex Lewis atop the depth chart at center. They spend their first Day three pick on a true NFL starting caliber center. Clapp was a three-year starter in the SEC, who allowed just one sack and five QB hits over the past three years. He can also shift over to guard if needed.
Round 5, Pick 154
KC: Kyle Lauletta, QB, Richmond – This was my pick in our last mock and until the Ravens sign a quarterback, I am convinced they will use the draft to fill the backup QB void as a cost-effective move.
JD: Justin Watson, WR, Penn – A receiver big enough to play on the outside and quick enough to play the slot. Watson produced three straight 1,000-yard seasons and with a big catch radius, he will provide another dependable target for Joe Flacco. A potential steal in the fifth.
Round 6, Pick 190
KC: Justin Jackson, RB Northwestern – A tremendous athlete, Jackson could go sooner than the sixth round, but would be a valuable depth addition to an already-talented group of running backs in Baltimore.
JD: Quin Blanding, S, UVA – A wildcard here, Blanding could go anywhere from the 4th-6th round. He had a very productive career at UVA, where he seemed to do everything good, but nothing great. Luxury here, you don't need him to start this year, he can sit and learn, and contribute on special teams. Blanding is as sure of a tackler as they come.
Round 6, Pick 215 (Compensatory Pick)
KC: Brandon Parker, OT, North Carolina A&T – At 6'7, 305 pounds, Parker is a pure project and may remind some Ravens fans of Ramon Harewood. He is worth a shot this late in the draft as a developmental pick.
JD: Trey Quinn, WR, SMU – The third WR taken by the Ravens (maybe this is just pure hope), Quinn is a pure slot guy. Quinn posted just one big year in college, but that year amounted to 114/1236/13. On top of those numbers, he only had two drops all year. He could also see time as a punt returner, giving his quick burst and shiftiness.
Round 7, Pick 238
KC: Braxton Berrios, WR, Miami (FL) – It appears the Ravens are not planning on re-signing Michael Campanaro at this time, and Berrios could be a logical backfill. Similar to Campanaro, Berrios would be relied on as a special teamer and slot receiver.
JD: Levi Wallace, CB, Alabama – A former walk-on who turned himself into a starter at Alabama – that speaks for itself. Ozzie goes to the well one last time with his last pick as GM. Once again, a typical day three pick of depth who can help this year on special teams. Wallace has 12 pass breakups and two picks last year. As Raven fans know, you can never have too many corners. Solid pick in the seventh round.