Lamar Jackson? YES PLEASE!
Print this article
THERE IS NO OFFSEASON IN THE NFL. In fact, some might say the drama is higher from February through August, what with free agency, trades, cuts, a million mock drafts, the real NFL draft, draft day trades, rule changes, league meetings, collusion cases (cough), fantasy projections, PED suspensions, #ComebackSZN, Shannon Sharpe saying something silly, Mike Florio tweeting about the Penguins on PFT's account (it's true! PIT homer!), training with knives, really bad April Fool's Day jokes, charity softball games, playing on the waiver wire…
*whew!*
Our goal, come week's end, is to recap the top stories with a little less 'matter of fact' and a little more 'matter of opinion.' Which also, ironically, happens to be fact (I'm never wrong).
This week was a busy one around the NFL, and more specifically, at 1 Winning Drive (that's the UAPC, or the Ravens home base). Let's take a quick look at some of the top stories from the week…
10. Bob signs. People (inexplicably) go nuts.
The Ravens signed RG III for a whopping one-year, $1M deal with "a small guarantee." Literal pennies on the dollar. So cheap that they could cut him whenever they want, should they draft a QB or find themselves in pursuit of another Free Agent QB with more clipboard-holder potential (here's looking at you, Kevin Hogan, who will be cut within a week!). And yet, we have clowns like Mike Florio on NBCSN asking "should Flacco fear for his job now that RG III is signed?"
GET. RIGHT. THE HELL. OUT.
My guess? They draft a QB, and Bob is out mid-camp. Oh and that QB they draft? We'll bring him up shortly… (that doesn't count as clickbait 'cause you done clicked already!).
9. Liars' Luncheon proved true to form.
Tell me class… did we learn anything new at the Ravens pre-draft presser, aka, the Liar's Luncheon?
Yea, no. You didn't. We learned that BPA is still the model (shocking!), Ozzie will treat this draft the same as any other (shocking!), and fans 'may be surprised' who they draft in Round 1, which, is a blatant lie. Think about this: how can the Ravens predict the 15 picks ahead of them? The trades? The offers to move down? Unless they truly think a guy they covet is soooo undervalued that nobody will touch him, the whole luncheon was just smoke & mirrors.
With sammiches. Or at least I'd hope so…
8. Lamar Jackson to Baltimore chatter?
One noteworthy item from the Ravens presser was Ozzie Newsome's praise of QB Lamar Jackson.
LAMAR! JACKSON!
*that's a happy bold above*
If you think the hype surrounding an offensive weapon would turn heads in Baltimore, imagine drafting the potential heir to Flacco's throne right out of the gates! You would see an elated fan base (a few Flacco-pologists would be pissed, but whatev), a fire under Flacco's ass (unlike with Bob, FLORIO), and I'm going to go out on a limb and drop this bomb:
IF the Ravens drafted Lamar Jackson, he would generate the most jersey sales of a 1st round Ravens rookie, before Week 1 of the season kicks off.
EVER.
7. The Wonderlic is Trash.
Speaking of Lamar Jackson, there's been much ado about his inability to score high….er than a 14 (he got a 13) on the Wonderlic test, which measures…honestly? It measures how well you prepare for a test. I don't care how many people say it measures your ability to problem-solve, and dissect and blah blah blah. Plain and simple, athletes spend weeks upon weeks upon weeks studying this test, simply to flash a grade.
In Jackson's case, my guess is that his momager (that's a mom & a manager, keep up) wasn't aware of how much time needs to go into preparing for this test, LJ didn't do a lick of prep, and here he sits with a 13.
So don't draft him because the Wonderlic says so, right? Yea… not so fast! The top QB Wonderlic scores in history come from Ryan Fitzpatrick (47), Blaine Gabbert (42), Drew Henson (42), and Ryan Nassib (41). Meanwhile, the low end of the Wonderlic pool include guys like (deep breath) Brett Favre (22), Cam Newton (21), Deshaun Watson (20), Daunte Culpepper (18), Terry Bradshaw (16), Dan Marino (16), Randall Cunningham (15), Jim Kelly (15), Steve NcNair (15) & Donovan McNabb (14).
I rest my case.
6. TE Hayden Hurst creeping up draft boards?
WHO THE HELL IS THE TOP TIGHT END???
Literally, nobody knows anymore. I don't think I've seen the same order of top-4 TE's in any mock thus far. Regardless, this weeks Tight End de jour is Hayden Hurst. Let me preface: I don't want him at 16. Or 20. Or 25. BUT if the Ravens found a way to make a few trades and end up with a bottom-10 pick in Round 1, and a top-10 pick in Round 2? I'd take him in Round 2.
Why?
Easy! Hurst is a former college baseball pitcher, who can sling it to the dish with a 90+ mph fast ball. Bring in Hurst, insist the O's sign him during the offseason, and then we can finally rid ourselves of Chris Tillman in Baltimore. Thank me later!
5. Local hype overselling D.J. Moore?
Yes, Calvin Ridley has long been the favorite pick slotted to the Ravens, but outside of Baltimore, you won't see many analysts slot local Terp WR D.J. Moore to the Ravens in Round 1. In fact, between SI, ESPN, Bleacher Report, Walter Football, and Fox Sports? Not a single one has slotted Moore to Baltimore, and furthermore, none have him listed as a top-2 WR, or going anywhere close to 16.
Perhaps our affinity for the Terps locally, as well as what we've seen from Stefon Diggs in Minny, has us expecting Moore to blow up, thus reaching at 16?
Lest we forget, Torrey Smith was a much higher rated/drafted Terps wideout, and yet, only one of those two really panned out while the other is just a high-2nd Round pick that's on his 4th team, working as a 3rd WR (don't you dare try to throw 2 rings into the convo, that's lazy!).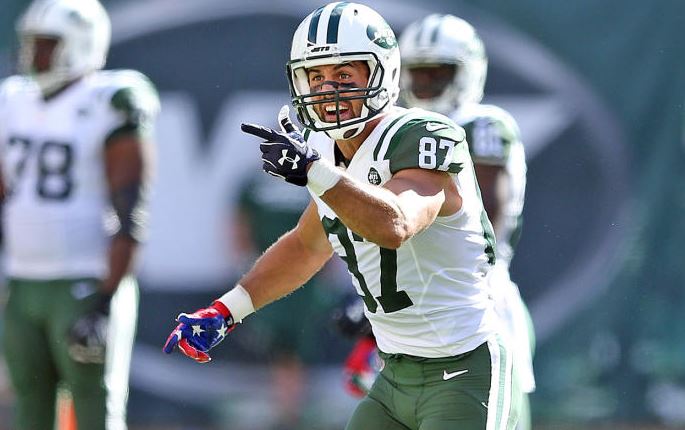 4. Ravens WR carousel continues…
Let's stick to the Ravens receiving corps plan, and talk about the guys still in limbo that may join the team.
Bears WR Cam Meredith & Saints WR Willie Snead both visited (Snead twice now), while Free Agent Eric Decker swung by Baltimore earlier this week. Are any viable options?
BOOM RANKING: Meredith, Snead, Decker
BUST RANKING: Meredith, Snead, Decker
Total crap shoot. My guess? The team has one WR with injury risk in John Brown, so Meredith is out, and Snead is likely going to require a longer deal to lurehim  away from the Saints (not going to happen). I think Decker is your guy. A two-year deal that's really a one-year deal, so they can ax him during the rebuild next offseason (shhhh!).
3. Brandin Cooks traded, Rams grossly stacked.
The Ravens may be able to compete in the AFC (if they nail the draft for once), but between Philly, Minny, and especially the Rams in the NFC? There's no Lombardi coming to Baltimore in February of 2019.
Now that the Rams have added WR Brandin Cooks (better than Sammy Watkins' over-hyped/over-paid ass), can anybody actually beat them? Has any team, coming off the playoffs, ever added 2 top-5 corners (Talib, Peters), the top FA defensive lineman (Suh), a great WR (Cooks), and probably somebody else I can't think of?
Between the stacked Rams in LA, & Jimmy Gezus in San Fran? I'm stoked the Ravens aren't playing the NFC West this year…
2. Patriots nauseatingly praised for fringe moves… again.
Reminder: the Patriots lost a bunch of talent thus far in free agency, including a pair of starting offensive linemen, Brandin Cooks, Dion Lewis and Malcolm Butler.
And yet.. the national media are gushing over their moves thus far. Ever notice they always use the same phrases when it comes to the Pats acquisitions?
"Sneaky good"
"Underrated"
"A guy they can turn around"
WR Jordan Matthews can't stay healthy, and isn't that great when he is (plays scared). Yet he signs a one-year deal with the Pats and it's "oh he's healthy now so great move!" Same stupid chatter with WR Cordarelle Patterson, and RB Jeremy Hill.
They'll still be Super Bowl favorites, no matter what.
1. New Titans unis are meh.
The Tennessee Titans held an event to release their updates uniforms this week, and were met with… I'd say 60-40 in favor of the vomit emoji. I've heard everything from "the navy helmets are stupid" to "it looks like a CFL kit" and even "who the shit cares about 3 stars inside the collar that nobody will ever see?!"
Still… and I'll get flack for this… I'm ready for an upgrade in Baltimore. And before you disagree (you'd be wrong) just remember how dwindling the Ravens fan base has been in recent years. Winning cures all, but little improvements like new uniforms help, and so does drafting Lamar Jackson.
WILD CARD: Chicago style pizza pie is NOT pizza. It's pie.
Yesterday was #NationalDeepDishPizzaPieDay
Yea. That's a thing, and the Chicago Bears – home of the deep dish – touted it heavily.
Except, it's not really a pizza, is it? It's friggin' pie! Don't believe me? Watch this: If a pizza sub is an actual sub made with pizza ingredients to taste like a pizza, then a pizza pie is ______?
There ya go!
It's also a nasty, carb overload. New York style is way superior, and yes, pineapple is acceptable on pizza, you judgmental heathens.