Ravens Bluffing About a QB at 16?
Print this article
NOT SO FAST…
If you asked me a couple months ago I would say the chances were slim that the Ravens would use an early pick on a QB. In fact, my QB Positional Overview *shameless plug* from January, focused on mid to later round options. I listened to one of Daniel Jeremiah'€™s pods a few weeks ago and he mentioned Baltimore as a sneaky first round QB destination. Later he mocked Baker Mayfield to the Ravens.
Then came this…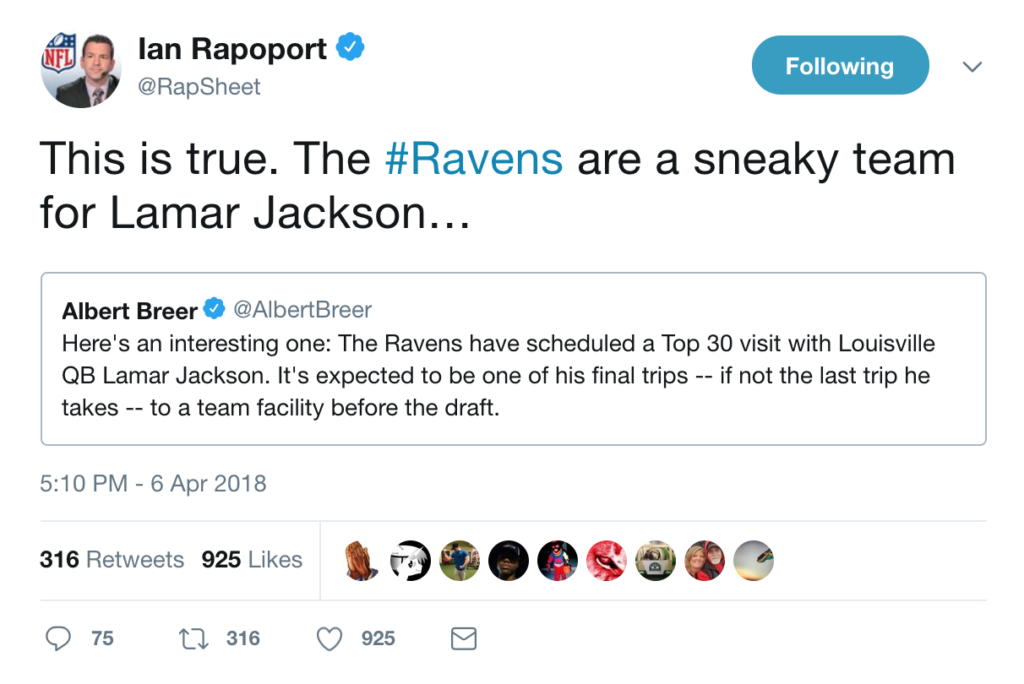 Admittedly, reading these tea leaves could wind up being a waste of time. When broached on the topic back in February, owner Steve Bisciotti said the Ravens "had bigger fish to fry"€. We know this is Ozzie'€™s swan song. We'€™re also aware that John Harbaugh'€™s seat is as hot as it has ever been. These are two very large voices in the hierarchy who you'd think would be a lot more motivated to see most every draft resource directed toward 2018 impact, let alone the very first pick.
And how do you try to best ensure that pick will be an immediate impact?
Lie!
Everyone full expects there to be 4 QB€™s taken in the first 15 picks. If the Ravens can convince the league they are in the market for the QB5, then teams would have to trade ahead of the Ravens, pushing another player down the board. There is also the possibility of a draft day trade down.. Looking at the going rate for QB draft trades, Baltimore could literally ask for the owner'€™s kidney in a trade if the franchise is signal caller starved enough.
So why not? It'€™s a great strategy.
But not so fast. Maybe this chatter about Lamar Jackson isn't a red herring.
Maybe the interest is legit.
Stay with me!
Ever since it was announced that Eric DeCosta would be taking over as GM in 2019, I've been looking for glimpses into his approach. I'm sure he's had tough moments over the last few years from an ego standpoint. Knowing he was taking over in 2019 fueled his patience despite the annual interviews for GM positions around the league that he regularly spurned. From the outside looking in the perception could be that DeCosta was a little scared to run the show.
During the draft presser he was asked about his mindset in preparing to take over. I wanted to yell, "€œTalk your ish Eric!"
But he didn't.
He was his usual humble self, treading lightly and respectfully when questioned about change.
That said, one thing DeCosta did say in a previous interview stood out. He talked about wanting to be more responsible with the salary cap. Through draft misses and bad injury luck the Ravens managed to bob and weave themselves into an annual lack of spending power. The forward thinking DeCosta strikes me as more of the aggressive type –€" an A-type personality. I have no doubt he'€™s looked around the league and observed teams having recent success, and most importantly flexibility with QB€™s under rookie deals.
When you look at the Ravens payroll as a whole, they don'€™t necessarily have any albatross contracts by my estimation, but the one right at the top sticks out like a sore thumb. If the plan is to truly get out of the financial cycle they'€™ve been in, it will take more sweeping changes.
Or maybe just one.
Now let'€™s look at the group. This 2018 draft class is a really good one for quarterbacks. It may be at least a few years before we see another one this good. In fact, the buzz surrounding them has hidden how shallow the rest of the draft is at the top. Even if 5 QB€™s go before the Ravens pick it still doesn'€™t guarantee a player worthy of the 16th pick at even a secondary position of need, will be available.
The margin between the 15th and the 35th player in this draft isn'€™t very wide at all. You can also make the argument that the strengths of the middle to late first round mostly coincide with the strengths of the Ravens roster (DT, ILB, OG, RB). For a team that is criminally true to their board in the first round, BPA may be a QB. As talented as Da'Ron Payne is, fans would try to burn the castle to the ground if he were the selection at 16.
Joe Flacco hasn'€™t been particularly good on the field the last 3 seasons. Fault lies everywhere here but his decision making and inconsistent fundamentals has not done him any favors. I expect the Ravens to continue to add weapons this offseason and it will result in improved play for Joe. But good enough to continue this cap cycle? I don'€™t see it.
As much as it may not factor into 2018, this draft could offer a unique opportunity for a financial reset while bringing a totally different dynamic to the position and the offense as a whole.
When pick 16 comes, QB is absolutely on the table!