Ravens Need More Than Just WRs!
Print this article
This year, like nearly every other year, I think the secret is out – the Ravens need to draft a wide receiver. While that topic gets discussed almost every time the Ravens are mentioned, there are some needs at other areas not being talked about very often and they should.
PASS RUSH
Terrell Suggs had an excellent season this past year, but he will be turning 36 years old and this is the final year of his contract. I actually think he'd be more effective if his snaps were lowered to help him endure the length of the season. His intelligence on the field at this point in his career is probably more important than what he can do physically.
Matt Judon had a breakout season with 8 sacks which were doubled from his rookie season. Judon was one of my sleepers before the Ravens drafted him so I'm happy to see him doing so well.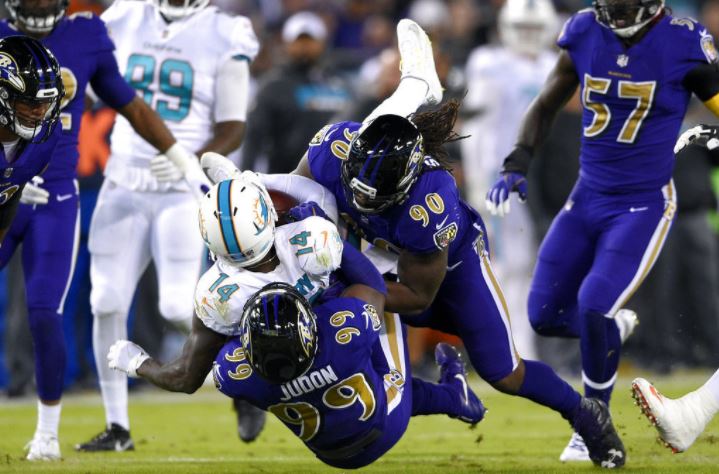 Za'Darius Smith was used more in the Pernell McPhee role as an interior rusher so his sack production typically won't be as high. He had 3 1/2 sacks for the season. His role helps the edge guys get the cleanup duty. Smith is also entering the final year of his contract and he will be a restricted free agent next year. That should help the Ravens get a hungry Smith.
Both Tim Williams and Tyus Bowser didn't see the field all that much with Suggs and Judon entrenched as the starters. Bowser showed flashes of his athleticism with an interception and 3 sacks but found his way into Harbaugh's doghouse after a rough London game. Williams was inactive for 8 games and only played a total of 125 defensive snaps. Hopefully new defensive coordinator "Wink" Martindale utilizes the talent of these two promising players more than Dean Pees did.
Williams was a pure pass rusher in college and should be used as such until he can become more adept at setting the edge and in coverage. I think Bowser has all the tools to become a top-tier middle linebacker but maybe it's best to keep him at his natural position after seeing what's become of Kamalei Correa with the same switch.
SECONDARY UPGRADE IS SECONDARY (at least)
So why does the Ravens pass rush needs an upgrade?
The majority of the success the pass rush enjoyed in 2017 can be attributed to the secondary. That's not we've been accustomed to in recent years but the 2017 Ravens' secondary was better than it has been in a long time. Brandon Carr was unfairly criticized this past season. What $3 million corners can cover the best receiver in the league (Antonio Brown) for an eternity?
Carr and others gave up touchdowns but the pass rush wasn't very supportive last season. Carr had 4 interceptions and was a solid corner, but did give up some plays, just as Jimmy Smith did with DeAndre Hopkins. It happens. Corners get beat from time to time. How quickly people forget the Chykie Brown and Asa Jackson days.
While on the subject of the secondary and unfair blame, let's talk about Eric Weddle. Clearly the veteran had some issues with missed tackles in key situations. Yet it's interesting to hear that the Ravens need to find a rangy ball-hawking free safety. The man had 6 interceptions in 2017. Only Kevin Byard and Darius Slay had more with 8 each. Elite corner Marcus Peters had 5. In today's game 6 interceptions qualifies as a ball hawk.
To put that in perspective, the last time a player on the Ravens had that many interceptions was in 2010 when Ed Reed registered eight. Reed never had more than 9 in a season and he's considered the greatest ball-hawking safety of all time. Production is what matters to be considered a ball hawk. You can have all the speed in the world but being in the right place at the right time to make the play wins over speed.
INSIDE LINEBACKER
C.J. Mosley has been to 3 Pro Bowls in 4 years and will probably be the Ravens defensive centerpiece for years to come. He still doesn't come without flaws, particularly in coverage, which were exposed this past season more than ever. CJ had some ankle issues throughout the season and I suspect that played a significant role. Be that as it may, coverage is still not his strength, so a better complementary piece needs to be found.
Patrick "Peanut" Onwuasor and Kamalei Correa battled early in the season for the job next to Mosley with neither ever really shining in the role the way Zachary Orr did. I don't blame the Ravens coaches for trying to move around players to give them an opportunity to fill holes but I don't think either player worked. Onwuasor should be a strong safety and Correa should be an outside linebacker rushing the quarterback. Maybe coach Wink will make some changes and can learn from Dean Pees' mistakes.
Albert McClellan is an excellent special teams player, but he's a run stuffing thumper inside linebacker. So he isn't a candidate to play beside Mosley. Bam Bradley looked to be a very promising player last year during the preseason. He could be a surprise starter overtaking Correa and Onwuasor.
The draft offers plenty of options in the first few rounds and even a hybrid player like Florida State's Derwin James might be the answer should he fall to 16 or the Ravens move up to nab him and address an obvious weakness. Football Outsiders ranked the Ravens defense as the second worst in coverage v. tight ends in 2017. Quarterbacks knew how good the secondary was but worked the middle of the field with tight ends, slot receivers, and running backs.
Maybe some of that can be fixed with scheme.
Or maybe, it's just finding the right player.