Ravens Comeback Kids Can Propel 2017
Print this article
INSIDE THE NUMBERS
Michael Campanaro signed a 1-year deal to play for the team that represents Music City – the Tennessee Titans. Apparently, Ozzie Newsome wasn't kidding when he said that he wanted to change the look of the wide receiver room. Gone from the 2017 roster are: Mike Wallace, Jeremy Maclin and now Campanaro.
Of course, the Ravens have added Michael Crabtree and John Brown, both arguably upgrades over Wallace and Maclin. But the loss of Campanaro takes away a slot option and the team's punt returner. The loss of the former Demon Deacon and TE Ben Watson eliminates options inside the numbers for Joe Flacco, options that must be replaced.
One potential replacement is Saints restricted free agent Willie Snead, but time is running out on that possibility. This league year, RFAs must sign any offer sheets by April 20 to allow the incumbent teams 5 days to match the offer. The idea is to allow the affected teams a day to adjust draft strategies and the impact of a gain or loss of any draft pick compensation. Day 1 of the 2018 NFL Draft is April 26.
In the case of Snead, given his undrafted status as a rookie and the low tender offer extended by the Saints, there would be no draft compensation exchanged between the Ravens and Saints.
GRIFFIN IN
The Ravens hosted an introductory press conference yesterday for Robert Griffin, III. He claims to be as fit as he's ever been and is ready to embrace the roll as QB Joe Flacco's backup. RG III is looking to reestablish himself in the NFL and a motivated player with talent like this former Heisman Trophy winner, may provide a spark for the Ravens laid-back signal caller whose wife Dana is said to be expecting the couple's fifth child.
It's also possible that RG III doesn't even make the final 53. Time will tell but competition in camp, even for the previously Teflon-coated Flacco, is a good thing for the Ravens.
.@RGIII introduced as a Raven. pic.twitter.com/1p6Kw2rTks

— Baltimore Ravens (@Ravens) April 11, 2018
SLAVE PATROLS
Colin Kaepernick showed up at Ravens headquarters last week to sit in on the depositions of John Harbaugh and Ozzie Newsome. Both were questioned in the Kaepernick collusion case. Kaepernick arrived in Owings Mills wearing a t-shirt that read, "Slave Patrols". Quite an "interesting" choice given this now infamous tweet from Kaepernick's girlfriend, Nessa.
🎯 @raylewis pic.twitter.com/N9k7nDgmDh

— NESSA (@nessnitty) August 3, 2017
RAVENS COMEBACK KIDS
The Ravens will continue to try and improve their team by plugging roster holes through the second wave of free agency and of course the upcoming draft. But players returning from injury should also go a long way towards upgrading the club's personnel, potentially.
The returns of Marshal Yanda, Alex Lewis and Nico Siragusa will improve the offensive front while Kenneth Dixon's return gives offensive coordinator Marty Mornhinweg an impressive one-two punch in the backfield. On paper, this all looks promising. Yet it would be naïve of the Ravens to think all of these players will completely bounce back in 2018.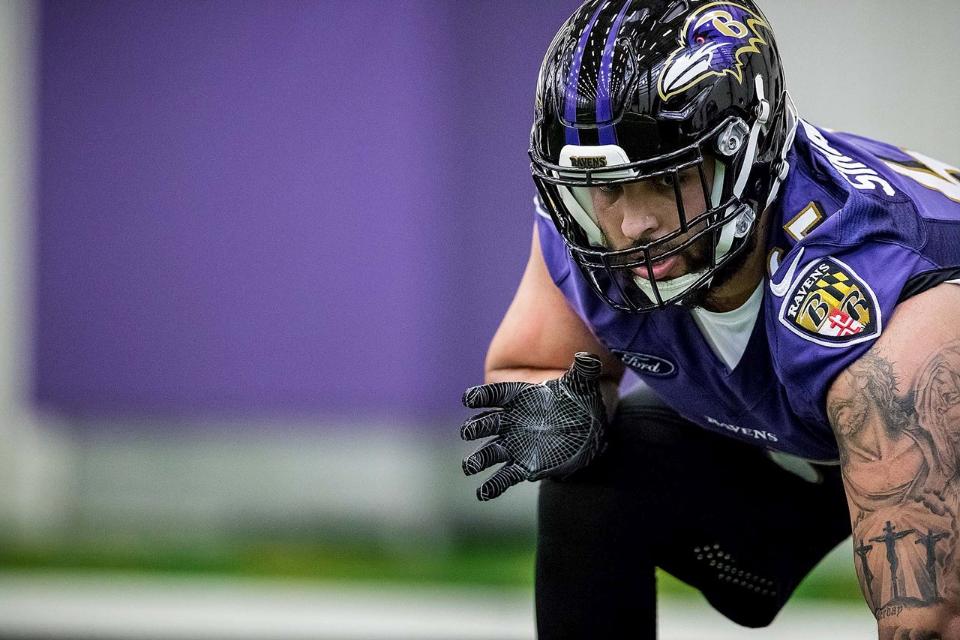 Yanda will turn 34 by Week 2 of the regular season and he's coming off back-to-back injury plagued seasons. Lewis has played in just 10 of a possible 32 games in his two-year career and Siragusa suffered a devastating knee injury that damaged both his ACL and MCL during training camp last year. Dixon's resume isn't much more impressive than Lewis'. He's played in just 12 of a possible 32 games due to injuries. He's also one more PED infraction away from a 10-game suspension. Dixon served a four-game suspension in 2017.
Brent Urban is a defensive force who can potentially boost the Ravens pass rush. As an interior presence he has a knack for knifing his way through the clutter and disrupting the quarterback's vision with his height and reach, and that enables the rush on the perimeter to get home. But Urban is hardly dependable. He's played in 25 of a possible 48 games and that's a trend that started while he was in college. At the University of Virginia, Urban played in 24 of a possible 37 games between 2011-2013, according to SportsReference.com.
On a positive note, Tavon Young is on the mend and adding him to a secondary that showed promise in 2017 can only make the Wink Martindale directed defense even stronger.
WIDE RECEIVER DILEMMA
The Ravens problems with identifying and developing wide receiver talent are well-documented. But they aren't the only team that struggles when projecting the positional talent to the NFL.
During the opening round of the past three drafts (2015-17), NFL teams have selected 13 wide receivers. Of those 13, nine have yet to collect 40 passes in a season and only one has earned a Pro Bowl nomination. During the 2017 NFL Draft, three of the top nine picks were wide receivers and shockingly those three, Corey Davis (5), Mike Williams (7) and John Ross (9) COMBINED for 45 catches, 470 yards and 0 TDs during the regular season.
So, what gives? What are the challenges that collegiate receivers face when entering the NFL?
Ricky Proehl, a 17-year NFL vet and former Carolina Panthers WR coach from 2011-16, draws from his experiences in order to prepare and train collegiate receivers for the next level. In a recent interview with Sports Illustrated, Proehl shared his interesting perspective, commenting on the cerebral aspects of the professional game.
"[College coaches] say hey, you're going to be the A receiver. The A receiver lines up on the left. The B receiver lines up on the right. And then this receiver lines up slot right because the tight end is on the left."
In essence, collegiate receivers become robotic. Many don't read the defenses. They simply look to their positional coaches who make the reads for them and then signal the proper route. That isn't ideal for players with NFL ambitions.
"[The receivers] don't worry about motion," Proehl continued. "They don't worry about snap count. They don't hear anything else and the coach holds the board up and they know I got one of five plays where I'm running a go, post, slant or a comeback. That's all they're running. If he's off I'm running a hitch. Man, I'm running a go."
Physical attributes are simpler to identify. But the recent failures of highly graded collegiate receivers suggest that success in the big leagues requires more than measurables. Perhaps at the position of wide receiver, scouting isn't a science, but rather an art form.