Some Non-WR Picks Fans Should Applaud
Print this article
Last week I wrote about the Ravens having some underrated needs while everyone is focused on wide receiver and tight end. Fans might not be too happy if we don't take one of those positions in the first 2 rounds. Tony Lombardi wrote yesterday about the best player available mantra vs. drafting for need. I tend to think there is some gray area and you can reach for a need if it's just by a handful of spots. I'm not suggesting taking a player you have 25th on the big board when a player that you have rated 8th falls to the 16th spot. What it ultimately comes down to is how the draft board falls. Below are some players that might not make Ravens fans happy, but still make sense for the team.
Mike McGlinchey – Offensive Tackle, Notre Dame
McGlinchey is another exceptional product of offensive line coach Harry Hiestand. You may not be familiar with Hiestand but you are more likely to be familiar with some of his recent players such as Zack Martin of the Dallas Cowboys, Ronnie Stanley, and consensus top offensive lineman in this year's draft, Quinton Nelson.
At 6'8″ 312 lbs McGlinchey has the prototypical size to play left or right tackle and has experience on both sides. As of now James Hurst is slated to be the starter at right tackle and is the only backup left tackle currently on the roster. Alex Lewis has been hurt two years in a row and Nico Siragusa and Marshal Yanda are both coming off year-ending injuries. After writing recently I believe we can wait for offensive line depth, I must admit this is a pick that makes a lot of sense for the Ravens.
Derrius Guice – Running Back, LSU
Guice is a projected first-round player (or early second) by most draft analysts. In recent years the running back position was devalued by many and considered a reach to take one if the first round. Do you think teams are regretting taking the likes of Zeke Elliot, Todd Gurley, or Leonard Fournette? Guice is not the playmaker Saquon Barkley is but he is probably a better runner of the football than Barkley. His violent running style could be exactly what the Ravens need to pair with Alex Collins, who appeared to excel more running outside the tackles. He also brings added kick return ability. I think he plays like a Raven.
Marcus Davenport – Edge Rusher, Texas-San Antonio
Yes, the team took two edge rushers last year, but the production wasn't what they hoped for. I still think Tim Williams and Tyus Bowser will turn out to be good players but it wasn't an easy rookie year for either player. In the Ravens defensive scheme, outside linebackers are expected to set the edge in the run game, rush the passer and play in coverage. The more a rookie is asked to do the longer it takes until they are able to play fast without thinking. Also playing behind Terrell Suggs and Matt Judon didn't allow for much playing time. In case neither of them pan out with Suggs in the twilight of his career, I still think an edge rusher should be in play at pick 16.
Davenport has all the physical skills to be a dominant player in every area.
Jaire Alexander – Cornerback, Louisville
Much like a team uses different types of receivers, I think corners should be treated the same way, and a variety of different traits are required. Typically there are taller corners with long speed and more physicality on the the outside. Most nickel corners are shorter with quicker change of direction skills. There are hybrid guys that can play both but maybe sometimes not as well.
Alexander could be a high level starter on the outside or inside. He has elite level speed and short area quickness with exceptional ball skills. Baltimore's cornerback depth is the best it has been in a long time so it's not a need by any means. Last year did prove once again though that you can never have too many corners. The Ravens must also begin to prepare for life after Jimmy Smith who is hurt every year. His injury history is also the reason why the team needs to pay for Brandon Carr. Smith is very expensive; it's a contract that would be helpful to get out of in a couple of years.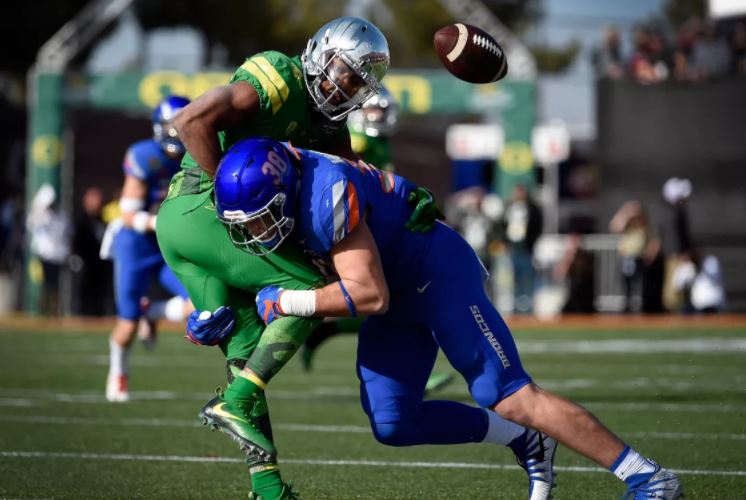 Leighton Vander Esch – Inside Linebacker, Boise State
I addressed in my last article the need for a coverage middle linebacker as tight-end coverage was a major weakness in the defense. Vander Esch is an instinctive well rounded middle linebacker perfect for today's NFL. At 6'4″ and 256 lbs, his body type is much more suited to cover these match-up problem tight ends. Patrick Onwuasor is a 6-foot tall converted safety trying to cover 6′ 5″ tight ends. C.J. Mosley is only 6'2″.
Vander Esch has the potential to make a bigger immediate impact for the Ravens than just about any other draft prospect.