Ranking the Ravens' Draft Needs
Print this article
We're fully (in some cases, painfully) aware what the Ravens needs are coming into the 2018 draft. The first wave of free agency can sometimes alter things, so I've decided to do this exercise as a post-free agency reset of sorts. This isn't to say the team should draft start the first round with need 1 and go down the list. I truly believe a team's final draft haul should be a carefully crafted product of need, value and organizational strengths and beliefs.
How the Ravens choose to navigate through a draft with so much early prospect parity will be fascinating, but here's my take on what the priorities should be.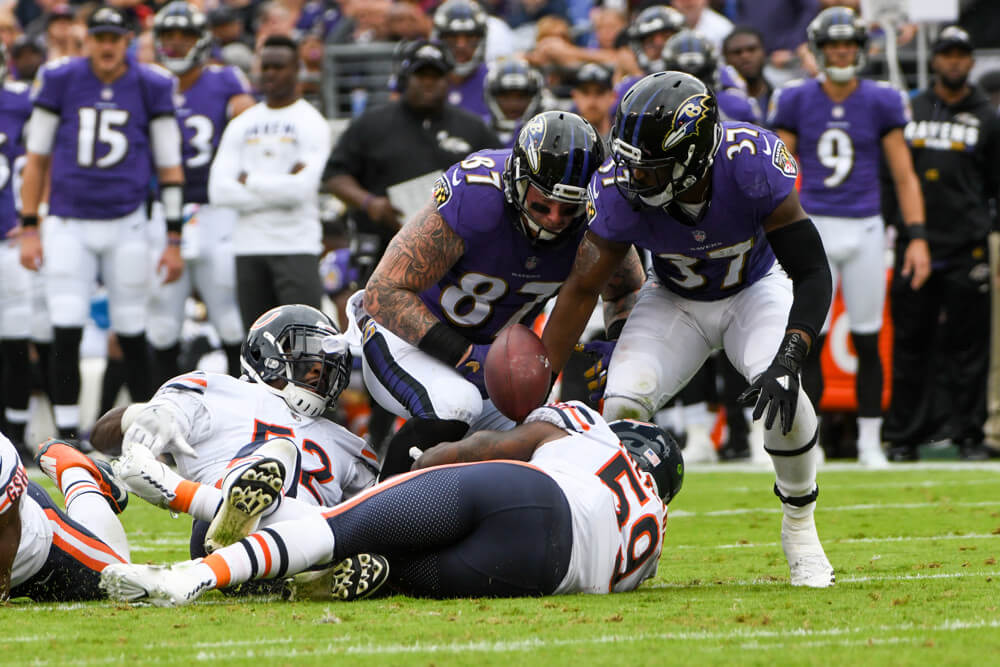 1. Tight End
It's pretty difficult to count on anybody on the roster for a multitude of reasons. Nick Boyle is a really physical blocker with soft hands but athletically is better suited as a TE3, maybe TE2 at his high end. The Ravens haven't had a real fear factor at the position and looking at the players they had interest in early in the free agency process, I think it's clear they agree.
I would be surprised if they left the draft without one of the consensus top 5 prospects at this position.
2. Wide Receiver
The Ravens were true their word and overhauled the position, but more work is still required. Despite having dramatically improved for 2018, it's still not an imposing group by any means with questions for 2019 and beyond. Michael Crabtree is exiting his prime, John Brown is on a one-year deal, and Willie Snead is best suited as a slot receiver primarily.
No other player on the roster projects as a suitable starter going forward. Leaving this draft with a player that does should be on the Ravens' shortlist of priorities.
3. Center
Matt Skura has gotten the initial vote of confidence but I question his ability to anchor. Nico Siragusa and Marshal Yanda would be other internal options, but both have questions. Siragusa is coming off a major injury and the Ravens could be more motivated to make Yanda option #2 at RT if Hurst struggles as opposed to option #2 at Center. There isn't a suitable option available in free agency right now.
Depending on how the Ravens shuffle the deck it's possible needs 3 and 4 on this listget solved in one pick.
4. Offensive Tackle
My guess going into the offseason was that the Ravens would retain Austin Howard. They opted to move on from him in order to re-sign James Hurst. Even people with the rosiest of projections for how Hurst will play moving back out to RT would agree that if Ronnie Stanley went down the Ravens would be doomed at LT. I would not rule out that the Ravens spending a high pick on a bookend tackle who could play both sides and Hurst becomes a utility guy.
Make no mistake: even if it's just a swing tackle prospect, they need to add someone.
5. Quarterback
QB of the not so distance future is a screaming need. I went back and forth about putting this higher up on the list but it becomes a question on what do you value more…2018 or 2019 and beyond? If they don't leave this draft with a legitimate threat for future snaps, I think it would essentially mean committing to Joe Flacco and his cap number for the next two seasons.
That's a leap of faith I don't think anybody involved should be substantially confident in.
6. Safety
This is an interesting one. The team is paying handsomely at the position. Tony Jefferson had an uneven first season in Baltimore and Eric Weddle had some really bad moments as a tackler. My guess is with scheme tweaks they'll be formidable in 2018 but how much longer will this duo be viable? Weddle's age and future cap concerns are factors to consider. Neither has ideal range to complement each other and create the desired defensive flexibility. The tricky part in that is rangy centerfield types usually go early in drafts.
It's also possible they find a middle-to-later round value that maybe doesn't project as a FS but could give the team options to get out of Jefferson's deal in the future if he doesn't play better in 2019.
7. Inside Linebacker
Part of the reason the run defense looked mortal last season was the lack of a thumper type at will linebacker. In today's NFL, these types of players don't cost you prime draft capital. I absolutely expect them to draft one but closer to the end of the draft. I also expect them to be fairly aggressive in the free agent linebacker market post draft.
8. Running Back
The talent and depth of this class will enable the Ravens to add a good player at the position in the mid to late rounds. With Kenneth Dixon being an availability risk and Buck Allen heading into free agency, the team could stand to give themselves some long-term insurance. Particularly someone who could contribute on 3rd down.
How does your list of priorities differ from mine? Let me know below.