10 Last-Minute Draft Thoughts
Print this article
After months of speculation, over-hyping, rumors, and smoke screens, the 2018 NFL Draft is finally upon us! Roughly 12 hours from now, rosters for the league's 32 teams will begin to take further shape when the Cleveland Browns are on the clock with the No. 1 overall pick.
With that, here is my last pre-draft hype article of 2018, with 10 thoughts I have about the Ravens draft:
1. I don't think the Ravens want to pick at 16 – no matter what they say. Could they? Sure, but trading down into the mid or late 20's puts them in a better position to draft a need, such as tight end or wide receiver. It will also net them an additional 3rd round pick. Keep an eye on: New England (23 and 31), Carolina (24), which has two 3rd rounders, and Minnesota (30).
2. Don't be surprised if the Ravens select D.J. Moore or Calvin Ridley at 16. Remember, John Brown signed a one-year deal, Willie Snead inked a two-year contract and Michael Crabtree signed for three years but he is on the wrong side of 30. The Ravens still need to build for the future. Wide receiver is still very much in play.
3. One last thought on wide receiver: If the Ravens draft two wideouts prior to the 6th round, I think that could signify the end for Breshad Perriman. The former first-round pick has underperformed and is due a bonus of $649,485 on the third day of training camp. With the three receivers mentioned above along with Chris Moore and two draft picks, I find it hard to believe the Ravens would carry seven receivers on the 53-man roster.
4. The other day I wrote an article on five players I would love or hate the Ravens to draft (shameless plug). A third list should have been included — five I would be ok with them taking at 16. That list would be: Leighton Vander Esch, James Daniels, Josh Jackson, Derrius Guice or Harold Landry.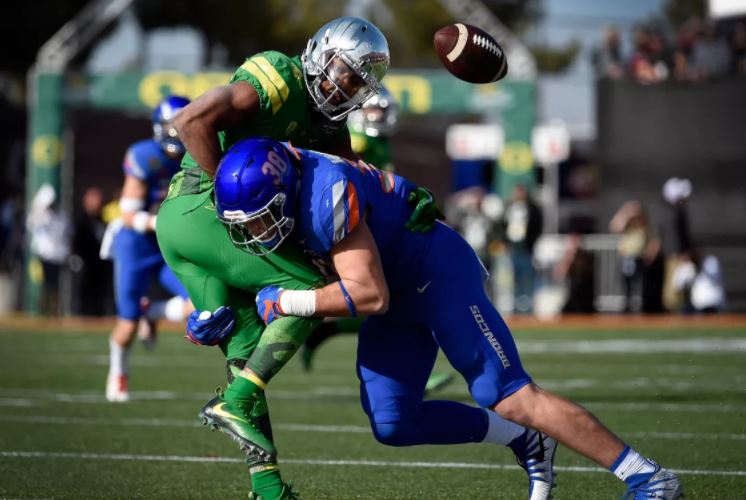 5. Running back has not been discussed much, but when the Ravens are on the clock in the 3rd round, there is a possibility that Rashaad Penny, Nick Chubb, Royce Freeman, Kerryon Johnson and Kalen Ballage could all still be available. I am not sure if they could pass up on one of them at 83.
6. All of the draft talk for the Ravens has been on the offensive side of the ball, but I doubt they'll completely ignore the defense over the next three days. Some defensive players who I would love to see them target on days two and three: Josey Jewell, Darius Leonard, Arden Key (thought he does have some red flags), Armani Watts, Natrell Jamerson, Joe Ostman, DeShon Elliott or Gerald Avery.
7. There is no Julio Jones or Odell Beckham in this receiver draft class, but it is deep. There are plenty of quality receivers who will contribute this year that can be found on day three. Fans should feel pretty good if the Ravens draft one of these player on Saturday: Trey Quinn, Marcell Ateman, Allen Lazard, Deon Cain, Brexton Berrios, Justin Watson, Deontay Burnett or J'Mon Moore.
8. No Ravens fan should be mad if they use two of the first four picks to improve the offensive line. In order for this team to succeed, they need to give Joe Flacco time and keep him off his back. An offensive tackle and center should be high on the priority list. Austin Corbett is a name to keep an eye out for.
9. When all is said and done, I think the Ravens ultimately walk away with two WRs, a tight end, running back, safety, corner and an edge rusher.
10. This is Ozzie's last draft as the GM. So there is no way I can imagine him NOT picking at least one Alabama player. While everyone knows the big names from 'Bama this year, here are some lesser known names he could grab late: Bo Scarbrough (RB), Bradley Bozeman (C), Anthony Averett (CB), Levi Wallace (CB) and Shaun Dion Hamilton (LB).