Linebackers Need to Step Up
Print this article
The Ravens need to get more of a consistent performance from their linebackers, especially in pass coverage.
One of the goals this offseason was to provide C.J. Mosley with more support in the middle of the field. As a result, the Ravens selected UCLA linebacker Kenny Young in the fourth round and he has the potential to make an impact.
Young was an All-Pac-12 selection last season and he could earn a spot next to Mosley. He led the Bruins with 110 tackles, 8.5 for loss, one sack and three passes deflected. Young is lauded by his coaches for his work ethic.
While Young could get increased playing time because he thrives in coverage, his main focus in being a complete linebacker.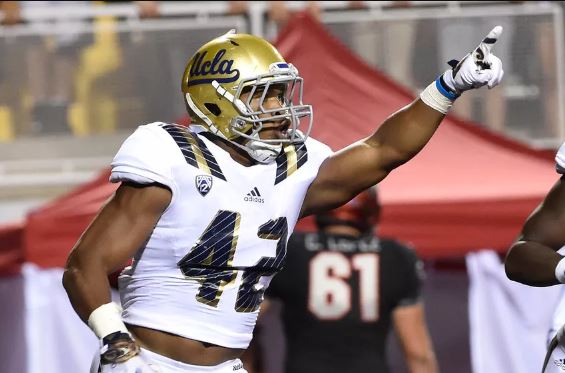 "I think you have to look at the picture as a whole as a linebacker," he said. "You can't just be a run-stopper and suck at pass coverage, or you can't just be good at pass coverage and suck in the run. Most times you'll fail. So, I think my athleticism helps with that – with guys like C.J. Mosley and whatever packages we have to put guys into, to get us off the field.
"I don't know if I'm that guy yet, but I'll tell you one thing is that we've got the leaders on this team, veteran guys that are going to push, and the coaches are going to make the right decisions to put the guys in the right place to have the defense as a success."
If the season started today, Mosley and Patrick Onwuasor would start inside linebacker. Terrell Suggs and Matthew Judon would handle the outside duties.
Onwuasor has continued to improve and started 13 games, finishing with 90 tackles and one sack. His experience puts him atop the depth chart.
However, the aforementioned Young, Kamalei Correa and Albert McClellan could push for playing time. Correa has yet to live up to expectations since being drafted in the second round (42nd overall) of the 2016 NFL Draft. This is a huge year for him. McClellan, who is coming off a season-ending knee injury, is versatile and a valuable contributor on special teams.
Suggs is a six-time Pro Bowler and led the team with 11 sacks. However, he appeared to fade in the latter part of the season. Suggs will turn 36 on Oct. 11 and the Ravens need one of the younger players to step into a more effective role as a pass rusher.
The onus is on second-year players, Tyus Bowser and Tim Williams, to progress and become bigger parts of the defense. Bowser appeared in all 16 games last season and finished with 3.0 sacks. Williams had more trouble adjusting and appeared in just eight games, finishing with six tackles but no sacks.
Za'Darius Smith, a fourth-round pick in 2015, has emerged as a solid pass rusher with 3.5 sacks in 14 games.
A wildcard is undrafted rookie Myles Humphrey, who was the 2017 Mountain East Conference Defensive Player of the Year at Shepherd University. He led the league with 11.5 sacks and four forced fumbles. The Ravens have a history of success with undrafted free agents.
Judon had a breakout campaign in 2017 and was second on the team with 8 sacks. Expectations are even higher this season.
The Ravens are going to need some other players to follow that lead.