Position Change Candidates on Defense
Print this article
With new Ravens defensive coordinator Don "Wink" Martindale, there may be some changes beyond scheme adjustments. As an observer waiting in the wings these last few years, he's had a chance to learn from Dean Pees' mistakes.
Below are some positional/responsibility changes I think we may see this upcoming season.
Kamalei Correa
The inside linebacker experiment has failed – either that, or you can just chalk this up as another second-round draft bust.
Kamalei Correa's mother has openly criticized the Ravens coaches on social media for changing his position. I can't agree that's the path to take, but it is telling that this has probably been a family discussion. He was an edge rusher in college and took occasional snaps as a middle linebacker where he was utilized frequently as a blitzer.
Before giving up on a second-round draft pick, it would be worth trying him in an area that is currently lacking and where he has shown proficiency: the pass rush department. Instead of expecting him to learn all the intricacies of a new position, he could be a situational pass rusher and be eased into the rest of the outside linebacker responsibilities.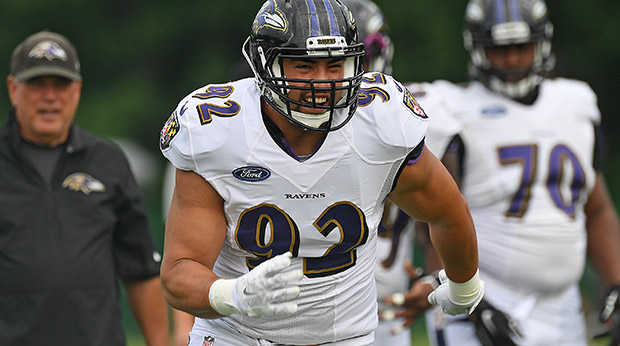 Bronson Kaufusi
When the Ravens took Bronson Kaufusi in the third round of the 2016 draft, he was highly touted as being versatile. After suffering an injury and missing his entire rookie year and being inactive for 13 games in his second year, there has been a very limited sample size for fans or coaches to see that versatility.
The Ravens defensive line is very deep and competing at defensive end with Brent Urban, Willie Henry, Chris Wormley, Carl Davis and the promising Zach Sieler may not be the easiest way for Bronson to crack the lineup. Much like Correa, a new role as situational pass rusher may be best for all involved.
Tim Williams
I'm not suggesting Tim Williams needs to move positions, because he is exactly where he needs to be. Williams was considered by many draft pundits to be the best pure pass rusher in the 2017 draft. He has done nothing to dispel those claims; he just hasn't had an opportunity to get on the field very much. S
Terrell Suggs and Matt Judon are much more well-rounded outside linebackers than anyone else on the roster, but their pass rush was dormant for much of the season. Suggs' diagnosis of offensive plays on the field is probably more important that what he can do physically at this stage so it would make sense to reduce his snap count.
Let's give some of these younger players a chance to just hunt the quarterback and keep Suggs fresher throughout the season. Williams may end up being the best of the bunch in that department.
Tyus Bowser
Tyus Bowser may be the most athletic of all the Ravens linebackers. This is a scenario where again I'm not suggesting a full position change – just the tasks that he's asked to perform. I think he could be the best coverage linebacker on the team and his strengths are greatly needed on this defense.
Last year the Ravens were the NFL's second worst team in tight end coverage. With Bowser's speed and size (6'3″), he can hang with the taller more athletic tight ends. It would make sense to move him around the linebacker positions according to the match-ups. They can still continue to develop him to be a complete outside linebacker, while his greatest asset can be utilized simultaneously. I think Bowser could excel at outside or inside linebacker, so it just depends on where the team could use him the most.
Eric Weddle & Tony Jefferson
This is another circumstance where I'm not suggesting a position switch. Pees spoke up last year early in the season saying that the old school way of thinking about the safety position doesn't apply anymore. He said there is no more deep free safety center fielder and a strong safety that stays in the box. Yet as the season went on, it was clear Eric Weddle played better when he played deep where he was put into position to make interceptions. He also struggled when playing close to the line of scrimmage with missed tackles. One of those missed tackles against the Bears basically lost the game. With a team high six interceptions, I would expect if kept as a center fielder that would allow for more opportunities. Weddle might not have the speed he once had but more importantly he has the intelligence to put him into the position to make plays.
Tony Jefferson fits that strong safety mold that Pees claimed doesn't exist anymore. The opposite of Weddle, he shined when playing close to the line of scrimmage and struggled when playing deep where he gave up more touchdowns than I care to remember. Coverage ability was not his strong suit but when playing close to the line he made his fair share of jarring hits. I know Pees liked to disguise his looks but when Weddle is missing tackles and Jefferson is giving up touchdowns, it's best not to disguise anything.
Patrick Onwausor
The idea was to have a more athletic linebacker in coverage converting from safety to middle linebacker. Instead, Patrick Onwuasor struggled getting off blocks and hasn't made an impact in coverage like he was expected to. He won't find a starting role at either safety position, but he could provide quality depth at strong safety. He's a very physical player but as a middle linebacker in the NFL that doesn't stand out at all. He was a ball hawk his final year in college with nine interceptions. His chances of making an impact in the NFL are much greater playing safety.
Will these guys become stars or even starters if moved around? That remains to be seen, but it's worth a shot. I listed three players to move to outside linebacker as situational pass rushers, so you might be thinking "that is too many outside linebackers." They are not all going to succeed, and that doesn't mean they don't still provide depth at their current positions. If a player is not performing up to expectations it is certainly worth giving them an opportunity elsewhere on the field before throwing in the towel.
As for Breshad Perriman?  Sorry. I have no solutions.