Gurley Deal Could Impact Ravens
Print this article
In case you honed in on the Zach Britton trade to the Yankees, or possibly Julio Jones refusing to report to camp until his contract is reworked, or maybe even Josh Gordon's need to step away from camp until it's over to ensure he quells his anxiety and addiction issues (both honorable, and genius when other vets who don't wanna "camp" take the same course of action) … you may have missed this mega deal yesterday.
Rams and RB Todd Gurley finalizing agreement on a 4-year extension worth $60 million that includes $45 million guaranteed that ties him to LA for the next six seasons, source tells ESPN. Finally a deal that resets the RB market.

— Adam Schefter (@AdamSchefter) July 24, 2018
Here's a live look in at Todd Gurley's reaction to the new contract.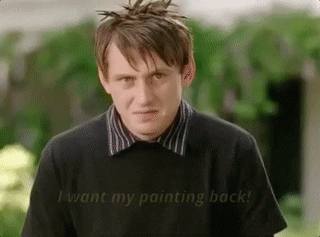 Damn, wrong Todd. 
But the bigger note here from Schef…
Todd Gurley's new 4-year, $60M extension that includes $45M Gtd is the largest guarantee given to a running back, the largest per-year average for any running back, and gives other RBs such as David Johnson and Ezekiel Elliott a new benchmark.

— Adam Schefter (@AdamSchefter) July 24, 2018
WOW.
Never mind the 30 other franchises, what does this mean for the Ravens moving forward?
For starters, this all but assures that LeVeon Bell will not be returning to the Steelers. Even if they were as close as they claimed to have been on finalizing a deal prior to the deadline? Look at these 2 offers side-by-side:
Gurley: 4 years, $60M ($15M AAV), $45M guaranteed.
Bell: 5 years, $70M ($14M AVV), $10M guaranteed upon signing.
Yeah … if LVB wasn't happy before, surely he's flat out irate now.
But what we really need to take away from the Gurley deal is that the market for the running back position is seeing a resurgence, after a nearly decade-long dip that saw the top backs in the league making sub-$10M AAV. With big contracts due to big name running backs in the 2019 free agency period — LeVeon Bell and David Johnson being the glaring two names — I'd be willing to bet that any top-10 back is going to be seeking a minimum 3/30 with half of that guaranteed out of the gates. 
The Ravens, fortunately, don't have to worry about this running back market boom in 2019, as Alex Collins will be a restricted free agent, while Kenneth Dixon is in the final year of his rookie deal. Buck Allen is most likely gone by then (if not sooner due to a crowded room), but he wouldn't be commanding top dollar, regardless. 
But check it out: In 2017, Alex Collins was 11th in rushing yards  (973), 9th in yards per attempt (4.6), and did that with only 14.1 rush attempts per game (15th) while starting only 12 games. His 6 rushing TD's all came in the final 7 weeks of the season, as Collins' game ramped up to close out the year, leaving Ravens fans salivating for similar production as they look ahead to the 2018 season.
IF …
If Collins can continue to trend upwards over 2018 and 2019, all while the offense in Baltimore focuses on the run game (which they should), we could be talking about Alex Collins with 1,300+ rushing yards coupled with 10-12TD's in the upcoming season.
That would be the best totals by a Ravens running back since Ray Rice ran for 1,364 yards and 12 TD's in 2011.
As such, the Ravens could be in the position to pay their back bigger bucks than they had paid Ray Rice during the RB market recession; remember, Rice's last deal with the Ravens was 5 years, $35M *$7M AAV) with $15M guaranteed. 
Thanks to the new Todd Gurley deal, a Collins request around 4/44 with $20M guaranteed wouldn't be a shocking request.
That's quite the jump in cap space allocation for a position that, not too long ago, was assumed to be less valuable in a pass-happy league.
The Ravens could counter this with a few options. The first- and again, this is all based upon speculation that Collins pushes into the top-10 in 2018- would be to ty and lock up Collins next offseason, a year before he hits free agency. If they can work out a deal before the contracts of LeVeon Bell and David Johnson inflate the market, then perhaps the Ravens can keep Collins at a sub-$10M AAV. The other option would be to look at the draft in 2019 as a means to find a future feature back in Days 1 or 2. Guys like Bryce Love (Stanford), Damien Harris (Bama), and Rodney Harrison (Oklahoma) could all be late Day 1 to early Day 2 picks for the Ravens, while they'd have all of 2019 to transition them into the offense behind Collins & Dixon, before handing over the reigns in 2020.
Of course there's no way to assuredly know what the future will bring, but the Ravens better stay sharp knowing that this Gurley contract will surely have a huge effect on their future plans with a potential young star in the making, controlling their backfield.