10 Reasons These Ravens are Different
Print this article
As we near the start of the season, I find myself convinced that this Ravens team will be different than the one we've seen miss the playoffs in four of the last five seasons, sometimes in quite painful fashion. I've narrowed it down to ten reasons why, and I'll list them here.
There have been developments on both sides of the ball, but it both starts and ends with what's happening under center.
(1) Joe Flacco is a changed player
Something is definitely up with Joe Flacco. You can tell it by how remarkably improved he's looked in Training Camp. You can tell it by how fiery his answers are during his pressers. Time will tell if Flacco can transfer his change in attitude to the field but one thing seems certain: drafting Lamar Jackson has lit a massive fire under Flacco's ass.
With serious doubt casted over his future in Baltimore, Flacco understands how critical this season is for him and he wants fans to know it. Throwing to his receivers outside the facility for the first time since 2011? I'm sure Flacco's media team were thrilled with how stupidly big of a deal that became. And seriously, when was the last time they tweeted an elite action shot like this right before Training Camp?
Training camp 2018 ?#ravensflock pic.twitter.com/YfzHRRmu7p

— Joe Flacco (@JoeFlacco) July 19, 2018
Now with a dependable group of receivers and the opportunity to participate in a full Training Camp, there's no more excuses for Flacco. It's been interesting to see the unusual amount of praise Flacco has received from the local media. I keep noticing writers cite Flacco's improved accuracy and the strong rapport he's developed with his new WRs.
There's been much talk regarding the increased amount of deep shots Flacco has taken in practice, in which John Brown and Chris Moore have been the usual recipients. Flacco's mechanics appear to have improved as well, which can perhaps be attributed to addition of QB coach James Urban. Hopefully we will see an improvement in Flacco's weaknesses, such as stepping up in the pocket and going through his full progressions.
You can't help but notice the all the positives surrounding Flacco thus far. He needs it more than ever in what could be his last year in Baltimore.
(2) Long-awaited confidence in the WR corps
Speaking of receivers, this WR corps looks far more polished than anything the Ravens have had in recent seasons. I've written before about the Ravens' effective approach in acquiring a talented group of WRs that possess a range of skills necessary to mesh well with Flacco. That's definitely been showing so far at Camp. Fans are used to seeing the defense dominate practices, but it appears to be more evened out now based on the increase in passes being connected during team drills. It's bittersweet to see how often Marlon Humphrey has been getting beat on deep balls.
Really good practice for Flacco besides an interception in a red zone drill. Best throw was a 50 yard TD to John Brown who beat Marlon Humphrey. Brown was all over the field. Beat Humphrey on two long ones. Also caught another TD with a leaping catch in corner.

— Jeff Zrebiec (@jeffzrebiec) July 26, 2018
(Note: Reports were that Humphrey recovered with a great practice on Monday.)
Michael Crabtree looks like the real deal and has taken a leadership role in the WR room. He's drawn high praise from Flacco as a reliable target due to his wide catch radius and ability to make precise adjustments on all targets. There hasn't been this much expectation in a Ravens WR in a long time.
As mentioned earlier, Brown has been a deep ball connoisseur. He possesses blazing downfield speed and has displayed a handful of leaping catches at Camp. But some of the nicest plays belonged to Chris Moore, who has made several impressive catches including a few one-handed grabs. Moore has been turning heads since Mini Camp.
Other WRs such as Willie Snead, Tim White and Jordan Lasley all have shined at times throughout Training Camp. And I haven't even mentioned first round pick Hayden Hurst and how valuable he'll be as a receiving TE. If fellow rookie Mark Andrews' health improves, the Ravens will have an impressive young TE duo in the works.
It's unusual see this much anticipation in so many Ravens receivers, but it's much appreciated after the torture this fanbase has endured at the position.
(3) Slightly more uncertainty in the offensive line
I know, this point doesn't quite seem to fit the theme. But! There's no reason to panic just yet.
Once again, the Ravens are heading into a season with uncertainty in multiple positions across the offensive line. Three spots remain in question – C, LG and RT – with position battles involving the same players competing in multiple spots. The Ravens have solid guard depth and will have some healthy competition at C and LG, depending on how they use Alex Lewis. However, their depth at tackle is a little concerning. Apart from Ronnie Stanley, we're looking at a raw third-round pick and the player that was pushed into Flacco, tearing the QB's ACL.
Matt Skura appears to be getting the most reps at C while Lewis has gotten in on the action as well. But it seems that Ravens really prefer to keep Lewis at LG, as they're fond of his athleticism at that position. That should leave Skura at C, who might be offensive line coach Joe D'Alessandris' next success story. After playing fairly well at RG last season, Skura might have the experience necessary to make the leap and become the Ravens' next late-blooming offensive lineman (does the name Ryan Jensen ring a bell?). Ideally, Hurst's versatility makes him serve better as a super-sub across the line in event of any injuries.
Meanwhile the Ravens appear confident that Orlando Brown Jr. will eventually earn the starting RT spot, but for now he needs to put in the work. Brown Jr. has improved his conditioning, but next he must strengthen other facets such as hand placement and footwork. Fortunately, his lifelong family connection to the organization should help him progress quicker with this development and become the RT of the future. I hope it happens in the near future because I've had enough of this: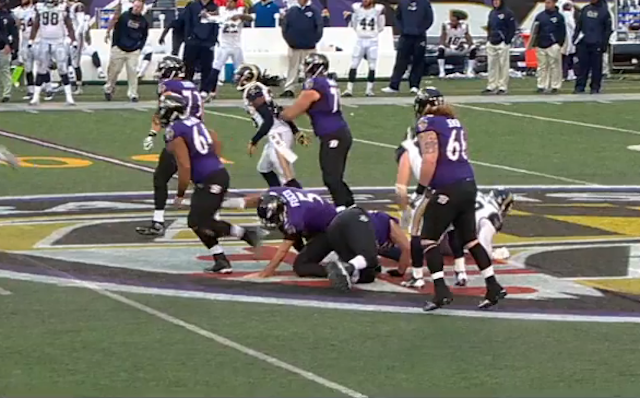 (4) Three-headed monster at RB
After Greg Roman made considerable strides with the running game last season, the Ravens will look to build off that success with arguably the most underrated RB trio in the league. Alex Collins played like a maniac as soon as he was activated, and Buck Allen's utility proved to be clutch in many passing and short-yardage situations. But with the return of the promising Kenneth Dixon, Roman will have quite the arsenal of backs to work with.
It's odd to see how many pundits are sleeping on this RB unit. NFL.com's Gregg Rosenthal ranked Collins 26th on his list of top RBs in the league. Interestingly enough, PFF felt a bit more generous and gave Collins their highest run grade among all RBs.
Alex Collins was the NFL's highest graded runner in 2017! pic.twitter.com/VkNAsS0NLf

— Pro Football Focus (@PFF) March 28, 2018
With a season as a Raven under his belt and an increase in weight to assume a higher workload, Collins is ready for a top back role. His running style is built for Roman's run scheme, as his preference of running east-to-west is complemented by Roman's heavy utilization of outside runs involving complex pulls. But let's get real, this dude can break out insane runs no matter what the play call is.
What was lacking most in the running game last season was the hard-hitting, downhill element that Dixon brings to the table. Where Collins' jump-cut style relies on elegance, Dixon earns his yards with brute force. I keep thinking back to 2016 where he was CARRYING Steelers defenders during the Week 16 meeting. To make that statement as a rookie in that rivalry during such a critical game shouldn't go unnoticed.
Most importantly, Dixon will provide Collins with the necessary relief to help him flourish as a playmaker.
(5) More CB depth, especially at nickel
The best secondary in the NFL? We'll see about that.
But I wouldn't object to the argument that the Ravens have the deepest secondary in the league…that only continues to get deeper. If I had to pick one thing about the Ravens that wouldn't be different? I wouldn't be surprised to see them lead the league in interceptions again.
The #Ravens secondary is riding high in our 2018 rankings:https://t.co/cXbdOTvloe pic.twitter.com/2PxhmjIMNR

— PFF BAL Ravens (@PFF_Ravens) July 25, 2018
The CBs specifically get the most praise, which is well-deserved considering how talented this group is. The most obvious improvement will be the return of a healthy Jimmy Smith. Marlon Humphrey should also have more responsibility this season, as Wink Martindale has expressed his expectations in him becoming a pro bowl-caliber corner. But make no mistake, Smith is still the top dog on the outside.
However, the real difference-maker will be Tavon Young, who will look to build off an impressive rookie season and solidify the nickel spot. What I love most about Young is that he rarely allows separation and he attacks the ball on every throw. In addition to Brandon Carr, Young's versatility to play outside will be essential if Smith goes down injured for an extended period again. In those occurrences, the Ravens still have two competent nickel CBs in Maurice Canady and Jaylen Hill to allow them to stay true to their scheme.
Another name to monitor is Anthony Averett, who has raised some eyebrows with solid play at Camp. Since he was a 4th round pick, which is relatively high considering how deep the CB group already is, perhaps the Ravens see something special in Averett.
You can tell the Ravens never want to repeat the nightmare of not having enough corners. Let's hope there's no repeat of a season-ending injury to Smith either.
(6) A defense that plays to its strengths
Since Wink Martindale has taken over as DC, the talk of the town has been how aggressive the defense will be. Wink and the players have discussed their goals of creating a defense that plays to its strengths and puts its personnel in the ideal positions suited for them to succeed.
Weddle said that new DC Wink Martindale is "bringing a lot of elements that we haven't had. … We're changing a lot of stuff." Weddle said Players have more responsibility in Martindale's defense.

— Jeff Zrebiec (@jeffzrebiec) April 17, 2018
Comments like this from Eric Weddle shine light on the frustrations some players had with former DC Dean Pees. This could be noticed in the inefficient roles given to certain players that didn't necessarily reflect their natural abilities. Weddle was a prime example of that.
Too often Pees would play Weddle close to the line or send him as a blitzer, which is odd considering that Weddle excels in the backfield by making plays as a ballhawk. The same could be said for Tony Jefferson, who oppositely never had enough opportunities near the line to disrupt running plays. Pees essentially handicapped what many once thought of as one of the league's top safety duos.
Pees was also stubborn in the sense that he stayed true to his scheme rather than recognizing problem areas in-game and making the necessary adjustments. This was most evident during the Ravens' crushing loss to the Steelers during Week 14 last season. While Antonio Brown lit up the secondary, Marlon Humphrey was the one who maintained the best coverage on him. But Pees allowed Pittsburgh to dictate the matchups, which resulted in Brandon Carr being lined up against Brown often…only for him to allow Brown the game-winning reception in the end.
Good riddance.
I'm excited for Wink because he has a strong understanding of his players and will make the most effective use of their abilities. And based on how stoked the players sound so far, you can tell that the respect goes both ways.
(7) Fewer heart-breaking losses?
I phrased that as a question because although it seems like the Ravens have made it a priority to hold onto leads, we'll see if the defense has finally eliminated their tendency to choke.
As mentioned earlier, it starts with Martindale's aggressive mindset and willingness to put his players in the best positions to excel. But another repeatedly discussed topic has been the idea of giving certain defenders the freedom to to make pre-snap adjustments in real time if they see fit. The hope is that by increasing player responsibility, the defense will be able to react quicker and ultimately limit game-breaking plays like this.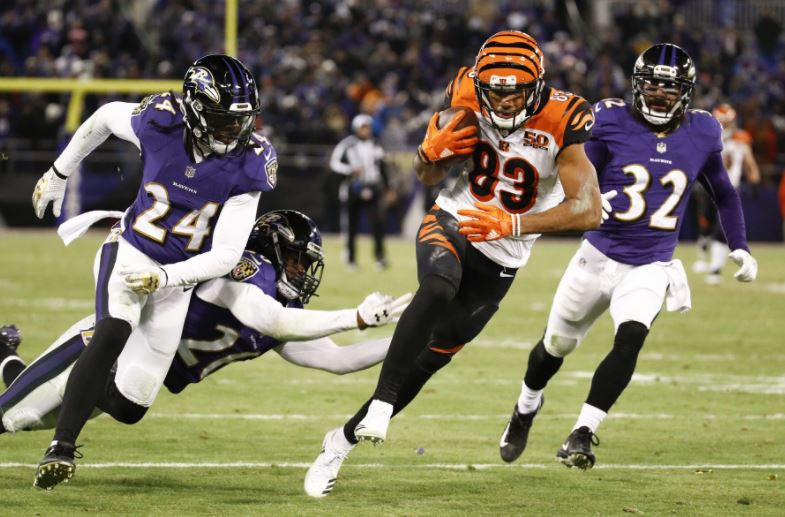 But with great power comes great responsibility.
Wink must be cautious to ensure his bestowal of faith doesn't backfire and create more problems than it may fix. Looking at that 4th-and-12 fiasco, you can't help but wonder if certain defenders could have done something themselves to prevent the play from happening. Perhaps C.J. Mosley could have been used as a blitzer instead of dropping back into zone coverage. By only sending a 4-man rush, which was generally ineffective most of last season, Andy Dalton had a clean pocket and plenty of time to complete the pass to Tyler Boyd.
Another adjustment could have been opting not to use Maurice Canady as a safety. Although Canady botched the opportunity to make the tackle, it seems odd in the first place to leave a backup nickel CB on an island to defend the deep zone. If Weddle anticipated a potential shot to Boyd, perhaps he could have rotated to the backfield earlier to assist Canady on the pass.
Hopefully the defense will be better at recognizing these instances this season.
(8) Anticipated improvement of key players
The Ravens are a team full of risers, many of which are young players who will aim to make big strides in 2018. But if I had to choose three players other than Joe Flacco that will make the largest improvements, it would be Tony Jefferson, Tyus Bowser and Chuck Clark.
Jefferson was decent last season but didn't necessarily live up to the expectations of certain fans. But as mentioned earlier, much of Jefferson's play was limited by Pees and he wasn't used enough as a box safety. Expect Jefferson to play a lot closer to the line to provide much needed support on outside runs and screen passes to elusive RBs. Think what you want about him so far, but Jefferson is a solid open-field tackler.
I had high hopes for Bowser last season but ultimately, he had some growing pains to get over first. Bowser will look to crank it up as a sophomore and carve his own role in the Ravens' youthful pass rush. Bowser has raging force coming off the edge, but his unique value lies in his coverage skills, which might prove necessary to solve the Ravens' lingering problem of covering TEs.
Clark has continuously received praise from the coaching staff and is expected to have a much larger workload this season. Aside from playing a handful of snaps in the dime spot, Clark doesn't have much tape to work off of. But if this doesn't indicate Clark is trending upward, I'm not sure what does.
Interesting tidbit by @BmoreEisenberg. Was reading into why Eagles have depth and one reasons is that they have a slew of safeties who can do it all in terms of man cov. and run support. Great for scheme, saves cap opposed to paying high CB salaries. Hopefully Clark can rise up pic.twitter.com/fYVEiSvXsL

— Mitchell Wolfman (@NorthernFlock) June 16, 2018
Clark is slowly being groomed into an under-the-radar safety hybrid and might catch you by surprise with some hard hits this season. Perhaps using Clark in an increased usage of dime packages will also help solve the TE problem area.
(9) Unusual amount of national media coverage
I've never seen the Ravens get discussed this often on Good Morning Football. And I don't like it one bit.
I guess those are the perils of drafting a QB in the first round whose also one of the most highly anticipated rookies to hit the field in recent seasons. He hasn't even played a single down of preseason football, yet Lamar Jackson is already one of the most talked about players in the NFL. A common misconception among many NFL fans is the belief that Jackson should start immediately and will pressure Joe Flacco for snaps. This mindset has prevailed for many despite how often the Ravens have stressed that Flacco is the unquestionable starter. But then you see garbage like this from Kyle Brandt to make you cringe (00:07 – 00:48).
https://www.baltimoreravens.com/video/gmfb-when-could-lamar-jackson-become-ravens-starter
Jackson will start by Week 2, you say? I didn't know Pretty Boy Brandt suffered a concussion along with his torn Achilles.
All of the unnecessary attention caused because of Jackson really shines light on the national media's misconception of who the Ravens really are. It's easy to notice issues like how dull the offense has been. How they've missed the playoffs four out of the last five seasons. How Harbaugh needs to do something drastic since his job is on the line.
Jackson is the spark the Ravens need, and they need it now! Right?
News flash, national pundits. Jackson is currently the no. 3 QB on the Ravens depth chart, which is behind both Flacco AND Robert Griffin III. Flacco has clearly been the top performing QB at Camp but nothing makes for a better headline than some fake QB controversy.
I'm going to puke if I see another article about not returning texts.
(10) The element of Lamar Jackson
And that brings us to the most polarizing difference with the 2018 Ravens – Lamar Jackson.
The only reason I left this one till the very end is because it's uncertain how much of a difference Jackson will make right away. Like Shaun O'Hara mentioned in that GMF segment, Joe Flacco needs to be injured and leading the league in interceptions before the Ravens even consider starting Jackson.
However, John Harbaugh has repeatedly expressed his desire to get Jackson on the field and has stressed how wasteful it would be to leave an athlete of his caliber on the bench. We might witness a Jackson appearance every couple of games or only a maximum of five snaps the whole season. Who knows? Perhaps Harbaugh is just playing mind games to scare opponents into game-planning for nothing.
If the Ravens make use of Jackson this season, they must tread lightly. This is a critical period for Jackson, who needs this season to improve his throwing mechanics, get used to taking snaps under center, and learn the playbook. The unnecessary pressure to perform and risk of injury could severely hinder Jackson's development, consequently jeopardizing the future of the franchise. Maybe the Ferrari should stay in the garage until a warmer season.
Still, how could you not get tempted after watching plays like this?
Jackson's running can only be described as a God-given talent. His speed, field awareness and ability to make people miss compose a skillset unparalleled to any current NFL QB. He has a cannon for an arm, yet Jackson has the touch to make the most challenging throws. Jackson has struggled with accuracy and consistency so far at Training Camp, but this was to be expected with his anticipated learning curve. Things like this take time.
But in 2018, the question is whether Ravens fans will be treated to a sneak peek or get early admission to the Lamar Jackson Experience.
So there you have it. My 10 reasons these Ravens are different. The season can't get here soon enough!